You may not know, but just north of Indianapolis about 50 miles sits a historic, famous glass factory - Kokomo Opalescent Glass (KOG). In 1888, Charles Henry, a glass chemist from New York, visited Kokomo upon hearing about the gas boom. Within 24 hours of his visit he had an agreement with local officials to provide him a plant site and more importantly a natural gas supply.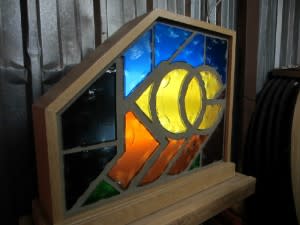 Henry's beginning product was sheet glass and his first shipment was 600 pounds of blue and white opalescent glass sent to none other than Louis Tiffany, an old friend of Henry's from his New York days. But perhaps his biggest break came in 1889 when his sheets of glass won a Gold Medal at the World's Fair in Paris. What followed was over $50,000 worth of sheet glass orders.
Through the years, the company has diversified and changed hands, but has never stopped creating glass. Which makes it the longest operating glass factory in the world. Amazing.
Today visitors can tour the factory every weekday at 10am (closed only for holidays). I was able to go on one of the tours this winter. I was overwhelmed at the craftsmanship I saw exhibited.
We started with the process of how the sheet glass is made. When the glass comes out of this furnace it is at 2600 degrees!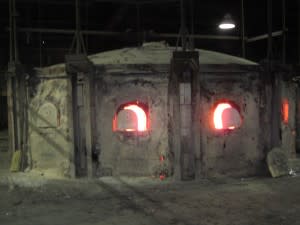 By the time it makes its way to the rollers it has dropped to about 1200 ...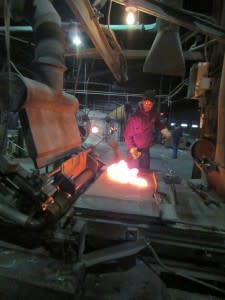 The glass makers than work with it by throwing it, kneading it and finally putting it through the roller. This was one of my favorite parts ... seeing the different types of rollers that make different glass. Some companies will order their own roller made for a specific project.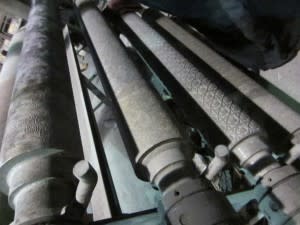 Once the glass is flattened, it takes about 45 minutes to an hour before it comes out finished and they can break it off into pieces and store it.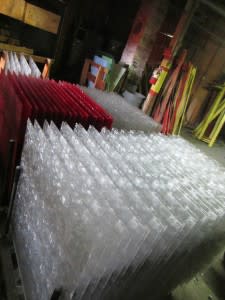 It is important to note there are remnants of glass during each process. KOG saves those and sells them for recycling for a variety of purposes. Some of the colors are so vibrant!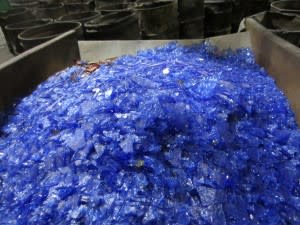 We also spent some time with the glass blowers. This is truly an art to watch how the create pieces. (Did you know they use wet newspaper to help shape the glass?)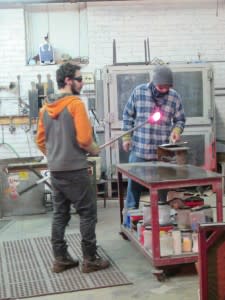 We also walked through their storage of sheet glass. Oh. My. Goodness. They have a lot of it! People call from literally all over the world to replace pieces of glass that have broken and chances are - KOG will have a piece to replace it with! I could have taken 20 pictures or more of the areas that housed the storage.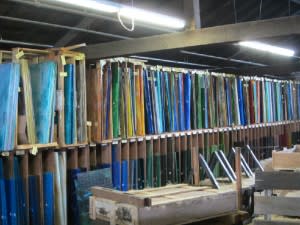 We finished off the tour by watching the hands on work of the smallest pieces. In this picture the woman is working on recreating the lamp you see in the forefront that has been broken.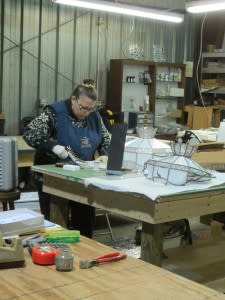 KOG ships out 40% of all the glass they make internationally. And these pictures from the the gift shop show you just some of the masterpieces they create!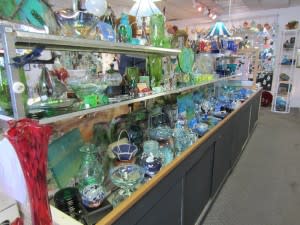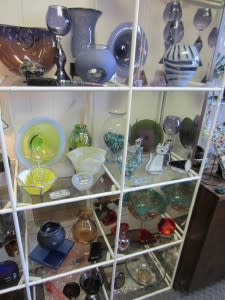 Some fun facts about KOG:
Ledgers document sales to Louis Comfort Tiffany was for over 10,000 pounds of glass in 1893
In 2009, they hosted 4,300 people for tours of the facility
Glass from KOG is found in half of the churches worldwide that have cathedral glass
You can seen their glass at the Vatican, Disney World, Disneyland and the Air Force Academy (just too name a few!)
Stay tuned because I'll be posting a video soon that includes footage of the sheet glass being thrown and teaches you a little more about KOG's history. Definitely worth the trip.
For more information on all there is to do in Kokomo, be sure to Visit Kokomo!