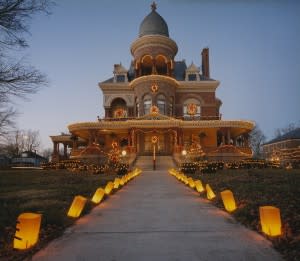 Beautiful Seiberling Mansion at Christmas! If you want to experience a breathtakingly beautiful home decorated for the holidays, tour the Seiberling Mansion in Kokomo.
With 20 rooms and just about that many Christmas trees the home that was built during Kokomo's gas boom in late 1800s is practically a castle.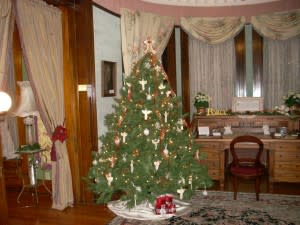 One of many decorated trees in the Seiberling in December. In its early years the house was used as a private residence. Later, it became part of the Indiana University campus in Kokomo. When a new campus was built in town in the 1960s, the house sat abandoned until 1972 when the Howard County Historical Society renovated it and opened it as a museum.
What immediately struck my husband and me as we arrived to tour the Seiberling was its immense front porch! Seriously, it would be large enough to host a good-sized class reunion-- in warmer weather of course!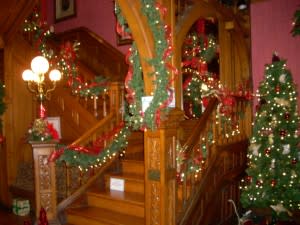 Oak, cherry and other woods fill the Seiberling. At Christmas the Seiberling is adorned with holiday décor on three floors. As if the period antiques and various types of wood trim in the house are not impressive enough— oak, cherry, Red oaks, even on the ceiling! – the lights, boughs of greenery and often whimsical bits of nostalgic holiday touches make it seem like an inviting place to curl up before a fire and listen to melodies on the piano in the music room.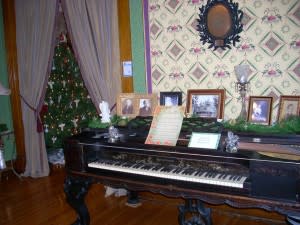 Piano room at Seiberling contains old photos from an earlier era. The second floor contains bedrooms and collections of Kokomo's automotive history (Chrysler, Hupmobile and Delco plants have been located there). Informative cue cards are helpful throughout the building with displays and unique parts of the structure, including the Butler's pantry. Think Downton Abbey!
The third floor was where people played--I should say danced--as the house has its own ballroom. How smart was that, especially since Seiberling's two daughters had their wedding receptions in the ballroom!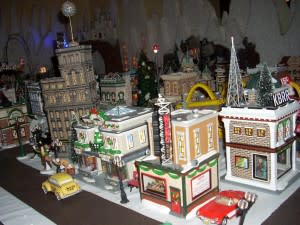 I want to play with these miniatures! Today, the ballroom contains a military display of items from citizens of Kokomo. There is also a charming miniature town that replicates Kokomo during the Seiberling's heyday during the gas boom.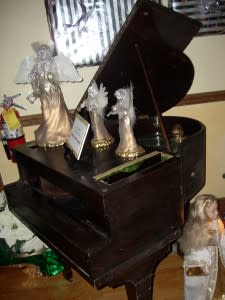 Check out the phonograph player in back of this fake piano! One other item I found interesting that is not holiday-related in the mansion is the unusual phonograph player. If you remember ugly square cases for record players, you'll appreciate the elegant way this one is housed – in the back of this pseudo baby grand!
Parking is along the side of the building. Self-guided tours are available or by a museum official for a fee. There is a small gift shop. This would be a fun place to take a ladies group, family outing or history group.
The Seiberling Mansion/Howard County Historical Museum is located west of downtown Kokomo.
December hours: Tuesday-Sunday 1-4 pm The mansion is closed in January and re-opens in February.
Adults: $5.00 Senior Citizens (60+): $4 Children 12 and under: $2.00
1200 West Sycamore Street Kokomo 765-452-4314 http://www.howardcountymuseum.org http://www.facebook.com/hchistory
While downtown, stop for a bite at Foxes Trail 305 South Main Street 765.450.7670
Cook McDoogal's Irish Pub 100 North Main Street 765.450.6143 http://www.cookmcdoogals.com
or
The District 107 West Sycamore Street 765.456.3663 http://www.thedistrictkokomo.com