Whenever I'm asked about the best time to visit Hendricks County, I always mention Labor Day Weekend. In addition to all the incredible attractions our destination offers during the summer months, that particular weekend (Friday, August 31 - Monday, September 3) also boasts two of our biggest events of the year.
And let me tell you, these two events couldn't be more different. In fact, if you truly want to get a feel for what Indiana is all about over one weekend in one destination, I highly encourage to visit Hendricks County and specifically these two Labor Day Weekend events.
Chevrolet Performance U.S. Nationals
Top Fuel dragster burns out at the start line.
If you were to ask anyone the essence of Indiana, motorsports would likely be in the top 3 along with basketball and Hoosier Hospitality. So, the first event I'm highlighting also happens to be the most prestigious drag racing event in the country.
The Chevrolet Performance U.S. Nationals roars into Lucas Oil Raceway in Brownsburg over six days in late August and early September every year. This event is considered the Super Bowl of the National Hot Rod Association's (NHRA) season and should be experienced whether you are a race fan or not.
I wouldn't consider myself a motorsports fan, but I found this experience to be so much different and exhilarating. I was amazed by how it tickles all the senses. You can smell nitro fuels wafting through the air and feel a shockwave of sound and vibration as these machines go from 0 to 300 mph in seconds.
Every ticket to U.S. Nationals also doubles as a pit pass making everyone a VIP and providing unequaled access compared to any other major professional auto racing event. Visitors can meet the drivers and their teams and see their amazing machines at no added cost. Some people even walk away with car parts that race teams sometimes give away especially to kids.
In addition to the unlimited access, children also love Nitro Alley on the east side of the drag strip in front of the professional pit area. Nitro Alley includes games, displays, race gear and other interactive experiences that every member of the family will enjoy.
This event draws thousands of people from all over the country with festivities beginning Wednesday, Aug. 29 this year, but the meat of the schedule occurs Friday, Aug. 31 through Monday Sept. 3 at Lucas Oil Raceway, 10267 U.S. 136 in Brownsburg. Children 12 and under are free, and we even have a link for discounted adult tickets by clicking here.
North Salem Old Fashion Days The juxtaposition from the most prestigious drag racing event in the country to a small-town festival held the same weekend in the same county featuring a bed race down Main Street couldn't be more astounding.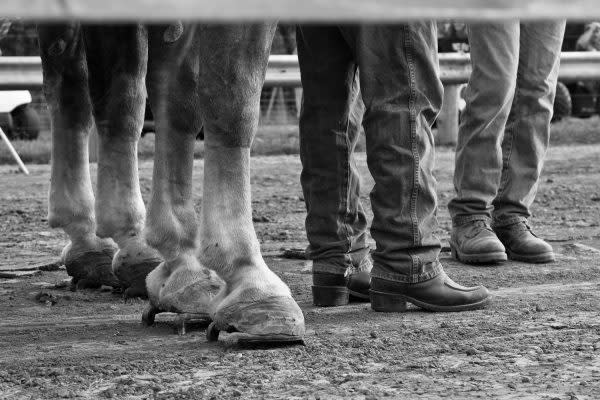 Participants getting ready for the horse pull at North Salem Old Fashion Days.
Like U.S. Nationals, North Salem Old Fashion Days boasts its own following.
For more than 40 years, thousands have descended on this tiny town of 500 in rural northwest Hendricks County. This truly authentic experience celebrates small-town Americana smack dab in the middle of the Heartland.
Activities include a huge parade on Saturday morning, live entertainment throughout the weekend, truck, tractor and even horse pulls, tons of food and craft vendors, a car show, pizza-eating contest and the previously mentioned bed race, which always occurs on Monday or Labor Day.
Don't know what a bed race is? Even more reason you should go to witness it for yourself, as it is one of the most entertaining spectacles you will ever see. Teams, often dressed in wild outfits, race down Pearl Street pushing a team member on a bed; yes, a real bed on wheels.
So, if you want to experience something a little more out of the ordinary this Labor Day Weekend, stop and see us in Hendricks County, Indiana. You will be glad you did.