Lafayette and West Lafayette are a quick hour's drive from Indianapolis. Situated along the wandering Wabash River, the towns are flavored with artisans, public art, museums and unique eateries. Local artists practice age-old skills while embracing the contemporary.
Upscale shopping, over 275 restaurants, an impressive list of festivals, music and performing arts, golf, outdoor activities and Purdue University compliment the vibrant art scene. This area is definitely worth more than a one-day visit!

Owens incorporates a variety of techniques and Murrini pieces in her artwork.
Owner Sharon Owens never stops smiling as she demonstrates her glass art prowess. She turned molten glass into a hummingbird feeder in under five minutes! Her store is full of one-of-a-kind original pieces by Owens, her teachers and local artists. Art ranges from the affordable to show-stoppers: jewelry, colorful hand-blown ornaments, animals, vases and more. Studio demonstrations are free and Owens teaches a variety of classes for adults and children, does pop-up sessions and custom classes.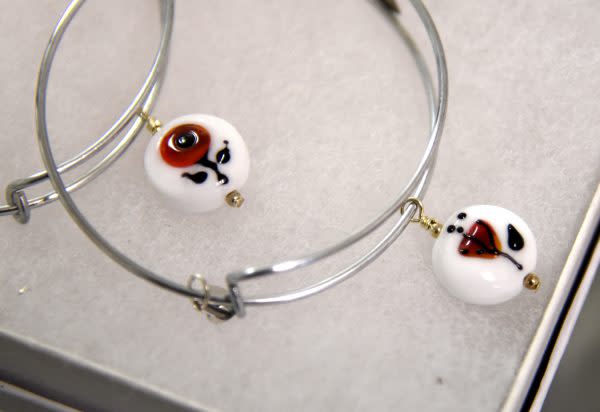 Pair of bracelets with handmade beads
Linda Elmore of L.E. Originals specializes in glass beads and glass art. Colorful beads, including Elmore's patented photo beads, are incorporated into necklaces, bracelets and knitting stitch markers. This happy shop also features whimsical, bright-colored glass flowers, bees and hummingbirds.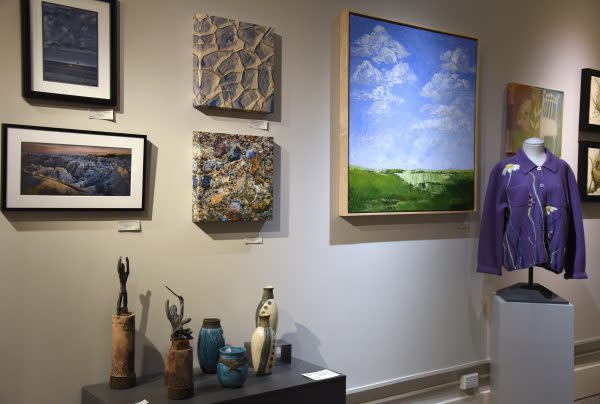 Artists' Own features the work of 18 co-op members and 15 guest artists.
Artists' Own gallery and shop exhibits a dedicated investment in the artistic community. Paintings, photography, ceramics, fiber, precious metals and glass are beautifully displayed in the light, airy, rustic space. Artists' Own holds an annual high school show, with members teach students the proper way to hang a show.
The Art Museum of Greater Lafayette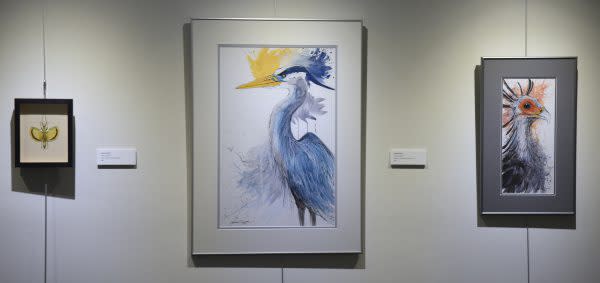 "Curious Creatures" exhibit features Hoosier artist Joshua Smith.
The Art Museum of Greater Lafayette is a vibrant space for promoting local art and artists, and it's free. A small gift shop, galleries and teaching spaces bring community members together and showcase a wide variety of medium. Four exhibits a year, classes for children and adults, and an annual juried exhibit for local high school students create an active vibe for Lafayette art.  The work of the museum comes to life in the education spaces where instructors hold classes in classic art, fundamentals, 2-D art, ceramics and digital.
The Haan Mansion Museum of Indiana Art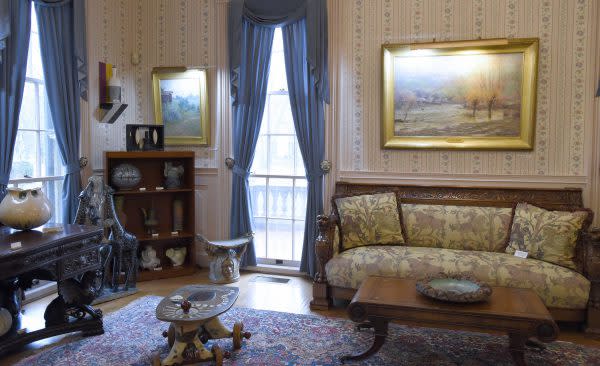 The Family Room features ceramics and paintings by Forsyth (left, "The Old Mill Brookville") and Adams (right, "November Freshet", 1897).
The Haan Mansion is a true delight and "must experience" art museum. "We are the go-to place for Indiana art," Ellie Haan quietly remarks. The mansion is the Connecticut State Pavilion from the 1904 St. Louis World's Fair. Ellie and Bob Haan's art collection includes about 100 painters, 100 ceramic artists, glass and bronze artists and as well as an extensive collection of furniture. The collection of paintings from the five Hoosier Group artists – Steele, Adams, Stark, Forsyth, Gruelle – is exquisite. Indiana authors, composers and Native American artifacts are also part of the Haan's holdings. The couple loans pieces for other shows, holds special shows in conjunction with outside groups and is expanding educational events at the property. The child-friendly sculpture garden and outdoor performing arts events in warm weather add to the beauty of this hidden gem.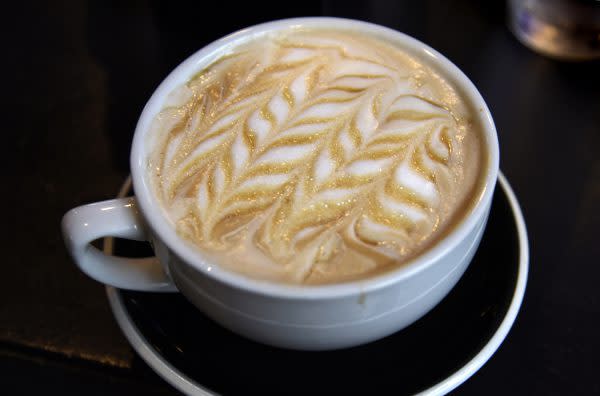 Treat yourself to a hot morning beverage at Town & Gown Bistro.
Town & Gown Bistro's breakfast menu is simple and sophisticated. Eggs, Veggie and Salmon Benedicts, omelets, breakfast meats, made-to-order pancakes and coffee selections are served all day. Owners Matt and Regen O'Neill have a comfortable space with great food, and the variety on the lunch/dinner/drink menu make this a "must return" destination.
Mahi-mahi tacos with mango salsa and cilantro lime sauce
RedSeven Bar & Grill is an upscale restaurant and bar with a fresh menu, outdoor dining space and fast, friendly service. Gather with friends, enjoy a steak dinner, book a party or meet for business at this downtown spot.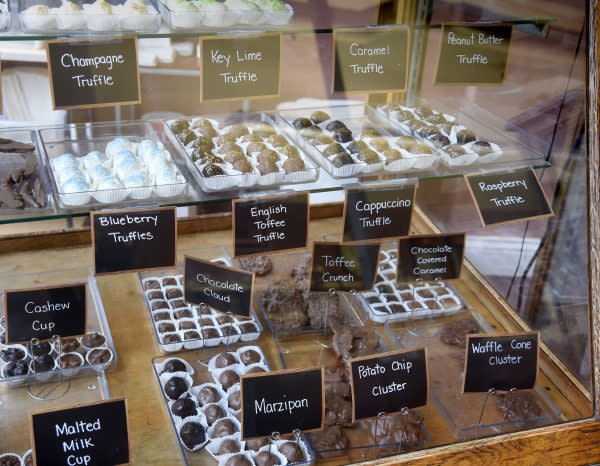 A selection of truffles at Kathy's Kandies
Kathy's Kandies is a happy mixture of chocolates, truffles, popcorns, seasonal goodies and old-time candies. Active in the community for 18 years, Kathy is gracious and giggles as she offers samples of her new truffle creations.

Blackberry/pear pie, rhubarb galette and macarons
A new customer arriving at Sweet Revolution Bake Shop said "I smelled the shop half a block away!" Pastry Chef/owner Sarah McGregor Ray opened the shop in 2017 with a focus on pies. Everyday fare includes croissants, macarons, quiches and potpies. Indulge in the melt-in-your-mouth seasonal-flavor macarons. The flaky crust of the rhubarb galette was perfect. Customer Jennifer Freeman Marshall, English and Women's Studies faculty member at Purdue, raved about the chicken potpie. "I know if they get the crust right, then everything is good – and it is!"