While on a fall trip to visit the Purdue University campus in West Lafayette, I did a little search for nearby breweries. There are so many throughout the state that whenever I'm on the road, it seems that a craft brewery is never too far away. I found the Lafayette Brewing Company located on Main Street in downtown Lafayette.
As is my practice in visiting a new brewery, my husband and I ordered a flight to sample a few different varieties of beers.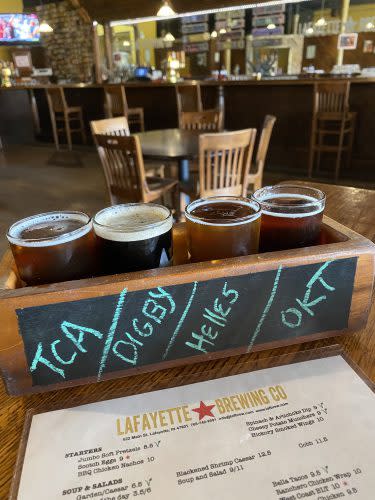 Try a flight at Lafayette Brewing Company, where you can pick four of their on-tap brews that range from IPAs to Scottish Ale to Lagers to Stouts and more.
There was a nice selection of about a dozen beers on tap, ranging from IPAs to brown and red ales to stouts. We settled on the Tippecanoe Common Ale, a 5.8% red ale; the Digby's Irish Stout; the Star City Helles, a smooth and light 4.7% lager and the Star City Oktoberfest, a 5.9% Marzen, which was my favorite of the bunch - I liked it so much, I got a growler to bring home.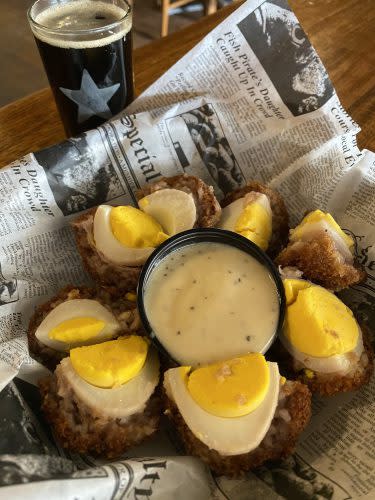 Scotch eggs are one of the appetizers on the menu. The sausage coated boiled eggs pair well with the Digby' Irish Stout.
We had dinner reservations in a few hours, so we didn't want to fill up too much but wanted to try one or two menu items. We decided to split a BLT, but when I noticed Scotch Eggs on the menu, I had to try them. Not a lot of places have this on the menu. It's a not-so-healthy but delicious dish that goes great with beer.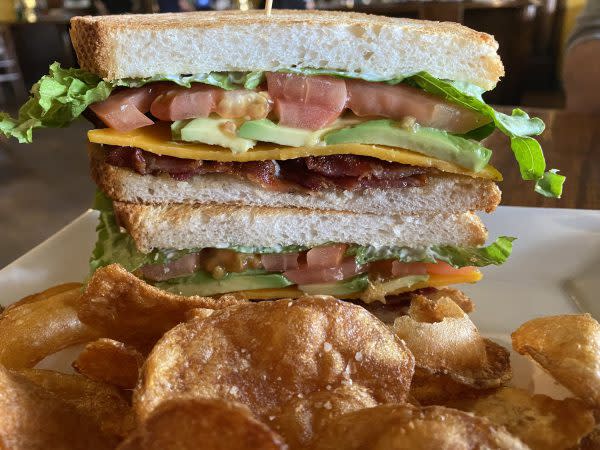 The West Coast BLT has the addition of fresh avocado and cheddar cheese.
I'm glad I found this spot, which had impressive beer and food. We also enjoyed exploring the area - stopping at nearby McCord's Candies and checking out the historic courthouse and downtown square. If you're ever passing through the area or visiting someone at the Purdue University campus, this brewery is definitely worth seeking out.