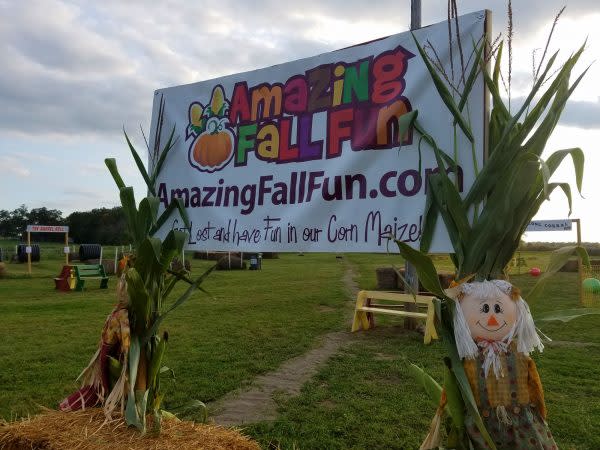 I've lived in Indiana my whole life and grew up with a corn field just outside the window of my childhood home. But recently I had the pleasure of experiencing the corn in a whole new way and honestly, it was a-MAZE-ing! The Amazing Fall Fun Corn Maze and Pumpkin Patch in Waterloo - Northeast Indiana's largest corn maze - takes farm fun to a whole new level.
The Amazing Fall Fun Corn Maze is located just east of Waterloo (about 20 miles north of Fort Wayne off I-69) on US 6. You can purchase tickets online or onsite and they do take credit cards. They are open Friday through Sunday through the end of October so it's a great weekend activity to do with friends or family. What you will find when you arrive is not just a 12 acre corn maze but a treasure trove of fall and farm themed activities that even "city kids" will find delightful. Just one suggestion, make sure you wear footwear that is appropriate for trodding around in a corn field.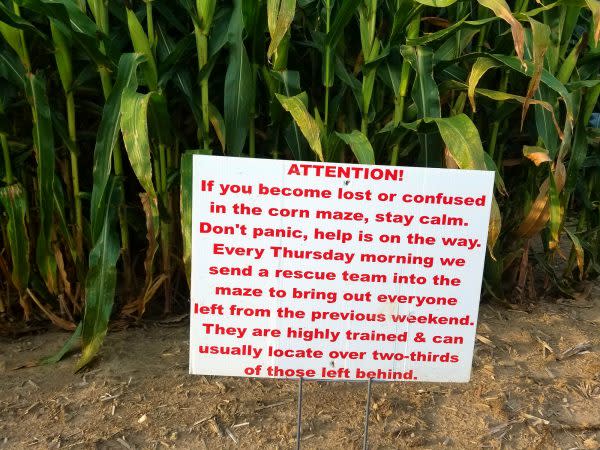 The organizers have a great sense of humor. We laughed and then worried maybe just a little bit that we would be the ones found in the maze next Thursday. They actually have attendants in the maze if you have any issues.
The kids and I decided to hit the corn maze first. The owners recommended that we start with Phase 1 to see how we did before heading into the full maze in Phase 2. We entered the sea of corn stalks and decided to take turns navigating the twists and turns. Phase 1 seemed pretty straightforward so we dove right in to the full maze.
Be prepared for lots of backtracking, routes that take you back to the same place over and over and lots and lots of corn. This is a great time for family bonding and conversation while you work together to maneuver the maze. We were cracking ourselves up most of the time and at one point were playing "Marco-Polo" with another family. There are "You are Here" signs posted to help you get your bearings and find your way.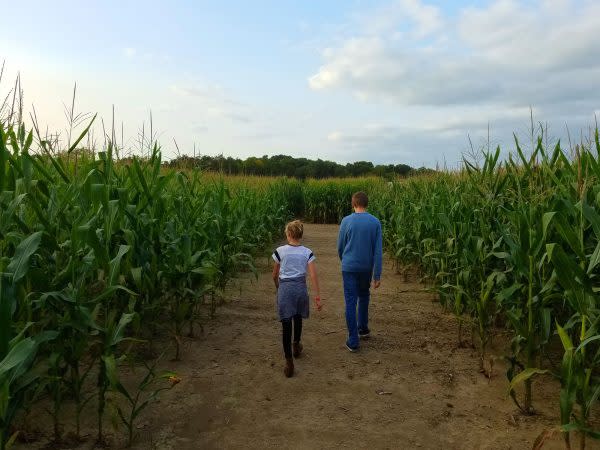 I will let you in on a little secret. In the middle of the maze is a little surprise activity tucked away. We stumbled upon this platform and slide and had a great time taking a break from the task of navigating the network of trails. From the top of the platform you are treated to an overhead view of the cornfield and the countryside and a great place for photos. And adults, you should take the slide down too!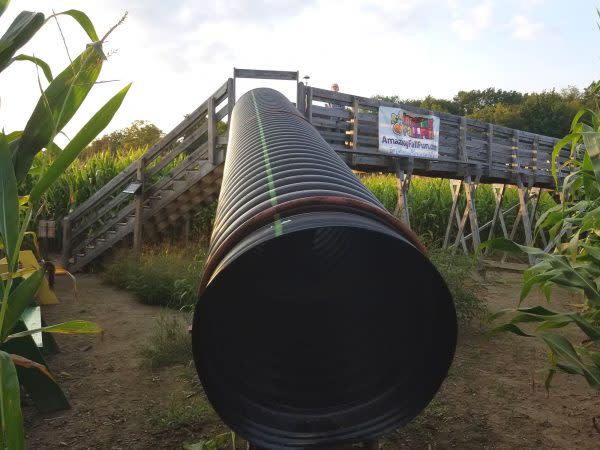 Once you find your way back out of the maze, it's time for the fun! We set out with a wagon, a tiny saw and a mission to find the best pumpkins in the pumpkin patch. There are 21 kinds of pumpkins and gourds to choose from and you'll love the experience of winding through the patch to find your favorite and cut it directly off the vine. All of the pumpkins are very reasonably priced and we loaded up with both larger and mini ones for our home.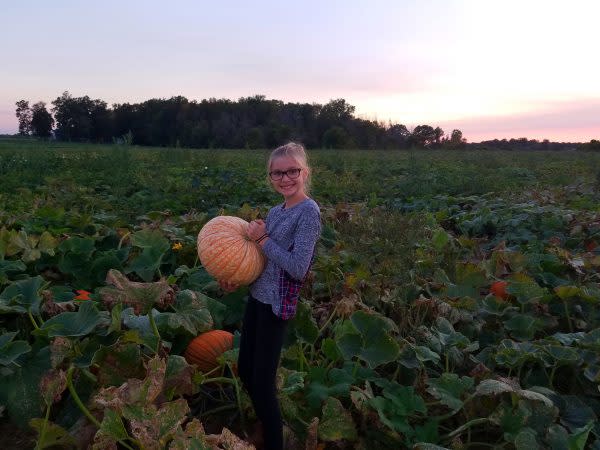 From the patch, we grabbed tokens for the hayride. There is a small fee for the hayride, but it's a nice way to relax after the maze and take in the scenic country views. The sun was setting during our ride and if you can time it right, it's the best time for the hayride. The sunsets are phenomenal over the country horizon.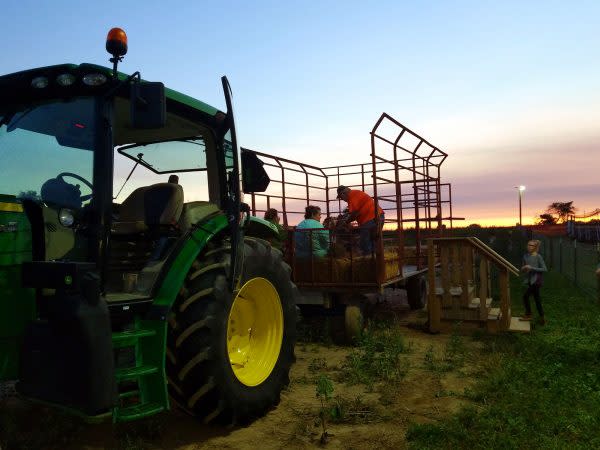 Amazing Fall Fun has plenty of other adventures for your visit so make sure you plan plenty of time to just play. Everywhere you look are "down-on-the-farm" games and activities. Feed a goat. Climb the straw mountain. Beat your sister at the duck races. Dive into the corn box. Roll your way to victory. And I'm just getting started. And again, parents, you owe it to yourself to not just sit on the sidelines but to actually play alongside your children. I haven't laughed this hard in ages and it felt great! This is what agritourism is all about, connecting with the land and appreciating the rural aspects in the state.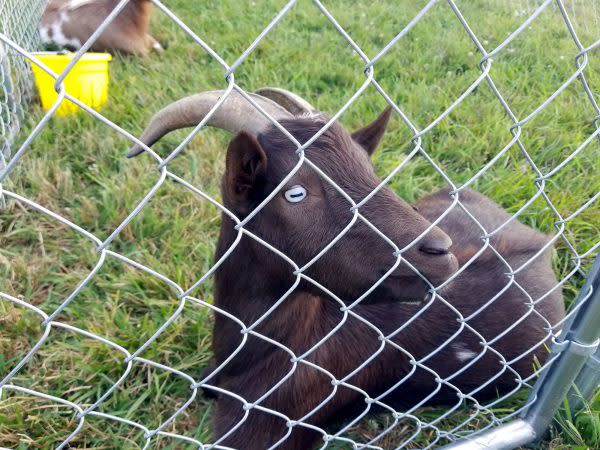 Feed the goats and the chickens. There's a machine to purchase pellets for only 25 cents.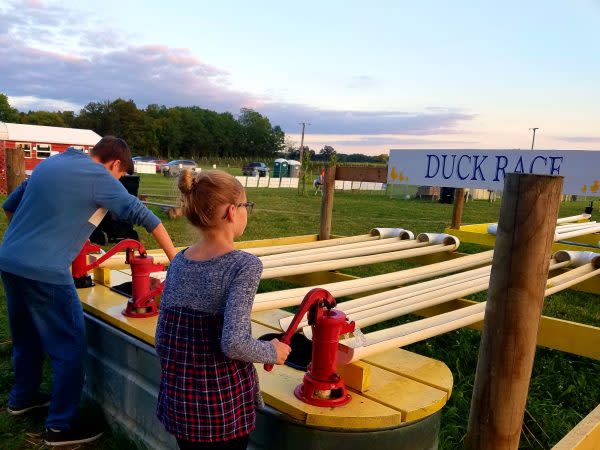 Duck races can be pretty intense. I hate to admit that my kids beat me every time.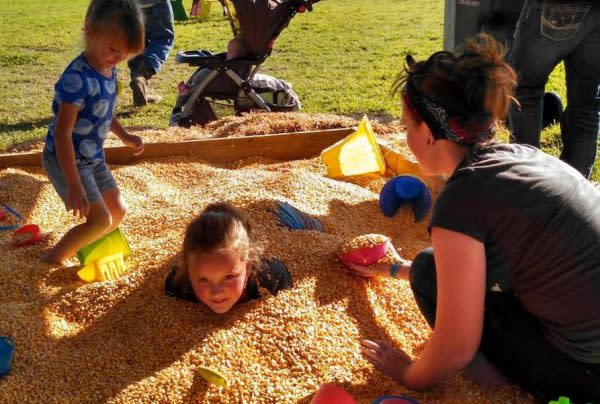 We got a little carried away in the corn box. I swear I like this better than any sandbox I've played in. And YES you need to get buried in the corn. Photo provided by Amazing Fall Fun Corn Maze and Pumpkin Patch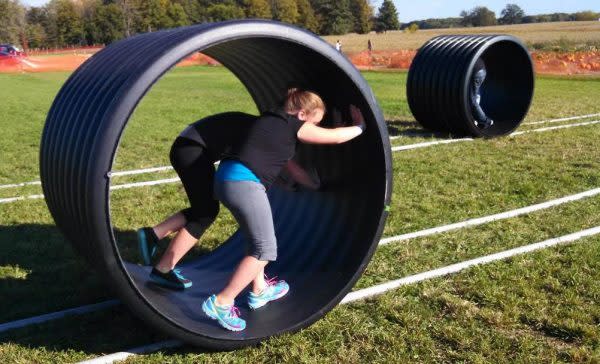 I'm not sure what these rollers are called but they are quite fun once you get the hang of them. Photo provided by Amazing Fall Fun Corn Maze and Pumpkin Patch
You should plan to devote several hours to the visit so that you have plenty of time to take in all of the fun. If you get hungry, there are two food trailers with options like burgers, pulled pork, funnel cakes and elephant ears. We came straight from work and school so we took time to sit and have dinner once we finished the maze.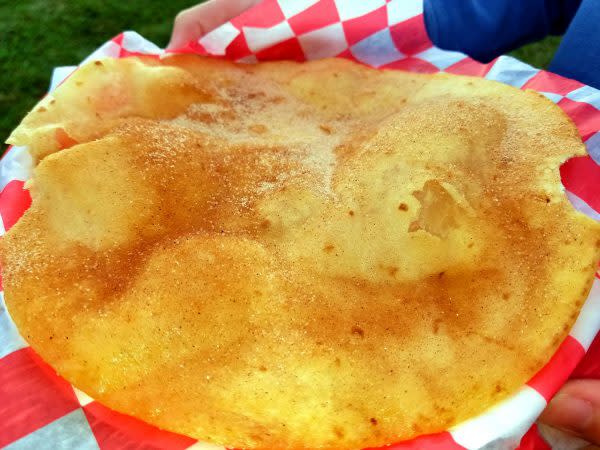 The maze, pumpkin patch, hayride and other activities really provide you with an eventful evening out in the country. We left with full stomachs, new inside jokes formed in the maze, pumpkins and big smiles. Oh, and quite a few pieces of corn in our socks and shoes. The Amazing Fall Fun Corn Maze and Pumpkin Patch was well organized and definitely a MUST DO for the fall season. Website. Facebook.
If you are looking for places to add to your trip, consider checking with the DeKalb County Visitor Bureau for area attractions and places to dine.