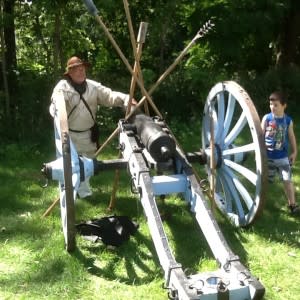 Cannons are part of Old Fort.
Click here for a video of the Old Fort in Fort Wayne 
What do costumes, spinning wheels, music and fresh air have in common? They're all part of Fort Wayne's Old Fort experience!
If you want to inspire a love of history in your family, schedule a visit to the Old Fort in your summer plans. Volunteers of Historic Fort Wayne, Inc. plan to host a series of events, including guided tours, to teach and interest people of all ages.
Re-enactors wear costumes reflecting military life.
It's a great family attraction not only for its educational opportunities, but because of the low cost. It is free to visit the Old Fort. Visitors are asked to contribute a freewill donation.
My family visited the Old Fort for Fort Wayne's Be A Tourist in Your Hometown Day 2014. Hundreds of people strolled along with us through the fort's huge wooden doors.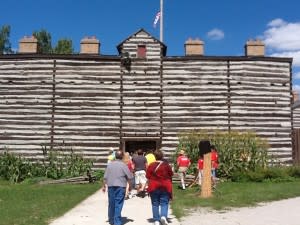 Old Fort's size is intimidating!
Inside, we chatted with soldiers in uniform who confessed their wool uniforms were a little itchy on that warm day!
I loved watching kids learning how to play old-fashioned games that were created 100s of years before electronics were part of their lives. Their smiles showed their enjoyment of handmade toys.
The women who spun wool on spinning wheels right before our eyes fascinated me. How did they keep it from tangling and knotting?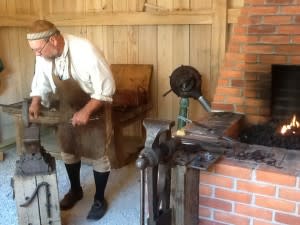 Village blacksmith works hard for visitors.
We visited the Officers' Quarters and watched a demonstration from the village blacksmith. Snacks were available for purchase onsite.
All of the re-enactors welcome respectful questions from visitors about what it was like to sleep in the fort, how much they were paid for being a soldier, family life and health tips.
Even the musical instruments from that time period were different as you'll see in the video above.
The complete line-up of events through November is posted at the Old Fort's website.
Here are highlights for 2015:
May 16 and May 17: Members of the Historic Old Fort, Inc. and Friends of the Fort will be in costume and ready to depict the lives of soldiers and countrymen from the 1700s-1800s.
June 13-14: Siege of Fort Wayne 1812
June 27-28: Camp Allen Muster
July 11-12: Revolutionary War—Western Front, The Continental Army, French fur traders, settlers, British Rangers, native Americans will camp at the Fort this weekend!
The interior of the Old Fort is not open except for these special events, although visitors are welcome to walk around its exterior.
Historic Old Fort 1201 Spy Run
Directions: The Old Fort is located over the bridge on the north side of Spy Run Ave. Go to Fourth Street and park at Lawton Park. The fort can be reached after a short stroll down the River Greenway. Parking is across the river at Headwaters Park and on Fourth St between Spy Run and Clinton St.
Most of the monthly events observe hours of 10am-6pm on Saturdays and 10am-4pm on Sundays.
For additional information contact Historic Fort Wayne, Inc. at 260.437.2836 or Info@oldfortwayne.org