The IPL 500 Festival Parade has just announced its lineup, taking full advantage of both its national reach and its hometown roots.
I was especially pleased to see that the WNBA Champions, our own Indiana Fever, will be the Parade Grand Marshal, and US Olympians Shawn Johnson (2008 gold medalist, gymnastics), Jordyn Wieber (2012 gold medalist, gymnastics), and Tyler Clary (2012 gold medalist, swimming)will be some of the featured VIPs who will be participating.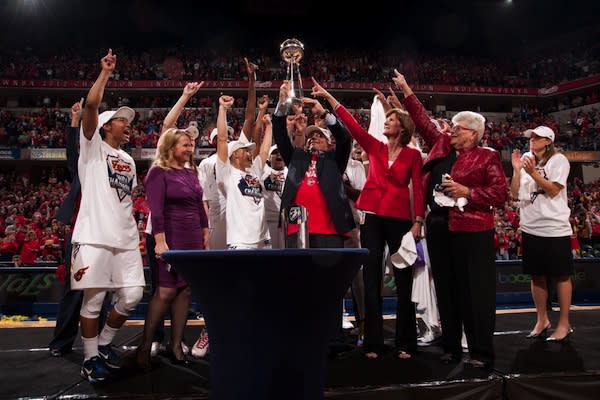 The Indiana Fever will be the Grand Marshals of the IPL 500 Festival Parade.We will also get to see Foreigner, Eddie Money, Florence Henderson, and fan favorite Jim Nabors will be returning to Indianapolis after missing last year due to surgery. Also included are Pat McAfee (Indianapolis Colts punter), actor Michael Peña (Tower Heist, Crash, and End of Watch), actor Windell Middlebrooks (Entourage, Scrubs, It's Always Sunny in Philadelphia), and David Soren, director at DreamWorks Animation. Soren is the director for the upcoming film Turbo, about a snail who dreams of winning the Indianapolis 500.
And you will also be able to see all 33 starting drivers, as well as Indy 500 legend, Mario Andretti.
Finally, General Daniel B. Allyn will be the featured speaker at the 500 Festival Memorial Service. General Allyn is the Commanding General of U.S. Army Forces Command. That means he is responsible for equipping and training 265,000 active duty soldiers, and oversees the training and readiness of another 560,000 soldiers of the Army National Guard and the U.S. Army Reserve.
According to a press release from the IPL 500 Festival Parade, they are expecting more than 300,000 spectators to line the two-mile Parade route. There will be more than 80 specialty units, floats, marching bands, entertainment groups, and inflatable balloons.
Tickets to the IPL 500 Festival Parade are available at the 500 Festival Ticket Office on weekdays from 8:30 a.m. – 7:00 p.m. Tickets can also be purchased by calling (317) 614-6400. Reserved bleacher seats are $14.50; reserved chair seats $18 and reserved VIP/TV Zone seats are $32. For more information, visit 500festival.com.