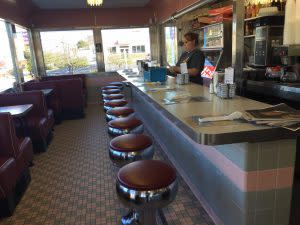 I have friends that live in Hendricks County. I've visited them at their homes in Avon, Brownsburg and Plainfield. Other than that, I hadn't spent a lot of time there. So I went in search of things to do there. And I found local charm, great food and great fun.
The day began in downtown Danville. I walked from one local shop to another. I found a local bakery inside a bungalow house, local Italian eateries, an art shop, a sweet shop and more. Inside these shops, all local businessmen and women sharing their skills with their customers.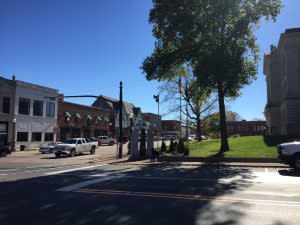 Downtown Danville
The highlight was lunch at the famed Mayberry Café. It's exactly how you'd picture it. An old police car outside for a photo op, the waiting area playing re-runs of the Andy Griffith Show and above the cute little tables and booths inside, memorabilia of Andy and the gang. The food was all made-from-scratch meals by the owner himself.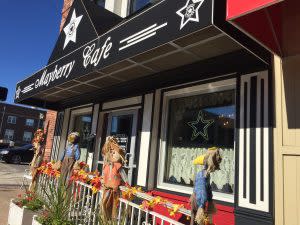 Mayberry Café
Next up, a drive around the county. In Pittsboro, I got a glimpse inside the Pittsboro 1883 One Room School. It looked like something you'd see on Little House on the Prairie. What I saw was a large chalkboard and some old school desks. That's it. It was closed for the day, but I'm told groups can schedule an appointment and experience a school day just like it was in the 1800's.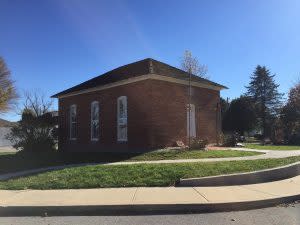 Pittsboro One Room School
After those trips back in time, it was off to experience a working orchard at Beasley's in the outskirts of Danville. They've got pumpkins, apples and a cider bar. But it was the aroma coming from the kitchen that caught my attention. The staff was making fresh baked goods and by the looks of the display case, they all were delicious. Beasley's Orchard has been making some upgrades recently. The loft upstairs has been converted in an event space. You can book a small gathering in the upstairs of the quaint barn, which overlooks the apple-washing area.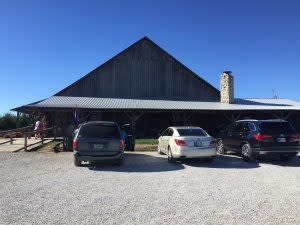 Beasley's Orchard
My trip also included a stop in Brownsburg at Frazee Gardens and Landscape Center. It has a year-round gift shop, which featured works by local artisans. And I had to check out greenhouse area, where there potted plants and trees of all varieties.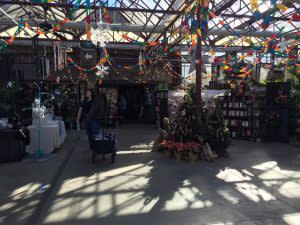 In Plainfield, I got to see Splash Island Family Water Park. Even though it's the off-season, I could tell from all the slides and pools that on a hot summer day it would be filled with guests.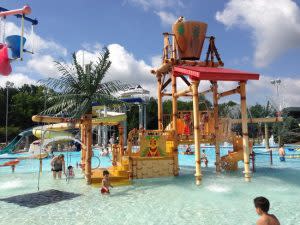 Splash Island Water Park
Not far from there on the Historic National Road, U.S. 40, was the last stop of the day at Oasis Diner. The 50s style restaurant was just like I expected. It looked like a tin box from the outside. Inside there are booths on one side and a long counter with stools on the other side. There was also a soda machine with homemade flavors, made with real sugar. I spoke to the chef who talked about how they have a bakery downstairs in the diner. They make their own bread and pies onsite. I know I'll be making a trip back because the food was excellent. I will be making a trip back to see my friends who live there, experience more of the local culture, local shopping and of course, the homemade food!