I'm a little like Buddy the Elf and I love syrup. Who doesn't? So I've been hearing a lot about different syrup events across the state and have already marked a few in my calendar: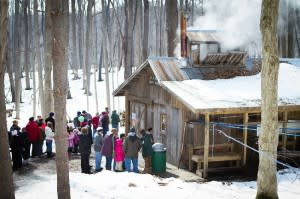 Photo Credit: Sugar Camp Days
Maple Syrup Festival in Brown County
The 2015 National Maple Syrup Festival will be held March 5-8 in Brown County. Visitors will be able to enjoy tree tapping, sap boiling, incredible foods and unique drinks with syrup as the main ingredient!
The event takes place all over the county:
Brown County State Park - Events include interpretive hike, live reenactments of maple sugaring techniques and on-site cooking by The Dutch Oven Diva!
The Story Inn - Home to The Sweet Victory Challenge - a maple culinary competition of national recipe contests for youth and adults
Downtown Nashville - Pioneer Village will come alive with demonstrations of pioneer sugaring methods and Nashville restaurants and retailers will focus on maple-related food and wares.
There will be some admission costs for events, so be sure and check out the National Maple Syrup Festival website for more info.
Be sure to visit Brown County for more information on events, attractions and lodging.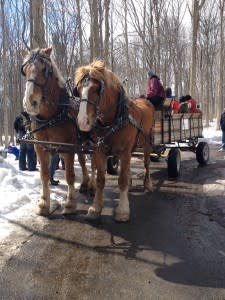 Photo Credit: Sugar Camp Days
On March 21-22 head north to Bendix Woods County Park just west of South Bend to enjoy Sugar Camp Days. Visitors can watch sap cook into syrup, enjoy a pancake and sausage breakfast, tour the Sugar Bush and enjoy family music!While there, visit the Studebaker Trees, which spell out the Studebaker name from an aerial view and have been around for more than 75 years!
Time is 8:30-3 and cost is $7/vehicle entrance into the park.
Fore more information on events, attractions and lodging, be sure to Visit South Bend Mishawaka.
Maple Sugarbush Festival and Pancake Breakfast

On March 7-8, join in the 37th annual celebration of the maple sugar harvest at the Wessleman Nature Society in Evansville. Visitors will be guided through the woods to observe how sap becomes the pure maple syrup. Everyone is served a hearty breakfast that includes sausage, all you can eat pancakes and a beverage (cue the stomach growl!). If you haven't expierenced Wesselman Woods Nature Preserve, this is the perfect opportunity. 
Admission is $8/adults and $5/child.
For more information on events and attractions in the area, be sure to Visit Evansville.
Here's to maple syrup!