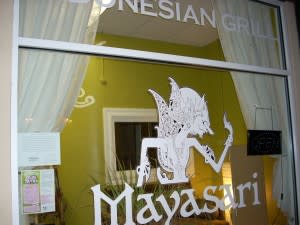 Mayasari Indonesian Grill
When most people think of the town of Greensburg, (Decatur County), they possibly think of the tree that grows out of the top of the county's stately courthouse, built in the 1850s. The tree apparently began growing in the 1870s, possibly from seeds dropped from a passing bird.
While this site is certainly worth a mention about this town located halfway between Indianapolis and Cincinnati, I'd like to nominate another noteworthy locale in Greensburg.
The Mayasari Indonesian Grill in downtown Greensburg is owned and operated by Maya Effendi and Rick Mays (they are married but in keeping with the Indonesian culture Maya kept her maiden name). My husband and I were interested in visiting this place as one of our daughters had lived in Indonesia for several years. We wanted to see what Indonesian culture looked like in a small Midwestern town.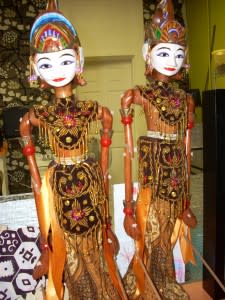 Indonesian items adorn Mayasari's interior. We arrived at the restaurant within an hour of closing one evening. The usual dinner crowd had dispersed, allowing Maya time to speak with us about her story.
Maya grew up in Indonesia where her grandma owned a restaurant. Maya learned much about cooking there. She came to the US in 2004 to earn a computer science degree from Purdue University. Desiring to return to her roots, she signed up for culinary arts classes and opened the doors to Mayasari's in May 2012.
The menu contains a fair sampling of popular Indonesian dishes. Gado Gado is a steamed mixed vegetable dish topped with peanut sauce. Chicken Satay is a chicken breast on bamboo skewers marinated with peanut sauce, then grilled. It comes with a side of steamed rice, carrots, onions and cucumbers.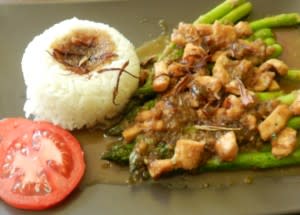 Sauteed asparagus with chicken at Mayasari's is made with fresh ingredients. If you want to add spice to your life, Maya serves a beef curry in which the customer chooses the heat level of spices added during the cooking process!
Bihun Goreng is more my style with tasty soft rice noodles covered in sweet soya sauce, vegetables, Indonesian meatballs and shrimp.
But I'm not always soft on my taste buds. This past summer Maya added a new entree to her menu. It was based on a food item common to the Midwest but not one she had ever thought of adding to her Asian menu -- tenderloin.
While her menu includes meat dishes, she had never incorporated tenderloin meat, nor did she even know what it was! Yet, at the encouragement of friends Maya participated in the 2014 Greensburg Tenderloin Throwdown contest.
She created a grilled tenderloin on a rice flour bun with curry paste, steamed rice, asparagus and fruit.
Guess what? This restaurant owner who specializes in vegetable dishes won first place! She also won People's Choice for the dish!
Maya has since added two other tenderloins to her menu – breaded and curry. The curry version, she explained, is not hot as many American people would believe. "Indonesian food is spicy because Indonesia is part of the Spice Islands," she said. "That just means it has lots of flavor."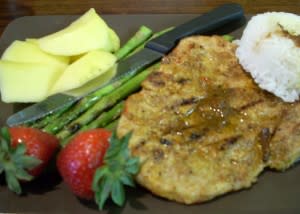 Mayasari's Grilled Tenderloin is succulent! I ordered the curry version. It was succulent and flavorful, artfully served as presentation is important to Maya. Complemented with a glass of mango tea with small chunks of the sweet pinkish fruit lying in the bottom of my glass it was a perfect meal (Mango tea is my new favorite drink!) The restaurant also serves Oolong, herbal and ginger teas.
My husband ordered Indomi Goreng with pork and loved every bite. Maya makes nine sauces for her dishes, including an Indonesian favorite—peanut. Nothing served in the restaurant is processed.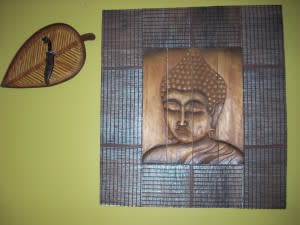 The Buddha in Mayasari's was made in Indonesia. The restaurant's décor adds ambience. A Buddha head from Indonesia hangs on one wall, while lights hanging from the ceiling were designed on the island of Bali. Maya sells authentic Indonesia souvenirs in the restaurant to raise funds to mail donations of school supplies and gently used clothing to village people in Indonesia. Learn more about Maya's desire to help people in need at her Facebook page (Mayasari Grill).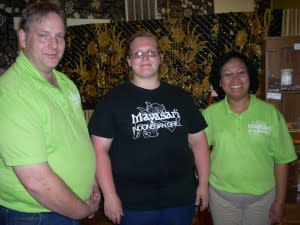 Rich Mays and Maya work in the restaurant with their daughter Katlyn Mayes. Another daughter helps also. If you need some place to eat a traditional American Thanksgiving dinner, Mayasari's is accepting reservations.
Healthy, delicious food, authentic Asian décor, knowing your donations help people in your community and around the world – that's more than enough for me to add Mayasari's to my To-be-visited-often restaurants!
Mayasari Indonesian Grill 213 N Broadway St Greensburg In 47240 812.222.6292