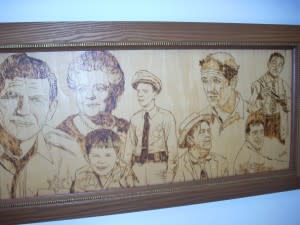 Cast of Andy Griffith Show I grew up watching and loving episodes of The Andy Griffith Show. The small town of Mayberry, North Carolina, with a quirky group of citizens who get themselves wrapped in (mostly innocent) mischief made me and countless other people laugh from 1960-1968.
Today, while still not a diehard fan of the show, I was anxious to visit the Mayberry Café in Danville (14 miles west of I-465). The Mayberry Cafe is located on the square in downtown Danville.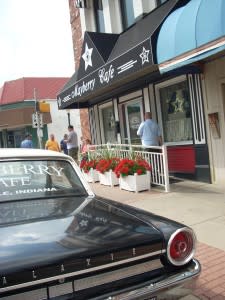 Barney's squad car sits in front of Mayberry Café. During warm weather, the exterior is adorned with flower boxes and a black awning with a police badge printed on it. And, of course, Barney Fife's police car is parked out front. Cool!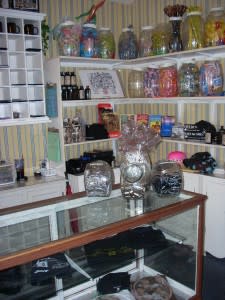 Old-fashioned candies behind front counter. The interior was just as fun. The front counter has shelves of old-fashioned candies, but we passed by in search of bigger and higher calorie foods. We found them!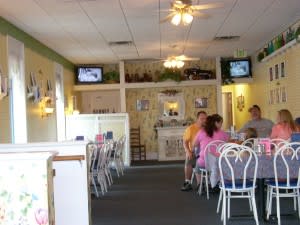 Mayberry Café's décor reflects Aunt Bee's kitchen. The Mayberry Café has two floors—each of which can seat 75 people. We chose to sit on the upper level. Good news is the café offers an elevator, aka The Barney Express, for those who cannot manage the stairs. Each floor is covered with floral wallpaper and brightly colored walls reminiscent of Aunt Bee's kitchen in the show. If that is not enough to get you in the mood of small town America in the 1960s, the walls are also covered with photos of cast members from the show.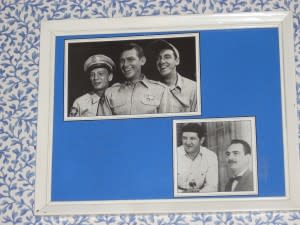 Choose your favorite cast member from photos on café walls. To assist with the memories of the show, TVs on each floor play episodes of the show non-stop. So if there's a lull in your conversation, no worries! There are plenty of friendly distractions to keep your thoughts entertained.
When it came to order, my husband settled on the chicken fried steak dinner complete with mashed potatoes and corn. He was thrilled as we usually eat salads at home. I admit, I broke out of the mold to order the same with fries. I'd be willing to return on Tuesdays during Goober Hat Nights wearing a funny hat to enter a contest for a free dinner.
Other menu highlights include daily specials reflecting the show's theme: Sunday: Aunt Bee's Famous Fried Chicken Dinner Friday and Saturday: Sheriff Taylor's Favorite—Prime Rib. There is also a kids menu. One can almost hear Aunt Bee scolding, "Opie, clean your plate!"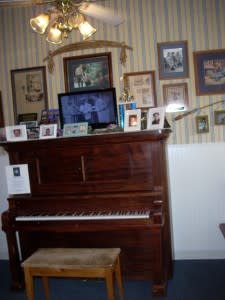 Mayberry Café's interior has an upright piano as Andy might have played. Speaking of Opie, do you need Mayberry trivia to go along with your meal? Where did Opie carry his milk money? In his shoe! What is the make and model of the sheriff's squad car? Ford Galaxie. What is the only time we see Barney's mother? When he frisks her at a road block. The Mayberry Café offers carry out and parking is available behind the restaurant and on the square.
There is even a Mayberry in the Midwest Festival. It will be held May 15-17, 2015, with a VIP Party to meet Maggie Mancuso (Charlene Darling on the show), Karen Knotts (Don Knotts' daughter) and other tribute artists. It is a ticketed event with limited availability.
Other activities include performances by tribute artists portraying Barney Fife, Floyd the Barber, Ernest T. Bass, Opie look-alike contests, and Mayberry-like squad cars competing in the Squad Car Nationals, and a parade.
Hey, don't wait for May! Grab some friends and head to the Mayberry Café to enjoy great food and nostalgia!
78 W. Main St., Danville, Indiana 46112 Telephone: 317.745.4067 Hours: Sun-Thur 11a-9:30pm Fri-Sat 11a-10pm