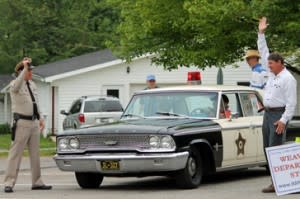 If there is one event guaranteed to grant smiles among those in attendance, it surely must be the Mayberry in the Midwest Festival held in Danville in Hendricks County on May 20-22. I'm smiling just thinking of the popular 1960s Andy Griffith Show.
I have watched every episode of this special show that used clean humor to delight audiences. I appreciate that substance even more so today in the 21st century.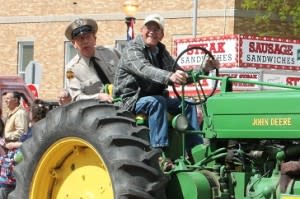 The Mayberry in the Midwest Festival, which debuted in 2014, brings fond smiles for those of us old enough to recall the antics of Barney Fife, Goober, Gomer, Floyd the Barber, Ernest T. Bass and others. Andy was like a beneficent patriarch for all of these characters. Just hearing them talk with southern drawl was enough to make me chuckle.
Danville near Indianapolis might not be in the southern part of the US, but for three days it is transformed into a small, laid-back town resembling Mayberry.
A good number of activities are scheduled to help visitors be immersed in life in Mayberry. The question for me is how to limit myself to a reasonable number to attend!
To familiarize myself with the characters and scenery of The Andy Griffith Show I'll take in some reruns on the big screen at Danville's historic Royal Theater on the town square. Just sitting in this old-time theater will be a treat!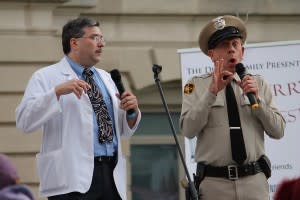 Back on the street, I'll keep an eye out for tribute artists hobnobbing with visitors. Goober may be my favorite – I think it was his smile. He and the others will be brought to life as they sign autographs, mingle with the crowd and perform on stage.
The Phil Fox Comedy Show honors the character of Ernest T. Bass with a comedy show at the Royal Theater stage on Saturday at 9:30 p.m.
Some of the original actors have passed on, but at least one original Andy Griffith Show cast member is scheduled to be at the festival -- Maggie Peterson Mancuso, who portrayed Charlene Darling. She was part of a fictional musically-inclined hillbilly family who had a crush on Goober.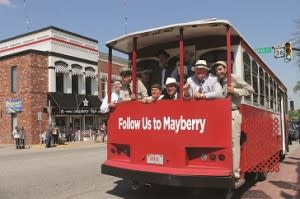 Another related member of the Andy Griffith Show will be part of the Mayberry in the Midwest festivities -- Dixie Griffith, Andy Griffith's real-life daughter.
The three-day festival will provide many events in close proximity to the historic Hendricks County Courthouse Square -- a Mayberry-themed parade on Saturday morning. Locations for other events like the Celebrity Basketball Game are outlined at the festival's website.
Kids will enjoy Opie's World for kids, Tractor Town, Squad Car Nationals. There will be live music and old-time craft demonstrations (rug hooking, basket making, storytelling, quilt binding, needle felting), for those who want to reflect on the domestic life of Aunt Bee.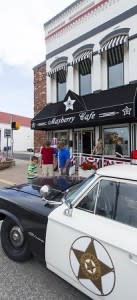 While many events are free, some, including Mayberry After Dark, VIP Meet & Greet Party, and Phil Fox Comedy Show, require tickets.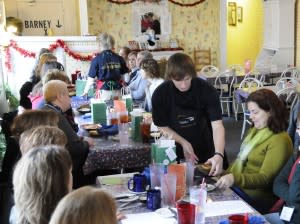 Don't miss the piece de resistance — the Mayberry Café across from the courthouse. This is the place that prompted the festival. The portions are huge and the atmosphere is pure, down home hospitality. For more information, go to VisitHendricksCounty.com/blog or call 317.718.8750.