Golf is a past time for our family. With my husband in the golf business it is pretty much a guarantee. So when I heard there was a mini golf course at the Indianapolis Museum of Art of course my interest was peaked.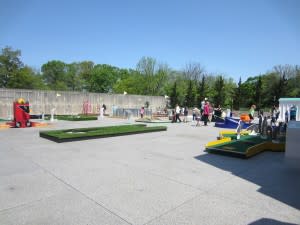 If you've been to the Indianapolis Museum of Art you know they excel at what they do. Exhibits are carefully chosen and beautifully executed and the newest one - mini golf - is no exception. They commissioned 18 holes by regional and national artists to not only be playful, but also tie into Indiana's Bicentennial - genius!
The official process started a year ago with call for proposals. The artists were chosen in January, given a stipend and off they went. The end product is pretty remarkable, so let me just walk you through a favorite of my holes.
Covered Bridges of Indiana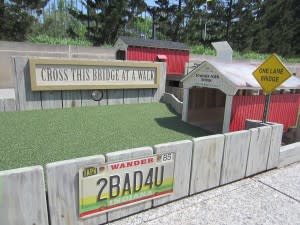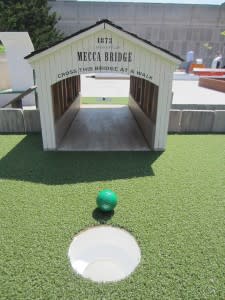 I hope you all know about the covered bridge treasures we have in this state. This hole not only represents them well, but was carefully crafted. See those shingles? I can't lie ... they were HAND CUT!
Vonnegut Doodles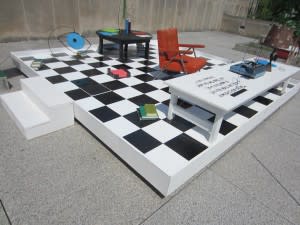 This might be one of the most challenging holes (mainly because tiled floor isn't easy to putt on), but the creativity is the best. Visitors can play around Kurt Vonnegut's (the famous Indiana author) office ... even sit in his chair.
The Grid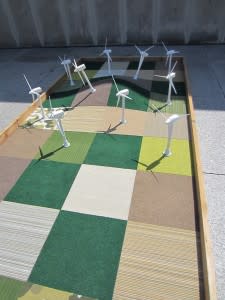 This hole is dear to my heart because coming from a farm that proudly displays wind turbines it reminds me of home.
Back Home Again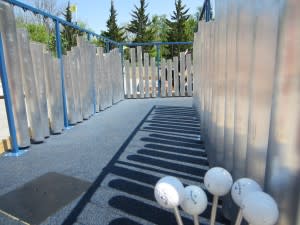 It is about that time of year when the sounds of "Back Home Again" are heard at the race. This hole actually plays the tune if you hit your ball (or the mallets given) in the order of the pipes. Love it.
And a few other favorites ...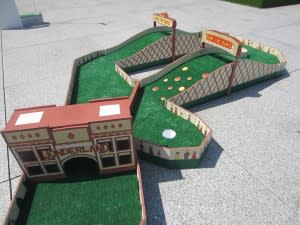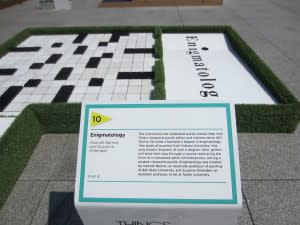 I won't tell you about all of them because after all, that is part of the fun.
Here are some things you should know:
The course is open May 10-October 30
It is included with general admission to the Indianapolis Museum of Art
The course will be open for pre-show entertainment for the summer movie nights
If you are interested in planning a trip to the Indianapolis Museum of Art to coincide with mini golf, you may also want to make sure and visit "19 Stars of Indiana Art" ... A new bicentennial exhibit that opened on May 15.
For information on other attractions, events and even lodging be sure to Visit Indy.