USA Today just recently announced the winners of their "Best Food Trail" category and guess what? The Indiana Hoosier Pie Trail finished fourth! If you didn't know about this one-of-a-kind trail, then here is your chance! There are 17 stops on this trail, but I'm going to highlight just a few favorites.
The Indiana State Senate voted to adopt the Sugar Cream Pie official state pie in 2009. This was to honor the late Mr. Duane 'Wick' Wickersham and his family business that manufactures Wick's Sugar Cream pies in Winchester.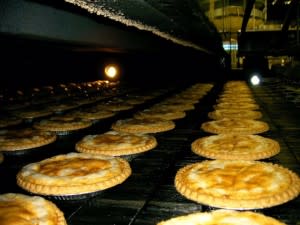 Mrs. Wick's Pies
They produce more than 12 million pies and pie shells per year using the Wick's family recipe that originated in the nineteenth century. Now you can buy these pies in 25 states.
The Bread Basket Cafe and Bakery in Danville does not disappoint when it comes to pie!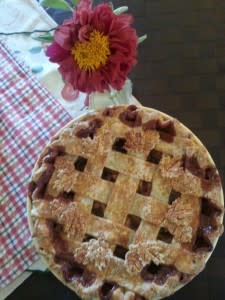 Pictured here is their carmel apple cranberry pie! And trust me, they don't disappoint with food either! Click here to read about one of my visits.
The Blue Gate Restaurant in Shipshewana (the heart of Amish Country) has over twenty pies to choose from PLUS seasonal favorites.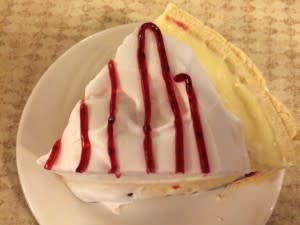 Red Raspberry Cream
May I please recommend the red raspberry cream?
Is your mouth watering yet? Then check out the other 14 locations on the Hoosier Pie Trail ... including pie in a jar (see Lisa's Pie Shop listing). HINT: It just may be a good idea to plan a trip around each one.
For other culinary trails across the state, visit Indiana Foodways Alliance - a great resource for all things food in Indiana!