Each year my mom makes the drive from Columbus, Ohio to Indianpolis for Butler's Parent's Weekend. Throughout the weekend we always like to try food from new places that are specific to the Indianapolis area. The first night, we chose 10-01 Food & Drink in Broad Ripple. 10-01 has a great selection of locally brewed beers and a menu that strives towards "midwestern comfort food with a culinary twist!" The environment is lively and warm, offering the perfect ambiance for a great meal with family and friends.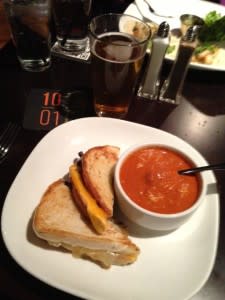 Playing off of my high expectations for Midwestern comfort food, I ordered the grilled cheese with tomato bisque, and added sauteed mushrooms and caramelized onions to the sandwich. I also chose the classing Sun King cream ale for a light beer to go along with the meal.
The grilled cheese was made with cheddar, american and Havarti cheeses, all piled on toasted sourdough bread. It was melty, warm and hit the spot on a cold night! The caramelized onion added a nice bit of crunch, and the sandwich was perfect for dipping into the tomato bisque. Unlike the typical tomato soups that are often served with grilled cheese, this soup had unpredictable flavor. It was spicy to the point of adding kick to every bite, but matched perfectly with the three-cheese sandwich. I would definitely order this combo again! My mom ordered the fish tacos, which were served with a delicious chipotle cream sauce.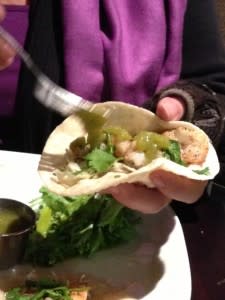 It's no surprise that Broad Ripple offers a restaurant for every diner. With so many choices, it's often hard to make that tough decision. So, next time you visit take a look at 10-01's menu. If you have a craving for comfort food on any day, it is the place to be!