My mother-in-law, her friend and my daughter and I had a free day last Friday and wanted to do something fun. We headed to Danville (just west of Indianapolis) and spent a good portion of the day visiting and having a ball. In fact ... so much so that I can't do it justice in just one blog. I figured I would keep this one easy and focus on our morning so I won't overload you all they have to do!
Since we were coming from different directions we met at the Bread Basket Cafe and Bakery which is just a few blocks from their downtown square.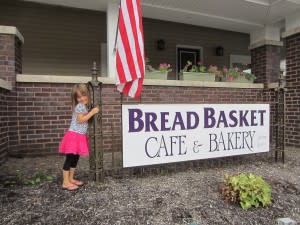 Now, I love breakfast. I mean LOVE breakfast. I could eat pancakes, omelets and baked goods all day long if given the chance, so I'm always up for trying new places and seeing what they have to offer. This place hit it out of the park. It is run by a mom and her two daughters (which gave it a soft spot in my heart) and they feature fresh baked rolls, breads, pies, cakes ... do I need to go on?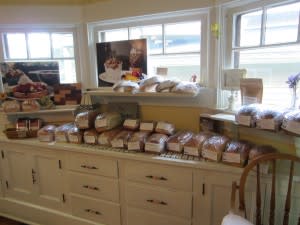 We settled in and had such a hard time deciding. I mean, would you be able to decide between a fresh omelet and a pumpkin cinnamon roll? Thankfully mother-in-law suggested that we split an omelet and a cinnamon roll. Perfect!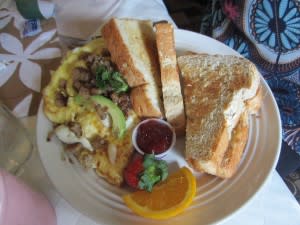 Her good friend wanted to go on the light side so she ordered a roll and a side of fruit. Needless to say she shared much of the fruit with us!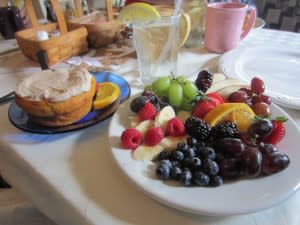 My daughter (who takes after her mom with her love of bread!) ordered the french toast and ate all but one piece. I was so proud!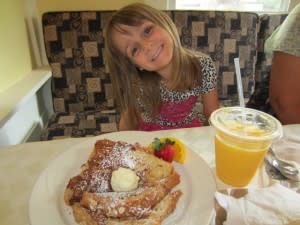 So of course we couldn't leave without buying some of the delicious bread and wouldn't you know it, I bought TWO loaves and within two days I only had a few pieces left to show. Guess I'll have to make another trip to the Bread Basket Cafe soon!
After breakfast we walked the few blocks over the Hendricks County Historical Museum.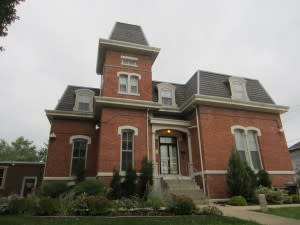 We had a wonderful tour with one of the volunteers who took time taking us through each room and explaining the history of the house as well as the items on display. One of the neatest things about this location is that the building once served as the home for the county sheriff ... but that's not all. It also served as the jail. Yes, you read correctly. The sheriff and his family would live in the home and out the back door, ATTACHED to the house was the jail.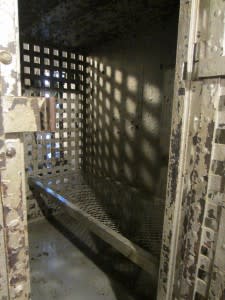 Can you even imagine? We did our best to pretend.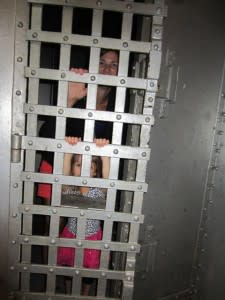 My favorite part was the kitchen all decorated in the 1950s.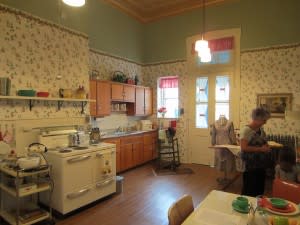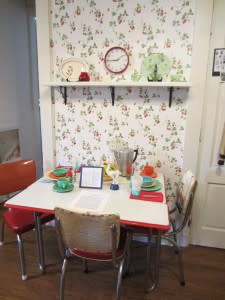 Right when you enter they have signature quilts on display where individuals would sew their names into the quilt. Right in the center was my mother-in-law's aunt's name. Very cool!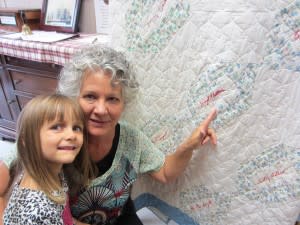 I love that I captured my daughter's expression when she saw this doll house. She had to cover her mouth because she just couldn't believe it!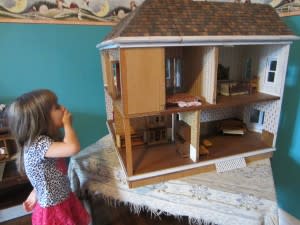 The morning flew by and we all had a wonderful time. As I said, we spent more time in Danville, but you will just have to wait until I write about the other stops we made. How's that for a teaser?
If you want more info on planning your trip to Danville or want to see upcoming events, be sure and check out Visit Hendricks County.