Boating season may have ended for the year, but whether you boat, fish or enjoy riding a personal watercraft, Indiana has a new tool to help you plan your next boating adventure when warm weather returns. It might help you protect Indiana's waterways too!
The new digital version of the Boater's Guide to Indiana Marinas offers a powerful interactive map to filter marinas by location as well as by services they offer, including fuel, onsite stores, restaurants, restrooms, and pump outs. Indiana has hundreds of lakes and thousands of registered boats. Hoosiers clearly love the fun that comes with boating. This tool helps boaters conveniently find the services they need and encourages simple steps to reduce the environmental impacts of boating.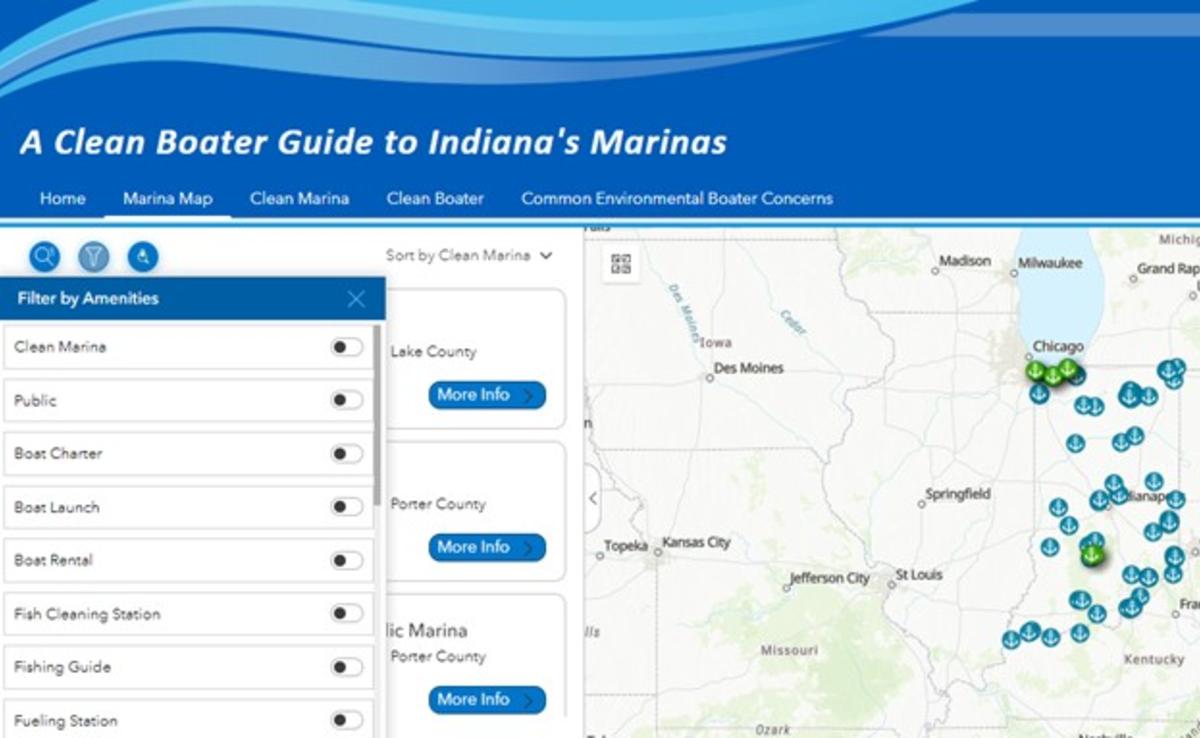 Now in a few seconds, boaters can search approximately 80 different marinas in Indiana to find ones that sell fuel or offer overnight dockage. Maybe you're looking for a marina that can perform a boat repair or one with a boat launch, now, you have a one-stop shop to find a marina near you with these or any other of the 17 services searchable in the new guide.
The Indiana Department of Environmental Management (IDEM) rolled out the GIS map through funding from the U.S. Fish & Wildlife Service (USFWS). IDEM believes the guide is useful for Hoosiers and those looking to visit our state's lakes and rivers.
BOATERS AND MARINAS CHART A COURSE TO PROTECT WATERWAYS
Boaters can use the Boater's Guide to Indiana Marinas to locate marinas that participate in the Indiana Clean Marina Program, a voluntary program encouraging marina operators and recreational boaters to protect water quality and habitats by engaging in environmentally sound operating and maintenance practices. The guide also allows boaters to pledge to be Clean Boaters.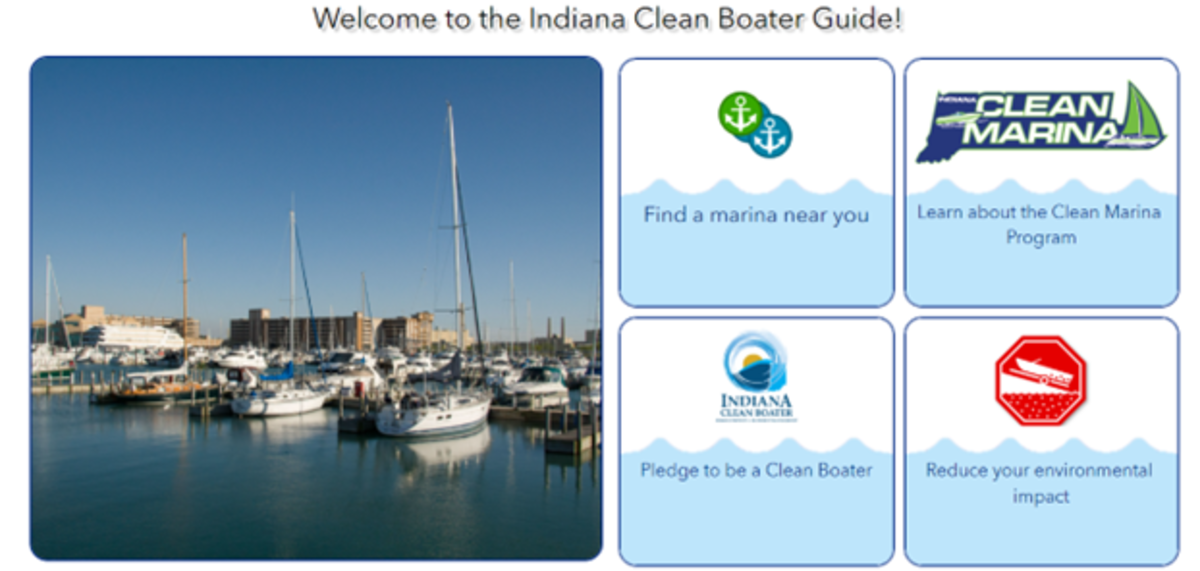 The guide provides locations for proper disposal of common boating waste streams such as antifreeze, used oil and oil filters, and more. Sometimes, boating can negatively impact our waterways, including shoreline erosion from wave action, drips and spills from fueling, and inappropriate sewage disposal. The Clean Marina and Clean Boater Programs educate marina owners and boaters on simple things they can do to protect water quality, such as offering recycling, pump outs, restrooms, fish cleaning stations, and more.
In October, IDEM recognized Two Herons Marina and the Lake Monroe Sailing Association (LMSA) as Clean Marinas. Both are located on Lake Monroe, and they know the reservoir is the main source of water for several communities, including Bloomington and Indiana University.  Tom Greeman, owner of Two Herons Marina, was happy to see the support from officials from IDEM and the Indiana Department of Natural Resources when his marina was awarded Clean Marina status. According to Tom, a marina needs to be a good steward of water resources through clean practices and the education of its boaters.
IDEM Office of Program Support Assistant Commissioner Bob Lugar presented Indiana Clean Marina memberships to Lake Monroe Sailing Association Harbormaster Walter Johnson and Two Herons Marina Owners Thomas and Phoebe Greeman at Two Herons Marina in Bloomington. Two Herons Marina and LMSA were recognized as Clean Marinas on Thursday, October 13, 2022.
Both marinas offer onsite pumpouts which were recently upgraded to make the process fast, clean, and simple. Two Herons has also opened their dockside restrooms to the public. In addition, signage is present to educate boaters on proper fueling techniques and other clean boating topics. Both marinas have also added spill response materials throughout the marinas.
In 2021, LMSA was recognized nationally as an outstanding Safer Choice Supporter in EPA's Safer Choice program, becoming the only marina in the nation to receive the award. The award recognized their work to empower people to use safer products to protect human health and water resources.
Two Herons and LMSA join five other marinas in IDEM's Clean Marina Program, which all renewed membership this year. They include Hammond Marina (Hammond), Marina Shores (Portage), Sammie L. Maletta Public Marina (Portage), Sprague Point Marina (Michigan City), and Washington Park Marina (Michigan City).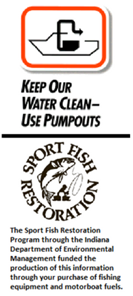 If a marina you like to use is not already a Clean Marina, consider giving it a nudge.
For more information about the Clean Marina Program or the Clean Boater Program, visit the Boater's Guide to Indiana Marinas.