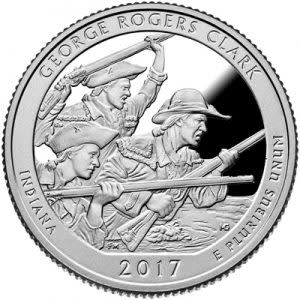 The United States Mint will release the 40th quarter in the America the Beautiful collection. Indiana's new quarter features George Rogers Clark and his men crossing the flooded Wabash.  Clark's daring surprise capture of the British Fort Sackville is considered one of the greatest feats of the American Revolutionary War.
A ceremony marking the coin's release will be held at the Riverfront Pavilion in Vincennes on Tuesday, November 14th at 10am with a coin exchange immediately following.   The capture successfully limited British control of the region and was instrumental in the subsequent establishment of the Northwest Territory and American expansion west of the Appalachians.  This is the second quarter celebrating Indiana released by the US Mint in recent years.   
A Coin Forum will be held by the United States Mint the evening before the ceremony on Monday, November 13th at 6pm at the George Rogers Clark National Historical Park Visitors Center.   The park is located at 401 South 2nd Street in Vincennes and is open daily from 9am to 5pm.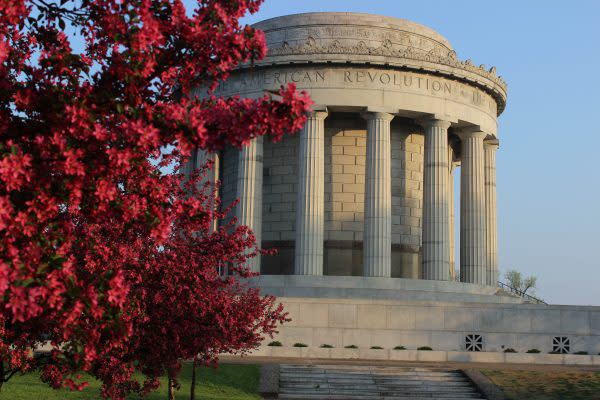 George Rogers Clark National Historical Park features a massive granite memorial which commemorates the conquest of the Old Northwest Territory. It is the largest national monument outside of Washington, D.C. The Memorial is located on the site of the former British Fort Sackville which was captured by Colonel George Rogers Clark and his army of 170 frontiersmen and Frenchmen. The moment of the fort's surrender on February 25, 1779 marks the birth of the United States north of the Ohio River. The park's Visitor Center is handicap-accessible and features exhibits, a gift shop and a 30 minute movie presentation. The monument is not handicap accessible.
Looking for more to do in Vincennes during your visit? Look no further than this blog!
For more information on the event or George Rogers Clark National Historical Park, visit vincennescvb.org or call 800.886.6443.