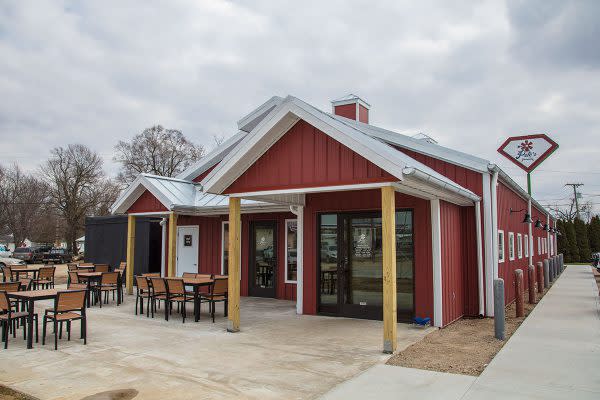 Pete's Bar and Grill is one of many local new restaurants to pop up recently in east-central Indiana. Opening in April of 2018, the Albany, Indiana restaurant is a successor of sorts to Pete's Duck Inn - a long time staple of dining in east-central Indiana. Run by Phil Peterson, the Duck Inn provided many dinners to this writer over the past decade and had some of the best Hoosier cuisine in all of Indiana.
Pete's Duck Inn
When Peterson sought to sell his restaurant at the end of 2017, three Indiana restaurateurs and entrepreneurs jumped at the chance and purchased the Duck Inn. Over the past several months, Caleb Churchill, Clyde Shaffer, Jr., and Josh Shaffer quite literally rebuilt the restaurant from the ground up and re-christened it Pete's Bar and Grill in honor of the original founder.
Menu
The new owners changed the food offerings - both for guests dining in, but also the catering menu (catering is run by Peterson's daughter Jill Seals). In early April, just as they opened, Pete's Bar and Grill  won the best appetizer at the 32nd Annual Taste of Muncie. Pete's won with a fantastic Pork Belly Bite appetizer!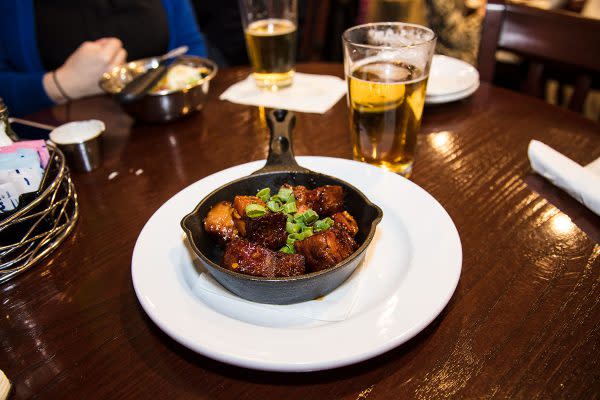 Pork Belly Bites - Best Appetizer in the 2018 Taste of Muncie
We tried the Pork Belly Bites on the recommendation of our server and did not regret our order. We decided to keep with a mostly pork dinner, going with the Pete's Platter Pick as our entreé, where we could pick from a handful of options.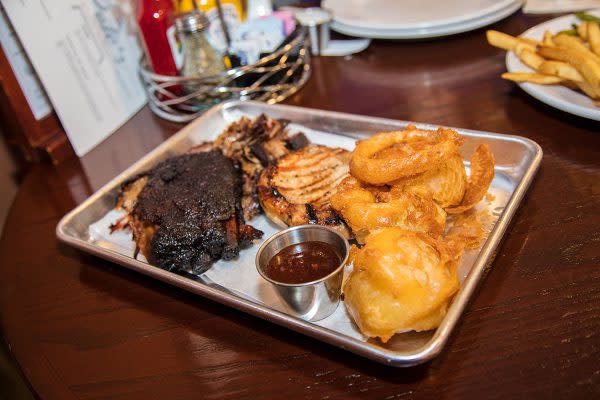 Pete's Pick Three Platter
We chose a ¼ lbs Rack of Ribs, 4 oz of Pulled Pork, and the Pork Chop. We also ordered the Grouper because, hey, there's nothing that goes better with pork than saltwater fish, right?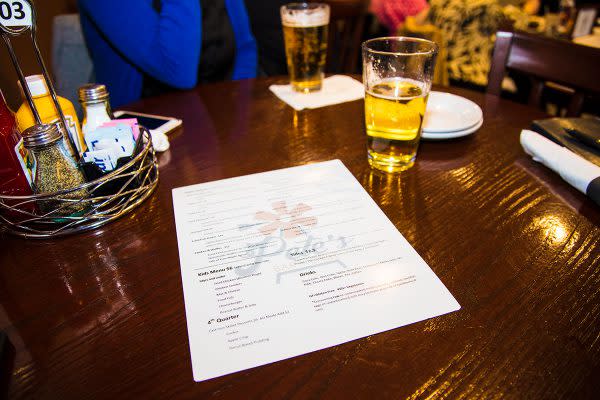 The best Indiana cuisine for proper Hoosier palettes.
Diners with proper Hoosier-refined palettes won't be disappointed at the menu's offerings which also includes Frog Legs, Indiana Mac and Cheese, Chicken and Waffles, a Tenderloin Sandwich, various burgers, salads, and a whole lot more. I was also excited to see Breakfast Poutine on the menu, which is served at lunch and dinner!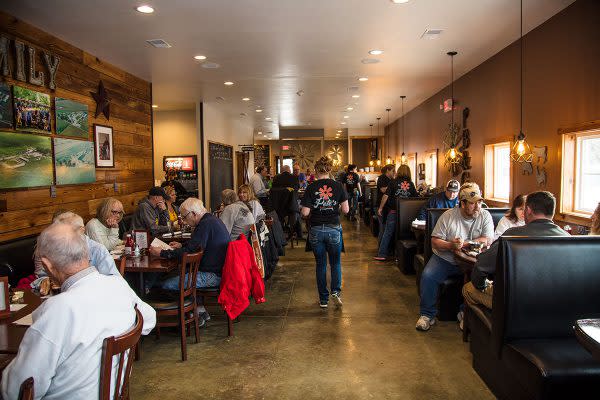 It's BUSY in the evenings.
We went on a Tuesday night and our experience was great. After a short wait, we were seated and had great, efficient, and friendly service. We chatted with the manager and stayed for a few drinks after our meal. One word of caution - the restaurant is very popular in the evenings. By the time we left around 8pm, there wasn't an empty seat in the house.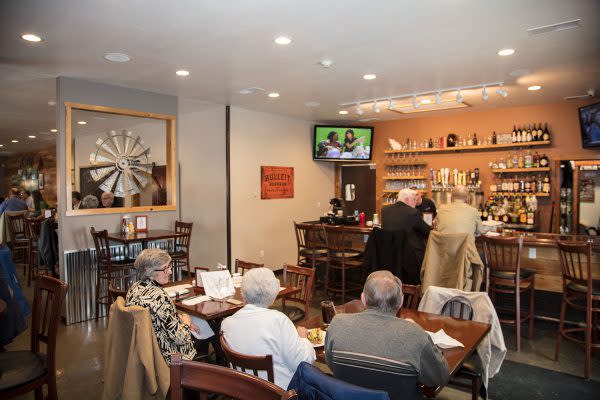 The bar area.
We sat at the bar, which serves wine, liquor, and beer - the latter of which includes a range of bottles and drafts, including selects from Delaware County's own the Guardian Brewing Company.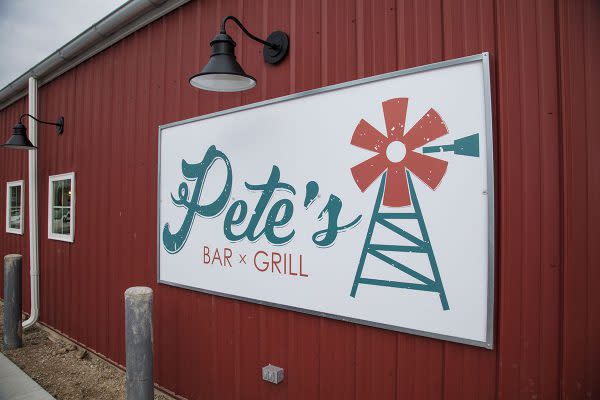 Pete's new logo!
Muncie's Star Press did a full story when they opened, so check it out for a full overview of the evolution of the 'new' restaurant.
Regardless of whether life or business take you into east-central Indiana, it's worth the stop to Pete's Bar and Grill for lunch or dinner, or maybe both.
Pete's Bar and Grill
Pete's Bar and Grill is located at 721 West Walnut Street in Albany, Indiana. It is open: Tuesday-Thursday: 11am - 9pm Friday-Saturday: 11am - 10pm Sunday: 11am - 3pm
Pete's also has a strong social media presence on Facebook, Instagram, and Twitter.