No age limit on fun at Indiana's best local toy and hobby store!
Where will you find a good old-fashioned, 16,000 square foot toy store that is teeming with toys, appealing to both kids and adults, and was voted Indiana's best local toy and hobby store? In downtown Richmond, of course!
Veach's Toy Station is a family owned and operated toy store in Richmond. Opened in 1938 as a variety store, it became a specialty toy store in the 1990s under the second generation of family owners. Now in its third generation of family ownership by John and Shari Veach, Veach's is 76 years young and still the place for "Amazing Toys for Amazing Kids"!
You're not just shopping when you come in to Veach's. There are several areas designed for hands-on play, so children can try out toys and interact with the store's products. Over the years, Veach's has grown and made over their look, but they have never lost their focus on kids and the stories they can tell through toys and play. My recent visit proved that the store is bigger and better than ever!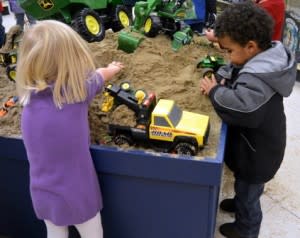 In 2013, Veach's was chosen to be a part of the Today Show segment "Main Street Makeover". NBC and international marketing expert Martin Lindstrom worked with Veach's on a 'marketing makeover'—critiquing and rebuilding the aesthetics of the store to make it visually appealing and designed for kids, and also to tell a story with the set-up of toys, games, and activities. I can say firsthand that the set-up and overall feel of the store drew me right in—even a college student like me can't resist exploring all that the store has to offer!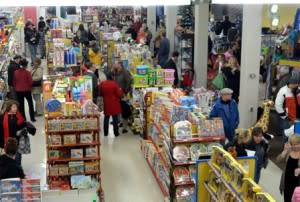 The toy options span generations, bringing back memories of stories and games from childhood for everyone in the family. I was particularly struck by the beautiful Wizard of Oz and Disney Princess Madame Alexander dolls. These classic dolls can appeal to a visitor of any age!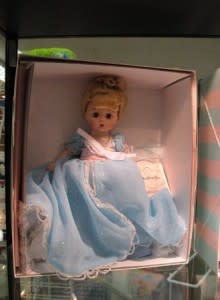 The Main Street Makeover allowed the owners to organize the store based on criteria like age and toy types, including dolls, storytelling, building, crafts, and much more. There is a section just for the books and toys created by local artisans. There is even a section in progress designed for teaching and education, featuring booklets, activities, and other tools for both school teachers and homeschooling educators.
One of the most unique fixtures at Veach's is their Birthday Castle. Kids can come in to the store on their birthday to visit the castle and receive a free gift and discounts. It's a special Veach's tradition that has been providing unique birthday experiences to children for over 40 years!
The store is also host to several special events. Family Game Day, LEGO Day, "Create It, Make It, Take It" classes, and craft workshops are just some of the many activities families can enjoy.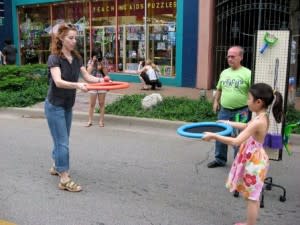 Veach's is also known for their personalized attention. The store offers layaway, free giftwrapping, personal shopping, special orders, holds, and wish lists.
Veach's is unlike any toy store you've seen before. You can't ignore this unique and exciting shopping experience! There's no age limit on fun at Veach's so bring the whole family in for a visit! (Parents, remember, the kids' rules state that you are only allowed to say one word in this store: yes!) Veach's is located at 715 East Main Street in Richmond. Go to veachstoystation.com for more information.