On my most recent excursion to Lafayette (see posts here and here), I learned there is certainly no shortage of great restaurants! We ate and ate and ate our fill and it was all DELICIOUS!! Let me give you the low down:
Casual dining -
We thoroughly enjoyed our lunch meal at the Parthenon - a Greek American Grill located on the north side of West Lafayette. Not only was the restaurant very clean, but the staff was helpful and the food scrumptious. It was really hard to make a decision since the menu featured several things that sparked my interest. I settled on the Chicken Bacon Ranch Pita and would have a hard time not getting it again!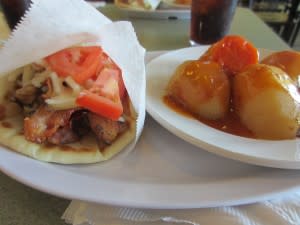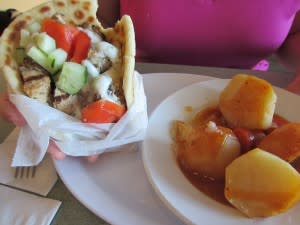 With the casual ordering (similar to Panera) it was a perfect place to go with my four-year-old and she enjoyed the non-Greek portion of the kids menu - chicken fingers!
I was familiar with Arni's Restaurant since we do have a few locations in Indy. What made this experience a little different was definitely the decor ...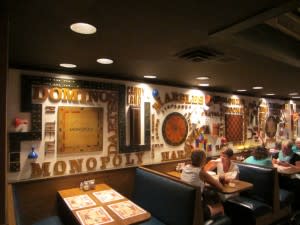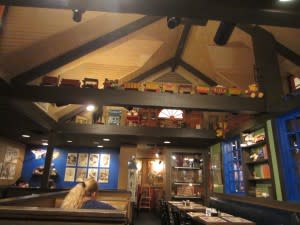 At the Market Square Location in Lafayette there is a dining section called "Toys in the Attic Room" and as you see above it is full of antique toys of all sorts. It certainly made my daughter's eyes grow big!
But of course we weren't there to look around, we were there to eat and we definitely did! I got one of their strombolis and clearly it satisfied me!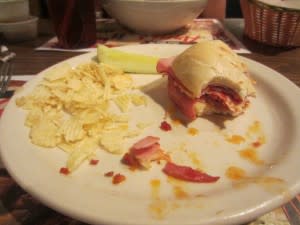 My mother-in-law got a salad and had more than enough for lunch!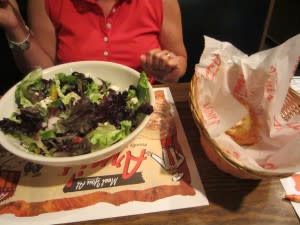 Another GREAT casual dining place was Bruno's, a pizza and sports grill open for dinner only in the heart of West Lafayette. Before I get into the main course, have you heard of Bruno Dough? Prepare yourself. I'm a bread lover. South Beach Diet and I will never be used in the same sentence. Bruno Dough is the definition of love for those of us who live for bread. See what I mean?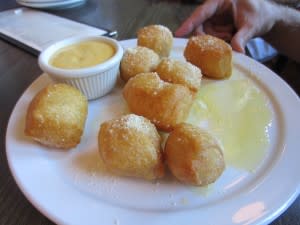 Think bread sticks in donut-hole size and it is brushed with garlic butter and sprinkled with parmesan. And no lie, this picture is the second plate that was ordered for our table because the first one went too fast!
But that isn't all they feature. They have chicken, beef, pasta, even some seafood, but I looked no further than their pizza ...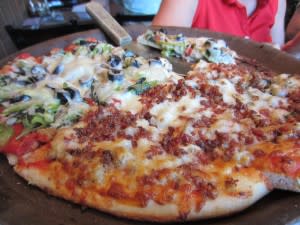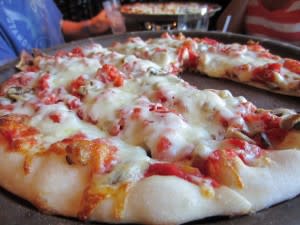 Filling, delicious and they even let me order a fourth of something on my pizza because I wasn't sure what it would taste like. Dreamy.
For your sweet tooth -
While you are sitting at Bruno's, you can look out the window and see one location of Silver Dipper Ice Cream. While I don't have much to picture of the ice cream, I can tell you that this spot was an instant hit! Not only with our daughter, but with my husband and me too!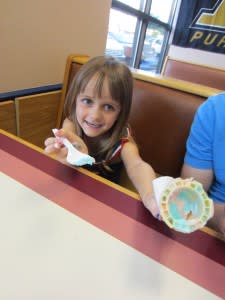 The ice cream was so creamy and scrumptious, but note they only take cash. Fortunately  had my mother-in-law with us and she helped cover the bill!
If you need another place for dessert, try Kathy's Kandies in Lafayette.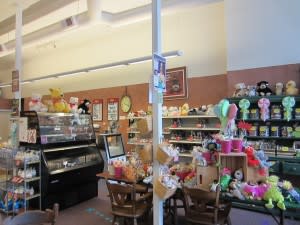 We stopped here for slushies, carmel corn and chocolate ... pretty much anything you could want in a dessert stop!
Fine Dining -
One of our evening stops was Red Seven Bar and Grill. Entrees range from $13-25 and they feature a little bit of everything ... from pasta and pizza to chicken and steaks.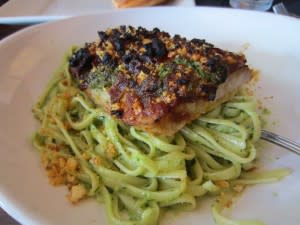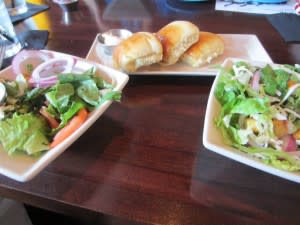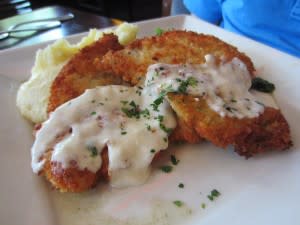 We did take our four-year-old daughter here and it was kid-friendly (we saw other patrons with children as well). However, I likely would have enjoyed my meal a little bit more if it would have been just adults! :) I went for the pasta dish (amazing!), but in typical fashion, I couldn't stop eating the mashed potatoes on my husband's plate!
And to think this is just a sampling of all the dining options Lafayette/West Lafayette has to offer! Next time you are visiting Purdue or are in the area, be sure and stop by one of their many wonderful places to eat!
Thanks to Lafayette/West Lafayette for helping me "eat my way through" the cities!