In trying to create an Indiana Beer Trail, we've hit a bit of a snag, but only a minor one.
On Day 1, we managed to visit seven breweries all in "Da Region", all within 20 miles of each other. So that's a lot of breweries in a small area, but if we're going to visit the rest of the Northern Indiana microbreweries, we're going to have to get creative.
So, on our fantasy beer tasting travels — think of the movie Sideways with beer. Also, without Paul Giamatti's snotty attitude about Merlot — we're going to visit part of north central Indiana, stop for the night, and then hit the rest of the area, and finish up in Northeast Indiana.
Wake up your designated driver, pile into the special Beer Trail limo, and let's be on our way.
We ended the day in La Porte, Indiana, after visiting the Back Road Brewery. Now we're heading straight south to Lafayette for two Indiana favorites.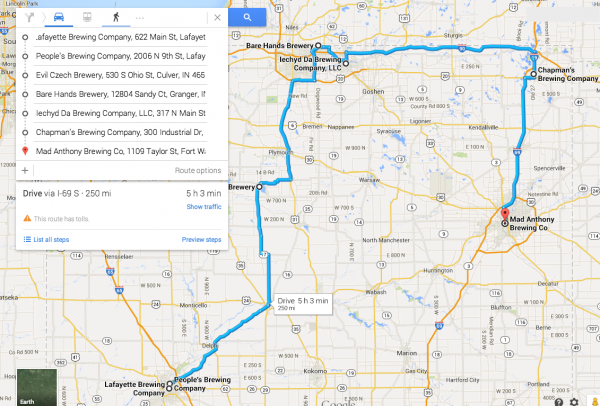 This trip will actually take 2 days. We'll stop after the Bare Hands Brewery in Granger.
Day 2
We'll start at the People's Brewing Company. A Lafayette favorite, their theme stays true to their regional heritage, featuring clever beer names like Farmer Daughter's Wheat, Moundbuilder IPA, and Rail Jumper Chocolate Stout. And there's one they apparently named for me, The Procrastinator Helles Bock. People's Brewing is more of a brewery and supplier. While the Lafayette Brewing Company also has a restaurant, People's Brewing focuses more on selling into restaurants, as well as allowing consumers to carry out bottles and growlers.
From there, we'll head over to the Lafayette Brewing Company, Indiana's oldest microbrewery. They were the first, and it's considered the Grand Old Man of Indiana brewing (in fact, many other Indiana brewers, like the guys at Brugge Brasserie in Indianapolis learned from the founders of LBC). Nearly all of their beers have won awards from the World Beer Championships and the Indiana State Fair, including their Piper's Pride Scottish ale, Eighty-Five golden ale, and Black Angus Oatmeal Stout. They also have a cask-conditioned ale that changes regularly, as well as seasonal brews.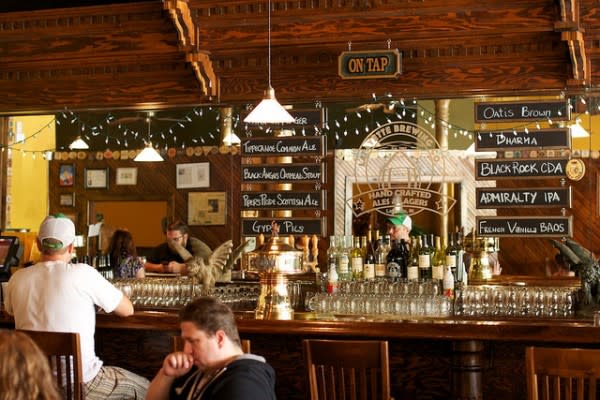 The bar at the Lafayette Brewing Company
Now we can take a little nap for the one hour drive back to Culver Indiana and the Evil Czech Brewery. We could have stayed in the car and headed up to Mishawaka instead, to their other brewery, but I needed to stretch my legs. They offer several seasonal brews, including Blond Czich blonde ale, Bobblehead American wheat, and White Reaper white IPA, plus several more year-round brews, like the Gypsy Camomile Wheat, Dracula's Bite black IPA, or John the One-Eyed Belgian Style Abbey Ale. They also have a restaurant in both their Culver and Mishawaka stores, where you can enjoy pizza, burgers, and other pub grub.
Whether we were in Culver, or went to the Mishawaka Evil Czech instead, we're not that far from the Bare Hands Brewery in Granger, which is a suburb of South Bend. I love their sense of humor in naming some of their beers, including the Thai IPA (an IPA brewed with several Thai spices), the Honey Badger Double IPA (brewed with actual honey), or my personal favorite, the Mail Order Bride, a Russian Imperial stout. Bare Hands is a taproom and tasting room only, so no food here. But you can try their different beers, and walk out with a growler or several bottles for later.
This looks like a good place to stop for the night. It was the hour drive from Culver that cut into our day, but when you're on a beer mission, you have to bear those little inconveniences for the sake of good beer and food. Tomorrow will be a shorter day, so we'll recover sleep in and head out to our first brewery for an early lunch.
Photo credit: Chris Murphy (Flickr, Creative Commons)