We had to cut our day a little short yesterday, trying to cover the remaining seven microbreweries in the Northern Indiana Beer Trail (click here for the Google Map). We covered seven on the Northwestern Indiana Beer Trail, but we discovered that the rest of Indiana is a big place. So we visited four microbreweries yesterday, and now we're tapping the other three today (Get it? "Tapping" the other three breweries? Never mind.)
We could have pushed through the entire day, but it would have meant starting at 9 am, and nobody wants beer at 9 am. At least not without admitting you may have a problem.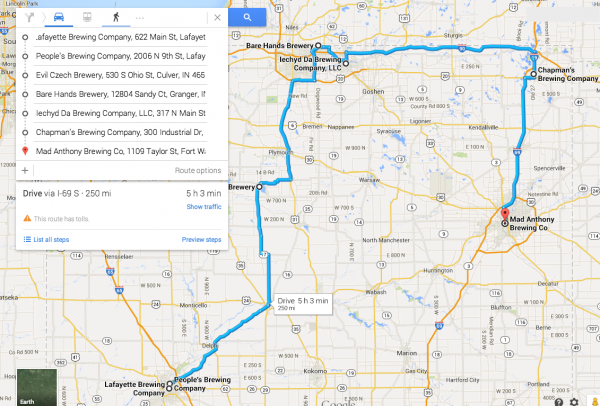 We stopped after the Bare Hands Brewery in Granger, and spent the night. We'll finish up the other three today.
Day 3
This next one is a little hard to pronounce, but easy enough to find: the Iechyd Da Brewing Company in Elkhart, IN. It's pronounced Yah-key Da, and it's a Welsh toast that means "good health!" It's sort of like saying Prost or Slainte. They have a couple of unusual beers, in addition to their normal offerings. There's the Brass Band Golden Ale, the Stiff Wind Scottish Strong, but you can also get the Breakfast Cookies Stout, the TataRosa (a raspberry Berliner Weiss), or the Yam Bam Thank You Ma'am, which is made with roasted sweet potatoes. They even make their own root beer, which is something many microbreweries do.
Surprisingly, there's not much going on beer-wise in Goshen or Warsaw, other than the Mad Anthony Brewing Company restaurant in Warsaw. I've eaten lunch there a few times (they have great pizza), but we're on a mission to visit the actual breweries, so we'll have to give it a miss this time, I'm afraid.
Instead, we'll head over to Angola and Chapman's Brewing Company, home of Chapman's American Ale Cider. Named for John "That's Johnny Appleseed to you, Mister!" Chapman, they started with the Ale Cider, mixing three different kinds of malts with fresh apple cider. They soon added the Pail Ale( an American pale ale with great hops, but low bitterness), and the Englishman, a southern English brown ale like they drink in the English pubs. You can get a tour and visit the taproom, and even check out their iPhone app.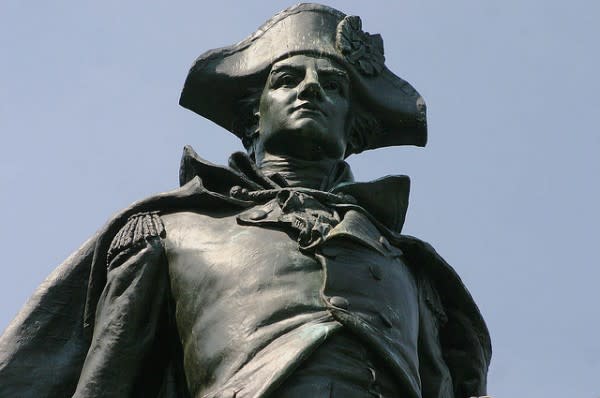 When your city is named after a guy called "Mad Anthony," you just have to name your beer after him!
Lastly, it's down to Fort Wayne and the Mad Anthony Brewing Company. When I lived in northern Indiana, this is the one brewery I always heard about. I may have always gone over to the Mishawaka Brewing Company (now closed), but Mad Anthony was everywhere. Now they have four brew pub locations around northeastern Indiana, but we're off to the main brewery on Taylor Street. Not only is their food great, but they have some outstanding beer selections. With ten beers on tap (including Harry Baals Irish Stout, Auburn Lager, and Ol' Woody Pale Ale), plus four other seasonal beers (Snow Plowed Winter Ale, Oktobeerfest, Summer Daze, and Bent Rim Black Lager), they focus on doing beer right. They produce up to 50 different beers a year, all in their production facility on Taylor Street. However, you can go to the original Mad Anthony's Brew House on Broadway to see the brewery that started it all. In fact, it's the brewery that produces all the beer strictly for the Brew House. All the others are produced in their production brewery on Taylor.
We made it. It took us three days, but we hit all 14 microbreweries (including one nanobrewery) in northern Indiana. We covered three area codes and several counties, driving on the freeways and state roads in our special Beer Tour Limo.
Check back in when we visit southern Indiana, and spend the better part of a week, trying to visit all the microbreweries in Indianapolis and Central Indiana.
Photo credit: DBKing (Flickr, Creative Commons)