We already have a wine trail in Indiana, so I'm thinking we need a beer trail. There are enough microbreweries around the state, that we could spend a few days traveling around, sampling beers, and eating some great pub grub.
Assuming you had a designated driver, or a very understanding spouse, here's the day you could spend driving around Northern Indiana, trying all the different microbreweries. (Click here for the Google Map of our proposed trail.)
While Indianapolis holds the lion's share of microbreweries in the state, Northwest Indiana has a large contingency on their own. From Whiting to Valparaiso to LaPorte, there are seven breweries just in the 219 area code alone.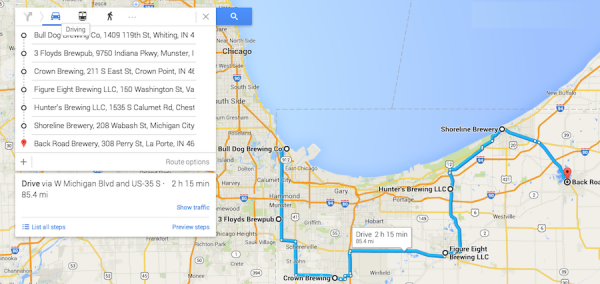 There are 7 breweries in the 219 area code, so make sure you have a designated driver.
We'll start with Bulldog Brewing Company in Whiting, Indiana.Taking their inspiration from their hometown hard work, the beers, and their entire philosophy, is based on the industrial history of Whiting. From the 11 Mile Lager to the 1890 Stout (the year the oil refineries came to Whiting) to the Downtime Wheat ("time to salute our hard work and enjoy free time"), everything about Bulldog Brewing salutes their roots.
Next, Three Floyds Brewing Company is one of the oldest of the bunch. With far-out names like Jinx Proof, Zombie Dust, or the erstwhile Robert the Bruce, Three Floyds has a wide variety of great beers for every taste. They have their year-round flavors (I always reach for a Gumballhead wheat), their barrel-aged (ask for the Tiberian Inquisitor Belgian-style ale), their seasonal (Rabbid Rabbit and Gorch Fock), or their many collaborative efforts. These guys are crushing beer making in Indiana.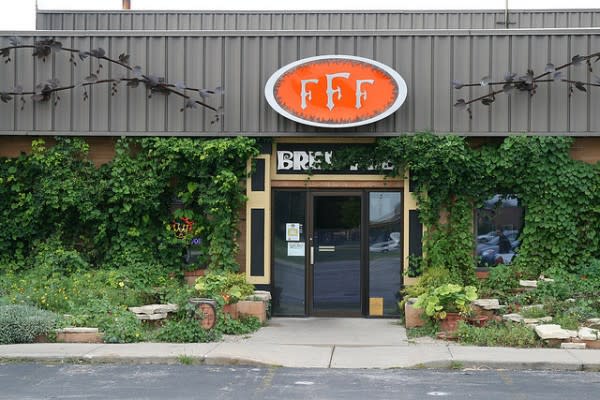 The Three Floyds Brewery
Just 30 minutes away by car is the Crown Brewing Company in Crown Point. With 11 beers, Crown covers the gamut with some expected favorites — the Crown Brown, the Java Porter, and the Special Forces American IPA — as well as a few unexpected flavors and styles. Their Crown Blue cream ale is flavored with blueberries, the Squatch Barley Wine has high hoppiness and big malt, and the Crucible Belgian Dubbel keeps calling my name.
The Figure Eight Brewing Company works pretty hard. With only six year-round flavors, they spend the rest of their time creating their thirty(!) seasonal styles. You've got your Pirates Pils (pilsener), the Raven Tor oatmeal stout, and the Ro Shampo imperial red ale. But how about the Dogma Belgian style dubbel, and the Twist of F8 watermelon wheat ale, and the Transcendent Belgian style quadruppel (I want to go to there!).
Hunter's Brewery is a little different. They're a nanobrewery, which is smaller than a microbrewery, which means they don't serve food, and they don't have a taproom. You can sample the beers in their tasting room, and then carry out your 32 ounce growlers. Try their Cassidy Irish stout, the Mild Child English brown ale, or the Waverly Beach American-style pale ale. Hunter's has some odd hours, so be sure to check the website for times.
But if it's food you want, then you're in luck with the Shoreline Brewery and Restaurant in Michigan, City. Not only do they have great food (I want to try their Grecian lamb burger), but they've got 12 beers on tap. With the lamb burger, I might have to try the Seven Red (made with seven different malts or the Kaiserlich Pilz Imperial Pilsner.
The Back Road Brewery in La Porte is our last stop on the Northwest Indiana beer trail. They've been in existence almost as long as Three Floyds, but they focus on just 16 different styles and flavors of beer. They have some unusual styles too, like their Koza Brada Bock, Maple City Gold Lager, No. Nine Barley Wine, and a Belgian style Witbier (the only witbier I spotted in this region).
There are other breweries in Northern Indiana, but these 7 are within just a handful of miles from each other. With a determined crew and a designated driver, you could hit all seven and sample a few of your favorites.
Now, if you'll excuse me, I need to go have a lie down.
Photo credit: Bernt Rostad (Flickr, Creative Commons)