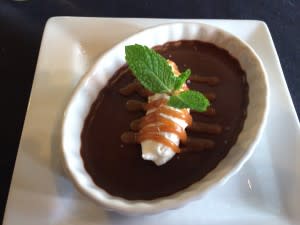 Chocolate Pot de Creme at Sage Restaurant is silky smooth.
This year my husband and I have decided to investigate all of Indiana's hidden treasures—and some that are not so hidden but definitely worthy of mention!The funny (and partly shameful) thing is, we've lived in Indiana all of our lives but have never visited certain parts. No more!
Recently, we drove two hours from our home near Fort Wayne on the northeast side of the state to the South Shore area in the northwestern part of the state. I never realized it only required two hours to arrive in fun places like Valparaiso, Portage, Merrillville and Crown Point!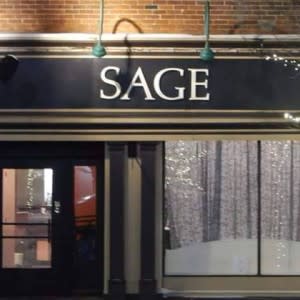 Talk about hidden gems! We found so many in this pocket of the state that I'm making this a two-part post to cover them all. Today, we're featuring Valparaiso and Merrillville.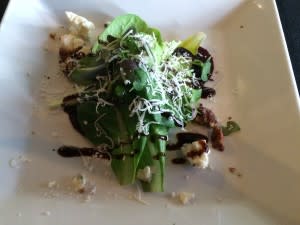 Beet Salad at Sage Restaurant is sweet and tangy.
The Sage Restaurant in Valparaiso (157 W. Lincolnway, 219.464.7243) focuses on farm to table menus that change often to offer variety to customers.
Chef Joe is great at making foods taste delicious that may not start out that way. Take beets, for example. I don't like beets on their own, but The Sage's Beet Salad uses hydroponic greens (grown vertically in no soil), candied pecans sprinkled on top that add a sweetness balanced with the tart flavor of balsamic and olive oils. Yum!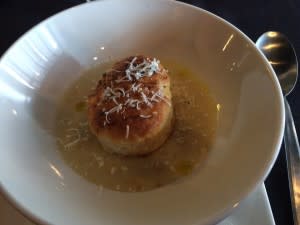 Cream of Potato soup with puff pastry is light and flavorful.
The Cream of Potato Soup was silky smooth, while the puff pastry sitting on top was so light it came apart like snowflakes as I dug into it.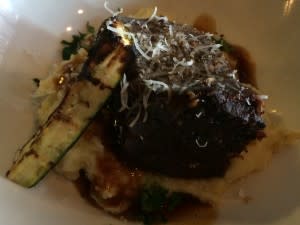 Short Rib with grilled zucchini was tender and juicy.
The main dish -- Short Rib accompanied by mashed potatoes with horseradish and grilled zucchini -- was some of the best beef I've ever had. My taste buds were satiated with the tender cut and thrilled with the tiny hint of horseradish, just enough to provide a tickle of a taste.
Even though my buttons threatened to burst, I could not resist the Chocolate Pot de Crème -- dark chocolate custard with whip cream drizzled with hot caramel sauce. Some of the smoothest I've ever tasted. Keep in mind these are sample servings.
Hopefully this is enough to whet your taste buds enough to participate in Savor the South Shore Restaurant Week from April 6-19, 2015. This is a great opportunity to try new cuisine and eateries in the South Shore area. The list of participating restaurants will be updated as more restaurants send in their menus.
If you're new to the area you'll want to search 'Valparaiso Downtown' for the new, free Smartphone app about Valparaiso. This app provides a calendar of events, map and pinpoints for ATMs and parking. With happening places like Central Park Plaza, Memorial Opera House, Chicago Street Theater, you won't miss a thing! Go to Valpo.us and Valparaisoevents.com for more listings.
If you need a place to spend the night, head to the Inn at Aberdeen (3158 S. State Road 2, 219.465.3753). This modern bed and breakfast facility is a converted farm house with conference center. Our beautiful bedroom included a king-size bed and adjoining suite with fireplace and sofa. The bath had a Jacuzzi and double sink.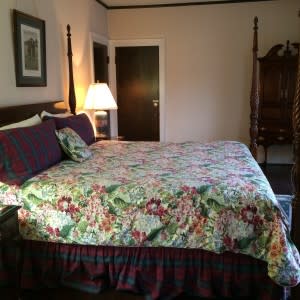 Inn at Aberdeen offers comfortable accommodations.
Breakfast consisting of Eggs Benedict, yogurt, fruit, juice, milk was elegantly served at our leisure—have I said how much I love bed and breakfast inns? A leisurely walk around the Inn offered views of a golf course and gazebo. These will be fun to investigate on a future trip.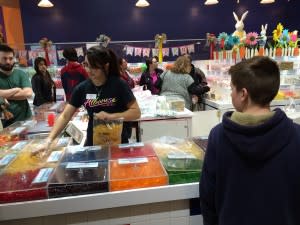 Albanese Candy store sells 100s of varieties of sweets.
Driving around we ventured into the nearby city of Merrillville. Mind you, we were not yet hungry but we could not resist stopping at not one, but two, must-do's for this area. The first was Albanese Candy (5441 E. Lincoln Highway, 855.272.3227). While best-known for manufacturing gummy bears, this place is a kid-of-any-age's dream come true with 100s of types of candies.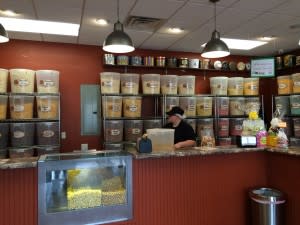 Chicagoland Popcorn sells nearly every flavor of popcorn you can imagine!
Across the highway is Chicagoland Popcorn (5470 E Lincoln Highway, 219.940.1140). They feature more than 120 flavors of popcorn. I could not resist purchasing Twix, S'More, Snickers and Cheddar varieties. They were good collateral for some future point when I would be hungry. Maybe next week.
Tomorrow we'll visit the treasures of Crown Point and Portage. I promise it will be worth it!