Do you remember your last day out before we were swallowed up by the pandemic? The last day you went somewhere life was still somewhat normal? I definitely do. It was a visit to a charming Northwest Indiana tea room that serves delicious flavors!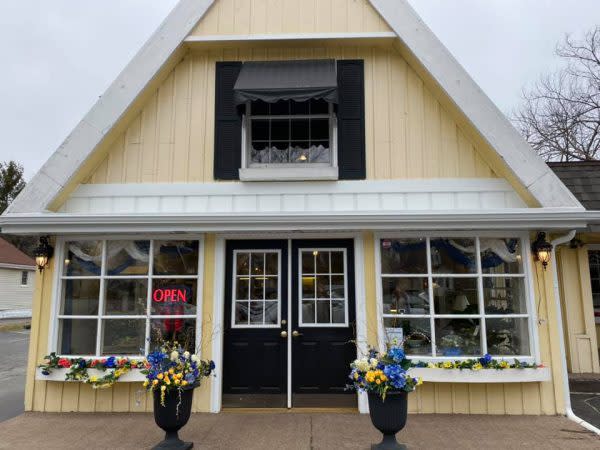 It was Saturday, March 14. It was the weekend before St. Patrick's Day and there were tons of things on the calendar. During the previous week, things started shutting down and getting canceled. That weekend, I was supposed to go to my son's first track meet of the season. It was his senior year and after three years running cross country, he decided to join the track team, too. But the meet was called off and he never saw that senior year track season. I was also going to watch him run his first half-marathon the next day. It was to be a St. Patrick's Day-themed charity race. It was cancelled, too. I had planned to go to a play with my son the night before and it was canceled. I am a volunteer usher at a local theatre and the previous week I had worked a show that still went on, but we had to wipe down every seat with Lysol wipes before and after the performance and wear gloves throughout.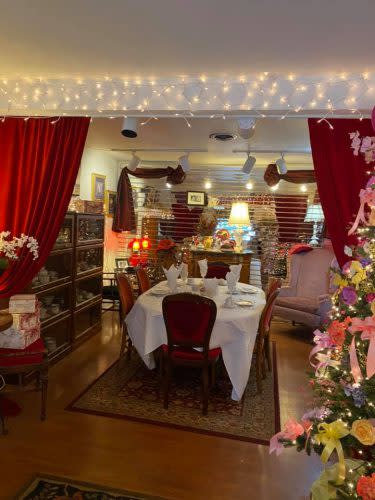 Two things were planned that weekend and I went ahead and went to them. At that point, things were just getting started as far as coronavirus precautions. Masks weren't really being worn out in public yet - they were being reserved for health care workers. People were washing hands more and being told to stay six feet apart and avoid large crowds. And people were rushing out to stock up on everything from hand sanitizer to wipes to toilet paper and waiting in long lines outside stores that started limiting capacity. What a wild ride it has been this year.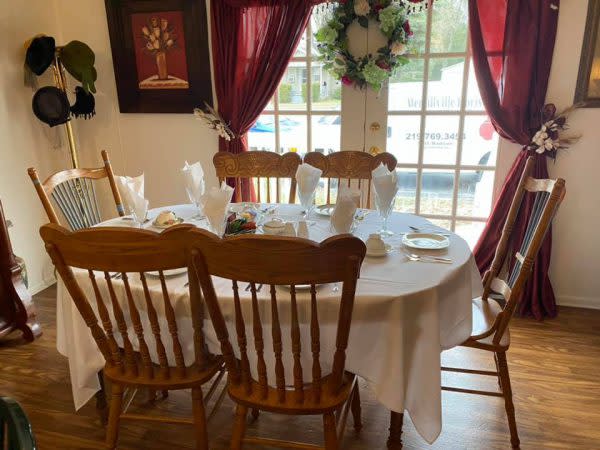 The last two things I attended were March 14 before it all changed. One was that evening in Michigan City, Indiana where I was a judge for a Ramen Cooking Challenge. It was a good time and was pretty busy.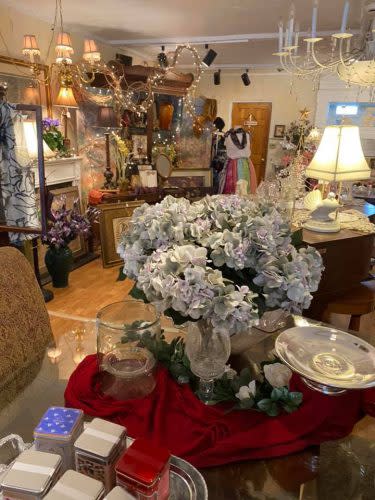 The other appointment I kept was a date with my sister to visit the Merrillville Florist and Tea Room in Merrillville. We had a lunch reservation and thought about postponing, but it would be just my sis and I and we hadn't seen each other in a while. We were also very much looking forward to this place that had been on my radar for years. By the time I finally got around to making plans to go, I learned that the florist portion had remained open, but that the tea room had closed and was really sad. But…not long after hearing that it had closed, I noticed a post on Facebook in the fall of 2019 that they were re-opening. There was a new owner and the tea room would be re-opening just in time for the holiday season. What luck! I messaged my sister pictures and we couldn't wait to check it out. Tea rooms are totally our thing. We do a food blog together called ChicagoFoodieSisters.com and we hit up a tea room any chance we can.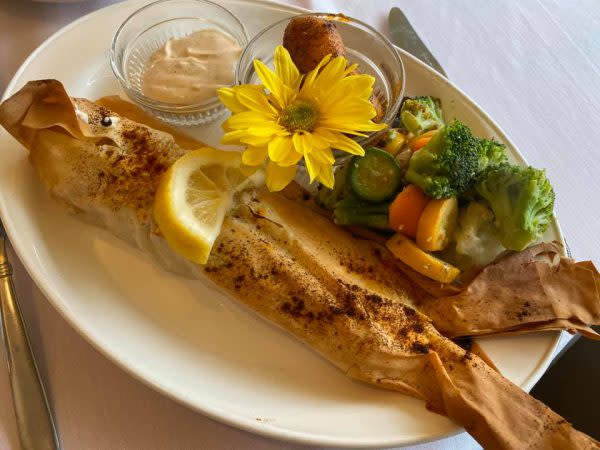 So, at lunchtime on Saturday, March 14, my sister Becky and I went for our lunch reservation. We met the new owner, Cindy. As things were just starting to really buckle down with shutdowns and staying-at-home, she notified us that almost all of her reservations that day had been canceled. When we were there, there was only one other couple in the place. We were seated in our own little nook near a window, so we were completely away from anyone and felt very safe.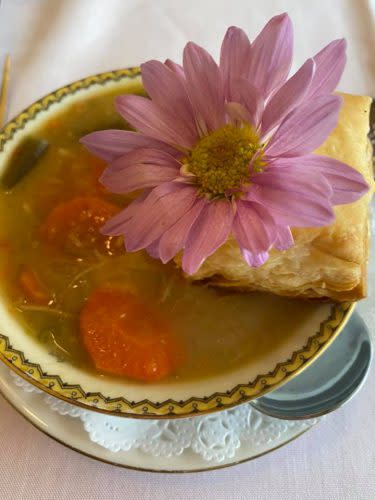 First off, the place is absolutely gorgeous. You enter through the floral shop and then there are a number of different rooms for groups of varying sizes, from the little two-person window nook we were in to rooms from groups a little larger. The decorating is amazing and it feels so warm and cozy.
Next, the food. Oh my, the food was superb! There's not a huge variety, but that doesn't matter. What is on the menu is so amazing. We always order different entrees so that we can try different things. That day we ordered the Chateau Earl Gray, which is reminiscent of a very high-quality pot pie. It had chunks of chicken breast, broccoli and cheese wrapped in a phyllo purse and drizzled with their champagne sauce and a side of cranberry relish.
I notice on the menu it says you can also purchase a take and bake version and I will definitely do that next time, as well. The other entree we tried was called the Kingfisher. It is a wild-caught salmon rolled in phyllo dough in the shape of a fish and just melted in your mouth. Also, I had a cup of chicken pot pie soup - again was completely wowed - and Becky had a house side salad with toasted slivered almonds, sliced cranberries, and a house-made raspberry vinaigrette. I wish I could remember exactly the names of the desserts we had, but rest assured, they were as good as everything else there and a delicious finish.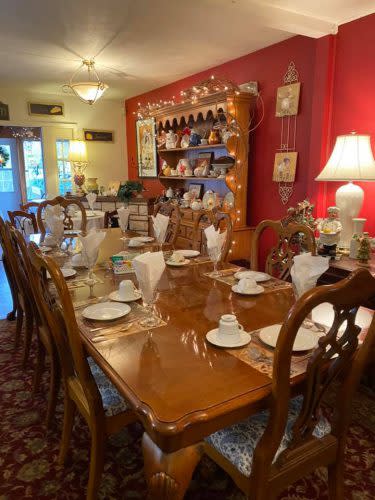 On our way out, we checked out the floral shop a bit, bought some teas to take home and got some of the wonderful gourmet truffles they carry that were a lovely little midnight snack later in the week.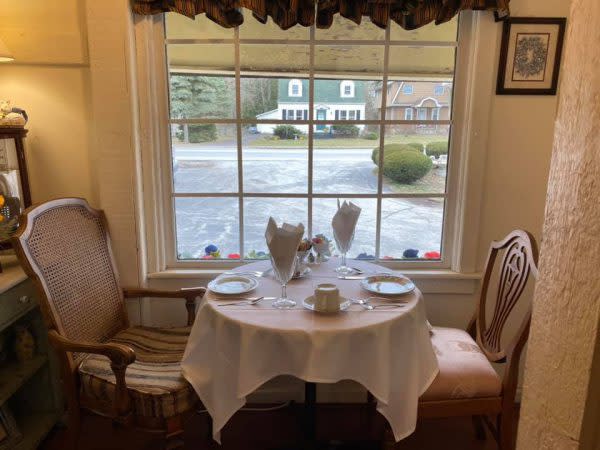 I was glad to check this tea room off our bucket list and it will always now hold a special memory as the last pre-pandemic outing with my foodie sister. 
The tea room has remained open Wednesday through Saturday. You can also order to go. And if you want to send someone special a bouquet of flowers and some truffles, this is a great place to keep in mind.
For more information, visit merrillvillefloristandtearoom.com
Merrillville Florist and Tea Room 7005 Madison Street Merrillville, IN 219-769-3454