Traveling to space is expensive, but that doesn't mean you can't afford to explore the universe! This Indy observatory and planetarium give visitors a glimpse of what lies beyond earth's atmosphere. Plan a visit with the star gazer in your life.
The sky's the limit at Holcomb Observatory and Planetarium on the stately grounds of Butler University in Indianapolis, where visitors can enjoy an interactive astronomy lesson and prime stargazing opportunities.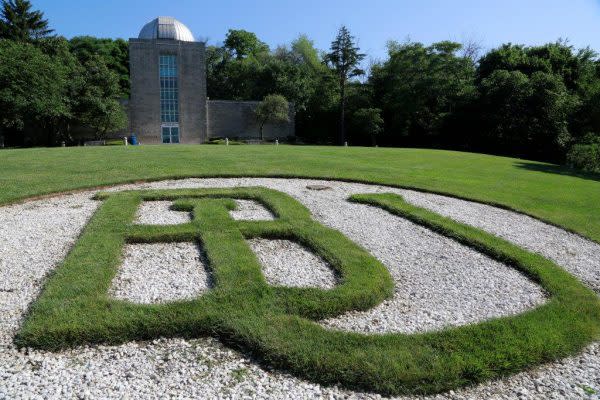 Within the past few years, the 38-inch Cassegrain reflector telescope in residence (the 9th largest east of the Mississippi) has received $425,000 worth of improvements to better its optics, operation and research capabilities. Together with a newly upgraded full-dome digital projector in the planetarium, these combined features work together to create a fascinating immersive astronomy experience for students and visitors.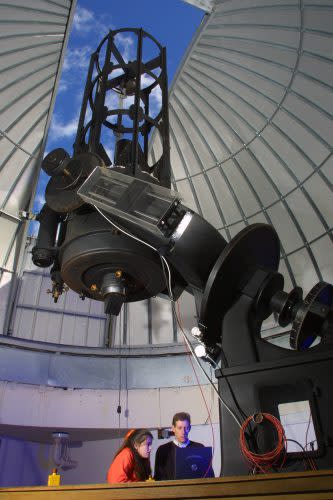 Professor Brian Murphy works with students on the telescope inside the Holcomb Observatory in October 1, 2001. Photo credit: Brent Smith, Butler University
The observatory has been a Butler fixture since its dedication in 1954, boasting tall windows, a starburst chandelier and terrazzo floor with zodiac symbol insets in the main lobby. The original 6-inch refractor telescope used by the university as far back as 1880s when the campus was located in Irvington still holds pride of place, riding piggyback on the Cassegrain.
"Holcomb Observatory and Planetarium is a rare facility in that research, course work and public outreach are done with a single facility," said Brian Murphy, professor of physics and director of the observatory. "Students in nearly all of our courses can use this world-class facility to do class projects and original research. While at the same time, as was intended by James I. Holcomb, we provide the public with an experience that cannot be found anywhere else in the Indianapolis area."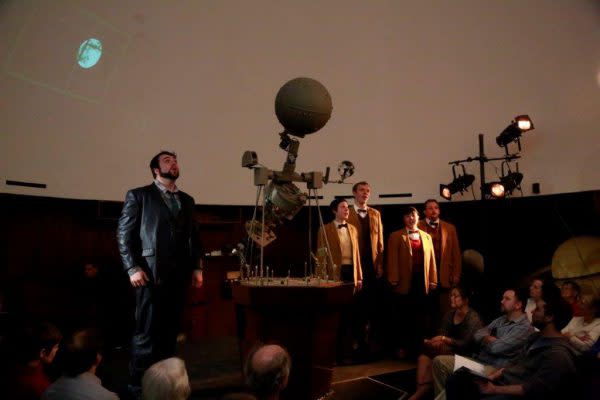 Planetarium shows with telescope viewing are available to the public on Friday and Saturday nights. What you'll see depends on the time of year — and the weather, of course — but thanks to the latest telescope improvements, it's possible to view objects 6 million times fainter than the human eye can detect unaided. For a full schedule, admission prices, parking information and other details, visit butler.edu/holcomb-observatory.