I just love spending time in a small town and discovering a gem that I want to tell everyone about. That happened when we paid a visit to the Old Colonial Inn in downtown Kentland, just across the street from the Newton County Courthouse. We had plans to visit to celebrate my husband's birthday and then a blizzard delayed our plans. So, a few days later we worked it into the schedule and I'm so glad we got there when we did because the holiday decorations were beautiful.
The Old Colonial Inn was originally Hotel Kentland, which opened in 1984. The hotel remained in operation until 1969. It later became a restaurant and a decade ago, the current owner Mike and Mara, took over and the place underwent an intensive restoration. They opened the fine dining establishment in 2014 and I was genuinely wowed by what a beautiful place it was and what an amazing meal we had there. It immediately was jotted down on my list of the best meals I had in 2022.
The restaurant is located on the square and it's situated a little different than many of the other county seats I've visited. Shops, restaurants, and business line 3 of the 4 sides of the courthouse, and in the road between the two is a center lane for parking. It's unusual, but seemed a great design for busy Friday evenings like the one when we visited. The side of the street that the hotel is on just gives such a vintage feel - and in a different way than many of the late 19th century downtowns with adjoining storefronts of brick buildings. The hotel gives definite 1800s hotel vibes. The sidewalk is under an overhang that extends the length of the block and I could just picture a wooden sidewalk constructed under it and horses tied up to the outer posts. 
It's immediately evident that the owners of the Old Colonial Inn and the town of Kentland have taken great pride in preserving the downtown. It definitely shows. There's an elegant, old-school feel, but not a bit of the place feels unkempt, rundown, or drearily dated. I was very impressed before we even made it to our table.
As far as the food, it has all of the classics you'd expect from a white-tablecloth fine dining steakhouse, from shrimp cocktail to lobster to prime rib. We had a hard time deciding.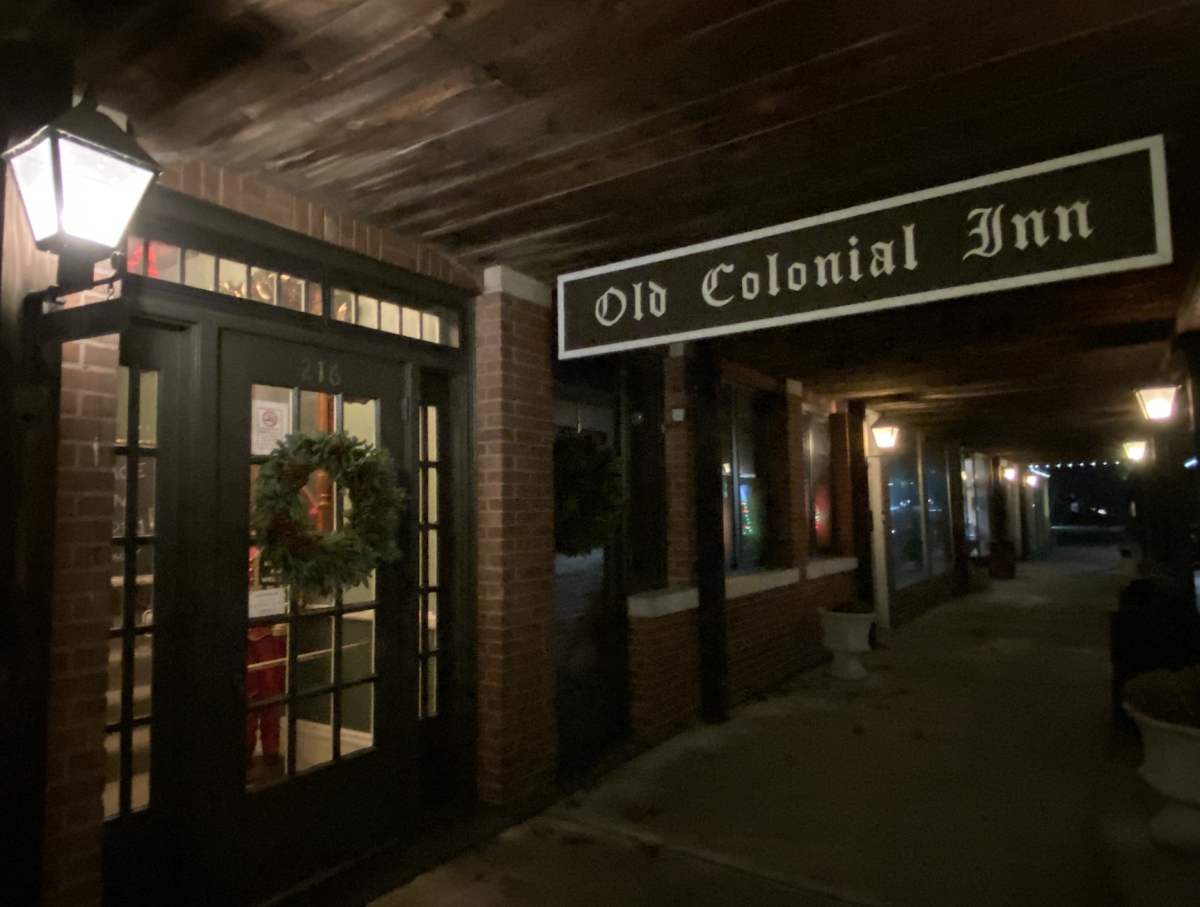 We started off with a drink - an Old Fashioned for him and a glass of Prosecco for me. When my husband commented on how much he enjoyed the drink, he got a little explanation of why it was so good. The Makers Mark is aged for 21 days on-site, first by being chilled in fruit for 24 hours and then transferred to wood barrels for 21 days. It was a unique process I hadn't heard of before and something you definitely need to try if you're a fan of Old Fashioneds.
We had some fresh bread and butter as we pursued the menu and decided on two appetizers, clam strips, and a shrimp cocktail. 
Our entrees came with soup or salad. My husband went with the Lobster Bisque, which was amazing. I opted for a salad with their delicious housemade bleu cheese dressing.
As we talked with Mara, she mentioned that her son was the chef and that he'd worked in New York where he'd prepared a lot of French dishes and he brought that experience and those techniques to the kitchen there.
I decided on Prime Rib, the smaller English cut, that I barely touched because I was so full at that point, but was perfectly cooked and so full of flavor. My husband ordered the filet mignon and we both agreed it was one of the best steaks we'd tried in a long time - totally melted in your mouth. Each entree came with a choice of potato and I can never pass up a baked potato loaded with butter and sour cream. It was the perfect sidekick in what was a perfect meat and potatoes meal.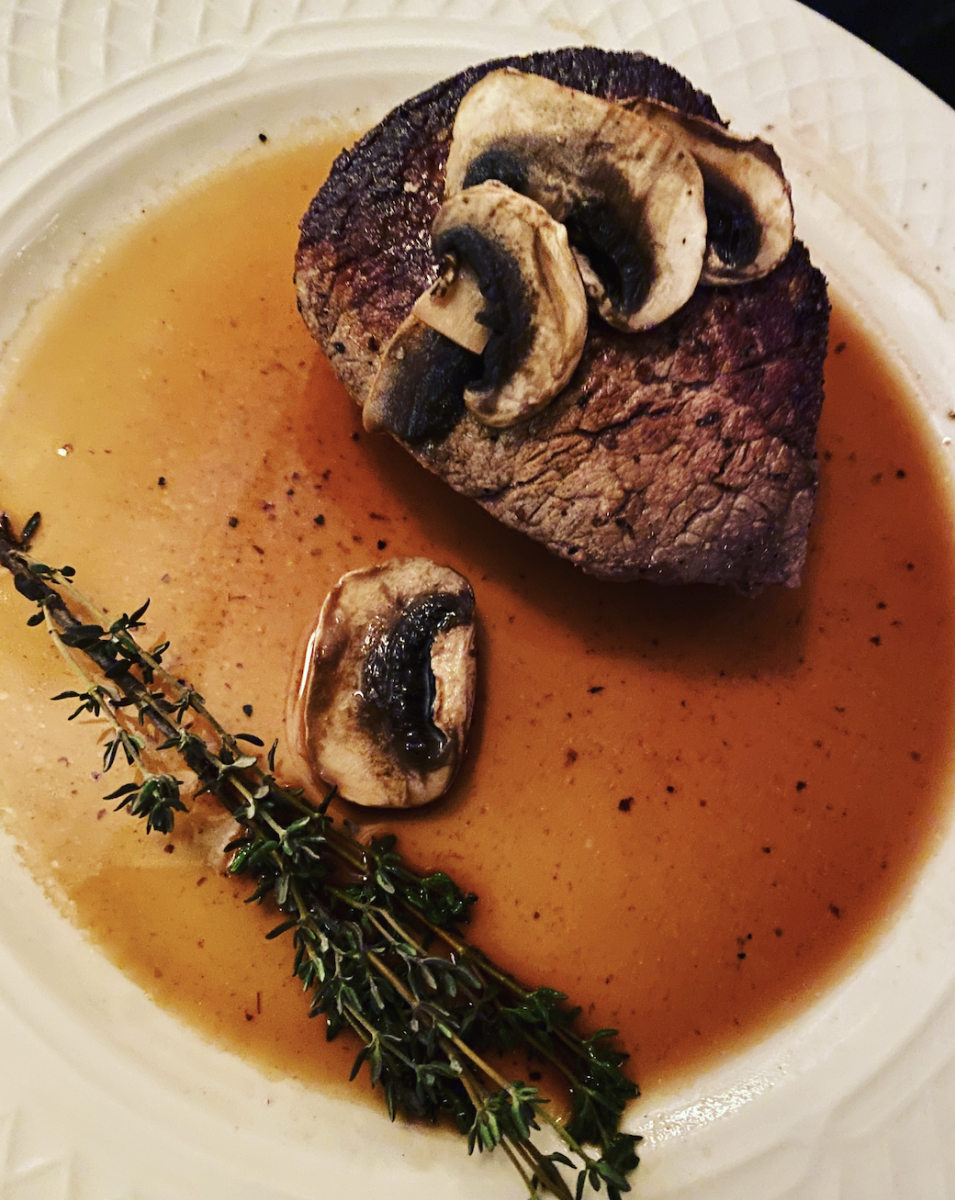 After dinner, I insisted my husband select a dessert since we were there to celebrate his birthday. It was a good call. He selected a delectable Tuxedo cake, which was a layered chocolate cake with a whipped vanilla filling and delicious, fudgy icing. It reminded me just a little of the taste of those Ho-Hos I was fond of as a child, but a billion times better.
If you find yourself in Newton County, be sure to make a reservation to enjoy dinner. The restaurant is open Thursday, Friday, and Saturday evenings. For more information, visit oldcolonialinn.com.