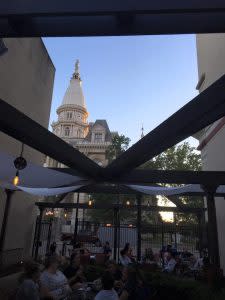 Digby's Pub & Patio
It's that time of year again, patio time!  Spring is here and patios are coming alive with laughter and fun times.  Check out Lafayette-West Lafayette's unique outdoor dining locations.
Digby's: Enjoy the amazing view of our beautiful courthouse while feasting on Velveeta loaded french fries, duck egg roles, wings and more.
La Scala: Their motto is "Fresh Farm Food From Our Farm and Other Local Farms. Taste the Difference," and this is exactly what you will get when you visit. Enjoy farm fresh food in their beautiful outdoor patio overlooking the courthouse.
Nine Irish Brothers: A gathering place of friends and co-workers, family and teammates, and visitors alike, who can sit back, enjoy a pint of Guinness and eat traditional Irish fare. Do not miss their large outdoor patios at both their Lafayette and West Lafayette locations.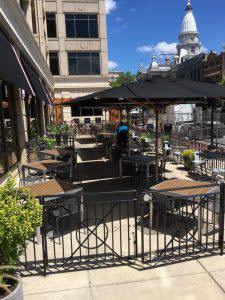 Red Seven Bar & Grill
Red Seven: Sit and admire views of both the courthouse and Riehle Plaza at this hip and trendy restaurant downtown Lafayette. Red Seven not only serves exceptional food, but the customer service is friendly and knowledgeable.
Scotty's Brewhouse: Enjoy their outdoor patio in Wabash Landing as you devour everything from burgers (made a million different ways!) to salads to wonderful homemade soups.
Town & Gown: Flowers galore can be found in this beautifully landscaped outdoor patio. Smell the fresh flowers as you feast on light and fluffy pancakes, rich and flavorful biscuits and gravy, and decadent cocktails.
Sgt. Preston's: Pass through an old canal dock as you enter Preston's extensive outdoor patio and enjoy your food and drink during a beautiful day. Live music is a regular occurrence on Saturday nights. During the summer months, Preston's is open on Sundays and features a fun atmosphere with outdoor games.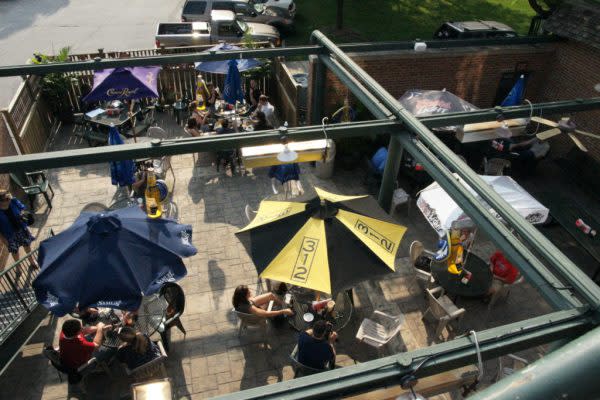 Sgt. Preston's of the North
For more information about restaurants and more in Lafayette-West Lafayette, visit HomeOfPurdue.com.
Save