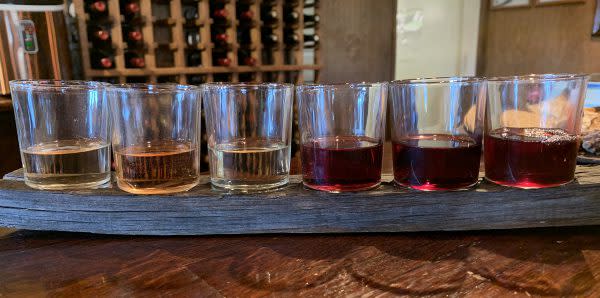 At Owen Valley Winery, wine is family and friends. Owen Valley Winery is nestled in the hills a few miles and a few left turns south of Spencer. The winery is part of the Indiana Uplands Wine Trail.
On a sunny, almost-Spring day, Anthony 'Tony' Leaderbrand offers my friend and me a tour. As we wander the property, Vino the dog accompanies us.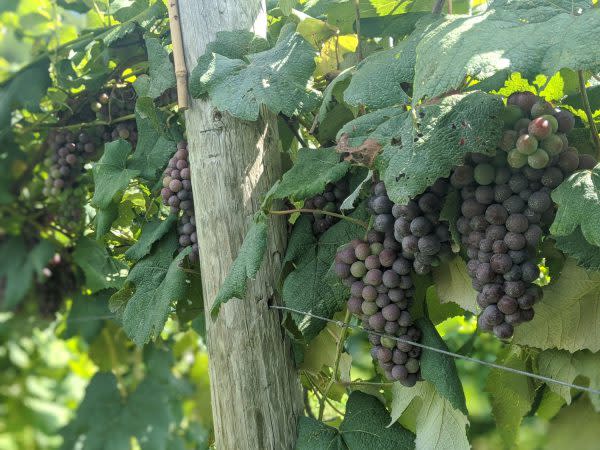 An afternoon visit
Tony uses the word "integrity" to describe everything that happens here. Local Indiana wine – "people want it," he says.
On this particular afternoon, Emilia Adams, husband Stephen Adams and Lauren Adams are sitting outside with a bottle of wine. Tony walks over, laughter ensues and he pours a little more wine in their glasses. Community is at the heart of this winery.
In the tasting room, Lori and Aireal serve a constant stream of guests. "Who's in a bad mood when they come to a winery," says Lori. And for Aireal, "It's like family – I used to be a customer. I love it here!"

Happenings
Stories and songwriters are paired with homemade cheesecake every Friday night. The talent is local. "Nobody's talking and everybody's listening," Tony says. Art, music, yoga, an upcoming farm-to-fork dining area, local sourcing, and sustainability practices keep the cycle of life vibrant here.
"This is where we're at all the time. It's hard," Tony reflects. "Something's always there to keep it going – you stop worrying about the small stuff. We meet some amazing people."
Wine labels feature local scenes like Trail 7 at nearby McCormick's Creek State Park and the vineyards and hummingbirds. Hummingbirds are the winery's mascots – "Mom is the hummingbird whisperer," Tony beams as he shares stories about his mom and hummingbirds.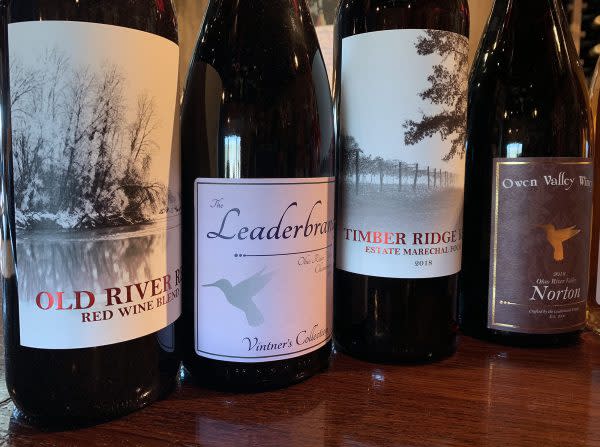 The Story
The Leaderbrand family purchased and settled into the property in 2004 with the plan for a small, family-owned winery. Tony and his wife Jo Anna left the corporate world to pursue their dream of a "destination winery."
Tony's parents and sons Cody, who leads the wine production, and Connor collaborate in the family's operation. Today, three generations lend their passions, talents, and expertise to produce a delightful family of Indiana wines.
From heavy-bodied reds to rich whites, the wines are a nod to the terroir of the Flatwoods region of this area of Indiana. Wines are made from grapes grown on the property, or by another local vineyard. Four acres of land are in production. Catawba, Marechal Foch, Steuben, and Traminette vineyards are bordered by persimmon trees. Fruits and juices are Indiana grown.
Wine is Passion
After our visit, I feel like I've just spent an afternoon living a Robert Mondavi quote: "Wine to me is passion. It's family and friends. It's the warmth of heart and generosity of spirit." Find it here, at Owen Valley Winery.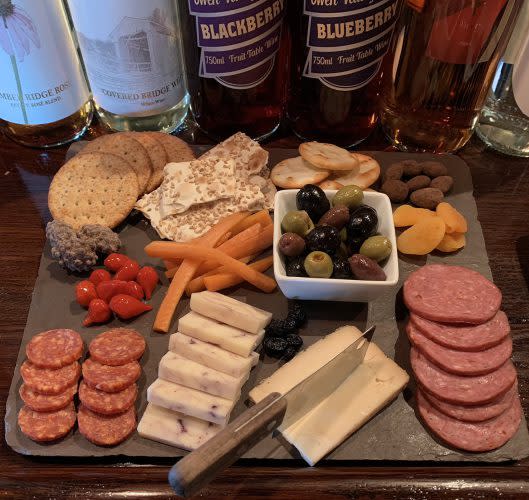 Charcuterie Platter - for pairing with any of the wines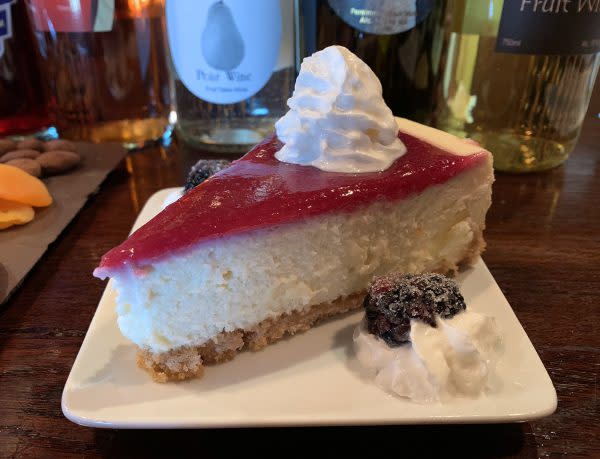 White chocolate cheesecake with blackberry puree