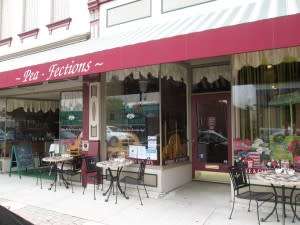 Pea-fections Restaurant in Vincennes
Pea-fections Restaurant in Vincennes is just about the cutest café I've frequented in a long while. It is named after its owner, Becky Pea, who started the business with husband Bill in 1996. They are professional chefs and bakers and the city of Vincennes lucky to have their culinary expertise.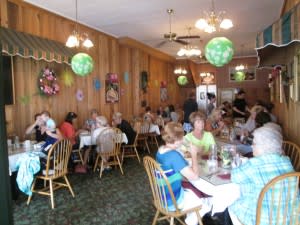 The exterior and interior of Pea-fections remind me of fanciful frosting on a cake. Airy green balls hang from the ceiling. Dainty pastel-colored paper flowers dot the walls of the serving area where booths and tables fill two rooms. Everything is light and cheerful.
My husband and I joined a friend to eat lunch at Pea-fections on a weekday. The place was bustling but a trained staff soon took our order and returned with our meals.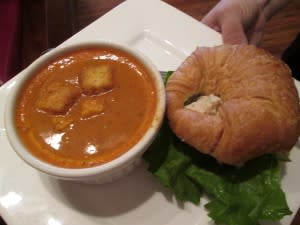 We ordered salads, soup, sandwiches—all of which arrived hot, fresh and tasty.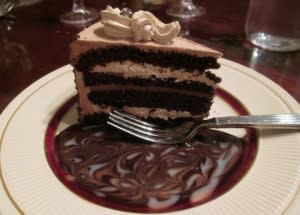 At the urging of our friend we ordered a dessert to share—Mocha Torte. You'll see two forks in this photo but I will assure you it was difficult sharing this scrumptious item. It was just as delicious as it looks.
My friend ordered bread pudding, which she graciously allowed us to sample. Yum!
The café also sells cake decorating supplies so while dining, if you get the urge to make your own creation, you're in the right place!
If you can climb the stairs to Pea-fection's second floor, check it out. It's a lovely private space where friends can chat in confidence or a bridal shower could be held.
Pea-fections
323 Main St
812.886.5146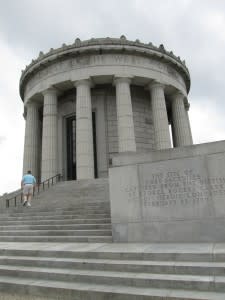 From there we drove a short distance to the George Rogers Clark National Historic Park. It sits on the site of the former British Fort Sackville. During 1779, the fort was captured by Lt. Col. Clark and his army.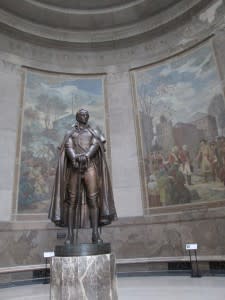 Inside the George Rogers Clark Memorial is a statue of the famous early American military fighter and huge murals of early American life. A tour of the memorial is available by trained docents, although headphones are available for self-guided tours.
401 S. 2nd St
812.882.1776
There is still another highlight in the city of Vincennes that warrants its own post tomorrow. Hint: Prepare to laugh! For some of us it will bring back good memories of true TV comedy.