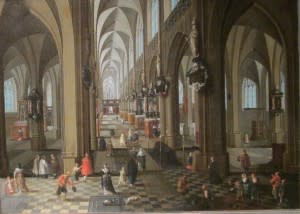 The movie Monuments Men taught us much about appreciation for fine art. A trip to the Indianapolis Museum of Art did the same for my family during our first visit to this site with four floors of paintings, sculptures, furniture, textiles and china. A special Monuments Men display with a painting -- Interior of Antwerp Cathedral painted by Peeter Neeffs the Elder in 1651 --explains the way fine art was secured during World War II.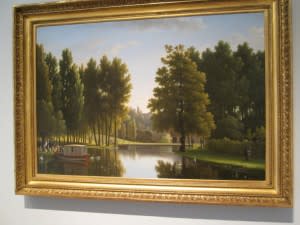 My anxiety level lessened while perusing the paintings with pastoral scenes. The deep greens used to create fields of grass and a canal boat on this quiet pool of water made me wish I could jump into the painting!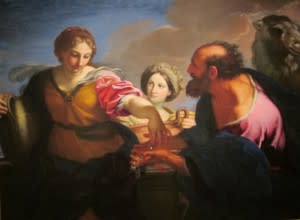 One of my favorite paintings was this one based on the biblical story by Carlo Maratti (Italian, 17th century). He created the scene of Rebecca and Eliezer who was looking for a bride for his master Abraham. I love the rich colors and composition.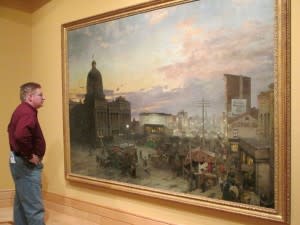 Theodor Groll (1857-1913), a German artist, came to the US to judge the German paintings at the 1893 Chicago World's Fair. While there, he traveled to Indiana to spend time visiting relatives in Indianapolis. He must have been enamored of Washington St. at dusk because he painted the cityscape including the State House, Park Theatre and the old Marion County Courthouse, now gone, between 1892-1895.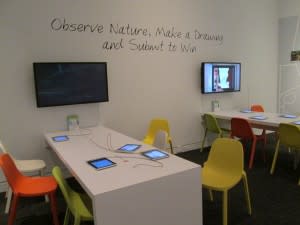 The museum is not just for adults. The Indianapolis Star Family Studio offers opportunities for kids to come up with their own masterpieces!
Currently, admission to the museum is free. That will change in April when the cost for adults will be $18. The Georgia O'Keefe special exhibit is on loan through February 15. Cost: $15-$20 for adults. Free parking.
Whenever you visit, be sure to set aside at least two hours to enjoy yourself – and relax!
4000 Michigan Rd Indianapolis 46208 317.923.1331 Tuesday 11 am-5 pm Wednesday 11 am-5 pm Thursday 11 am-9 pm Friday 11 am-5 pm Saturday 11 am-5 pm Sunday noon-5 pm Closed Mondays, Thanksgiving, Christmas and New Year.
The IMA Cafe and Museum Store are open during regular museum hours.