Sometimes you just need a break to recharge your batteries. My family found a perfect weekend of relaxation in beautiful Brown County!
Raspberry Ridge Luxury Cabin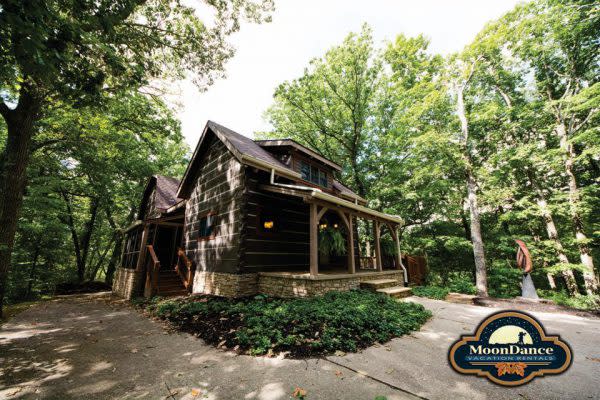 We stayed in a luxury cabin called Raspberry Ridge, which is owned by Moondance Vacation Rentals in Brown County, Indiana. When we walked through the front door, I immediately felt at home. I could not only see, but feel the care, time and energy that went into making this cabin the perfect getaway for those looking to enjoy time with family and friends, while relaxing, watching a movie, cooking or sitting in the hot tub or making smores by the campfire. The kitchen was spacious and included top of the line appliances, along with four seats at a huge island table and right across the way was a beautiful dining room table with six chairs. We were greeted with a welcome basket that included popcorn, candy, a few sodas and info about the surrounding area and the company.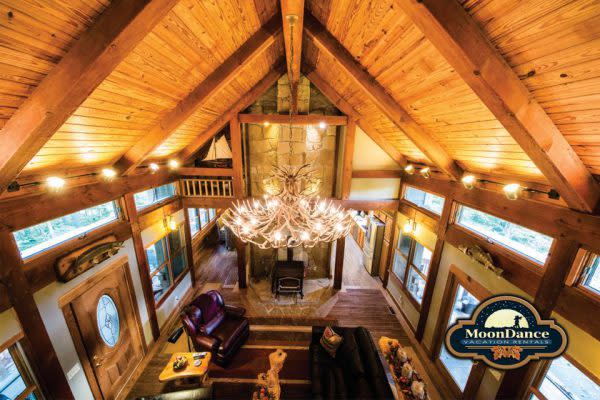 The next room over was a gorgeous family room with a comfortable leather couch and two leather chairs, a fireplace, a flat screen TV and two of the most unique pieces of furniture I think I've ever seen including a uniquely shaped coffee table made out of wood and a beautiful chandelier.
There were two inclosed sun rooms, one on both sides of the family room and the deck was outside of the dining room. As we made our way towards the back of the house we walked into the master bedroom and it was absolutely stunning. There was a king size bed and right across the room was a beautiful stand alone tub with a flatscreen TV right above it. I mean who doesn't want to bathe and watch TV. There was also a huge shower, sink and toilet right next door to the tub.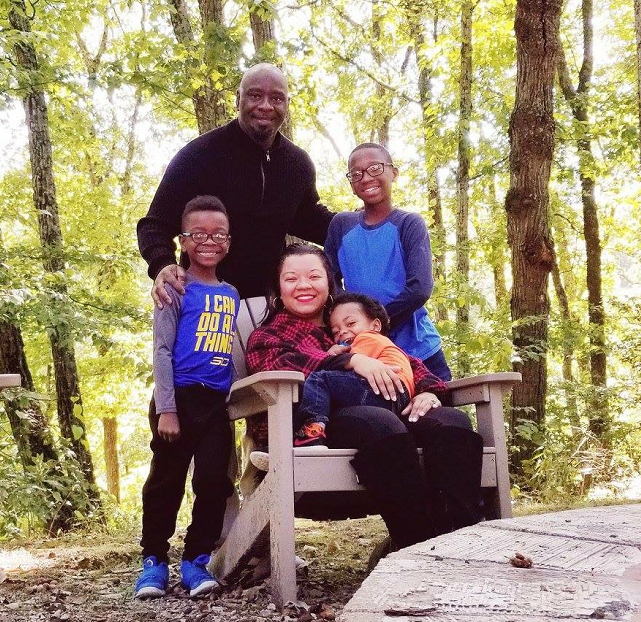 The Rucker Family
The second floor was split into two sections. The first side was above the master bed and bath. There were two nice size rooms with queen size beds, as well as a nice size bathroom with a shower. And, above the kitchen there was a big room with another king size bed and flatscreen TV. Then, there was a basement area that included a gaming table, three movie chairs, a flat screen TV and a door that led to the backyard that included an outside hot tub and fire pit area where you could roast marshmallows.
For our first night in this beautiful cabin we decided to pop some popcorn and watch a movie together. I loved that the cabin was away from the everyday hustle and bustle of life. We all truly enjoyed each others company and laughed a lot. The following morning, I made a home cooked breakfast complete with sausage, biscuits and homemade home fries. We brought groceries with us to last for two and a half days, so we wouldn't have to go out to eat. Not only did this save money, but we maximized our family time.
Back Roads of Brown County Studio Tour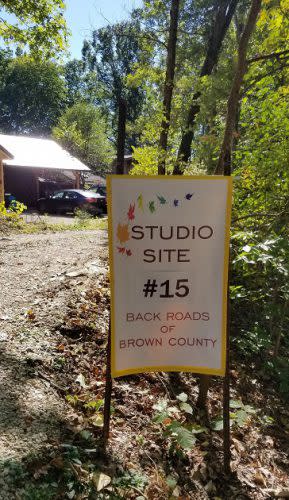 After everyone was dressed, we decided to visit a few of the local artists studios in the area. During the month of October, local artists allow visitors to see inside their artist studio. While I'll say we randomly selected to stop at number 15 & 16 on the list, Sarah Noggle's studio in Nashville. But, I truly don't believe our selection of this artist was random. Sarah and her dog were very warm to us when we got out of the car. She showed us a room that displayed her beautiful hand-weaved household utility items, along with her daughter's, Sarabeth Noggle's, creative iron hand press prints and Pete Baxter's hand-made shaker oval boxes and more.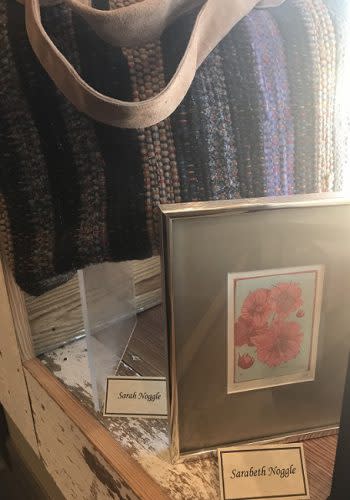 Sarah then led us to her studio where she demonstrated the skill it takes to make a woven hand towel that you can use in your kitchen. I was amazed at how many spools of yarn she had accumulated. We all could tell this was a labor of love for Sarah. She then led us to her daughter's studio, Sarabeth, who gladly showed us some of the prints she had just made using her iron hand press. Both of these women took pride in creating their art. If you're looking for a unique Christmas gift, you'll find their art on sale in the Brown County Indiana Convention and Visitor's Bureau.
Later that evening we couldn't wait to relax in the hot tub. And, I'm happy to share that the water was absolutely perfect. It's important to note that the instructions recommended that we didn't spend more than 20 minutes in the hot tub per hour. We made sure that we followed that recommendation. After having fun in the hot tub, we all came into the cabin to enjoy a pot of chili that I prepared that evening. We then decided to head into the basement area to play some games and watch a basketball game. I asked the boys to bring several games for us to play. Mike and I really wanted us all to get a break from technology. The first game we played was Clue, followed by Jenga and Sorry!
The next day we woke up and decided to explore the grounds of this magnificent property. There is a trail after the backyard ends, so we walked about a half a mile. There were so many trees… really as far as you could see. This was truly one of my favorite moments during our stay in Nashville. I felt one with nature and I believe that my family did too!
After our walk, we decided to head into the small town of Nashville, Indiana which was a short drive away, only about 15 minutes from our cabin. As soon as we arrived in town, we could see a lot of people walking up and down the streets. We stopped at the visitor's center to get a map of the small town. I immediately noticed in the window, the beautiful art of two of the artists that we saw during the studio trail available for sale. Be sure to stop in to shop some of the beautiful art of local artists.
Copperhead Creek Gem Mine Store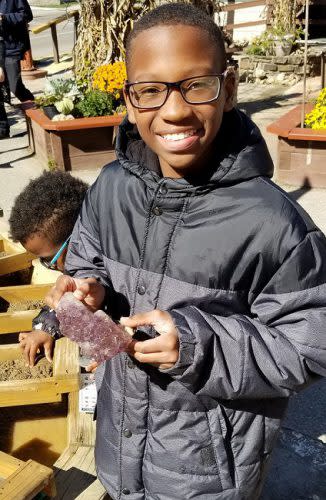 Jayden's found this huge amethyst gem!
Right down the street was the Copperhead Creek Gem Mine store. I'm not sure why but our boys are fascinated with gems. They couldn't wait to pan for gems when we arrived at the Gem Mine Store. We selected a one gallon bucket gem and mineral bag valued at $24. The store gives a 100% guarantee that you'll find great gems and minerals. We walked over to the mining sluice right outside of the store and began sifting through the sand. All of a sudden, my oldest son screamed out in aww. He found a huge piece of amethyst. We were all shocked at how big it was. We later found out from the store owner that the piece we found was easily worth $45. And, we found so many other gem pieces in that bag.
Nashville Express Train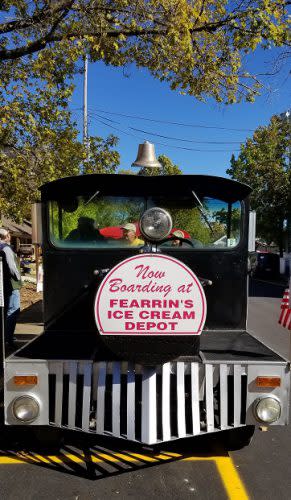 And, to wrap up our visit to Brown County we decided to take a tour of Nashville aboard the Nashville Express Train. It's truly so much to see and do in Nashville and this tour helped us see just how much this little town has to offer. The tour lasted about 30 minutes and I absolutely loved the wealth of knowledgeable our train operator had. I learned so much about this town and I know we've started a new tradition with our family here. So, if you want to get away and enjoy time with your family all while enjoying nature and the beautiful art of local artists then this is the place for you. I suggest you book now for next year. This one-of-a-kind cabin will be sold out before you know it.