It's always a challenge to find a day where all the girls can get together and do something fun. Well, I just uncovered an area that delivers big on relaxation and is perfect for a girlfriend getaway. Pack up the ladies and head to Warsaw/Kosciusko County in Northeast Indiana.
I've recently been hearing about a salt cave in downtown Warsaw and after my sister and her girls came home raving about it I knew I had to go. Since Warsaw is a 45 minute drive from home, I decided to build it into a fun relaxing day out and added shopping in trendy boutiques, dining in a hip downtown eatery, tastings in a cozy winery and a restaurant that is tucked underground. It was so much fun that I am already making plans to do it again with a group of friends.
Salt Cave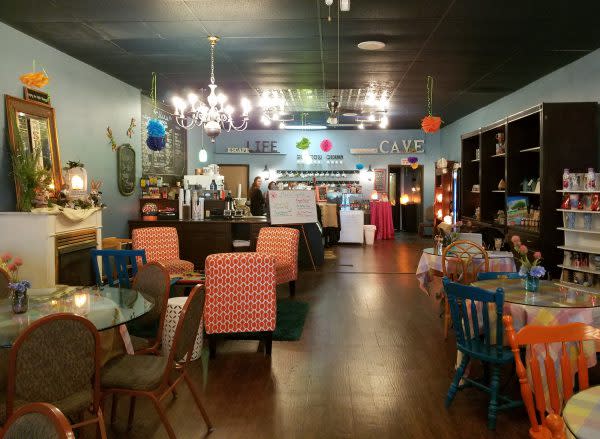 Cave on the Square, coffee shop, salt cave ( 108 N Buffalo St, Warsaw)
First stop, was of course the salt cave at The Cave on the Square right across from the gorgeous court house in Warsaw. What you will find is a lovely, cheery coffee shop and you just inquire at the counter for the salt cave. You pay a minimal fee for an hour in the cave in the back and it's on a first-come, first-served basis.
Hang up your coat, take off your shoes and prepare for an hour of zen. First off, the salt cave is NOT a real cave, but rather a room that has been carefully crafted to mimic a salt cave and is lined with beautiful pink Himalayan sea salt rocks. While the walls are covered in rocks, the floor is layered with course almost sand-like salt that you can sink your toes into just like at the beach. The salt caves have many health benefits for people with respiratory and skin issues which I will let you research on your own, but one benefit which most of us can appreciate is stress reduction.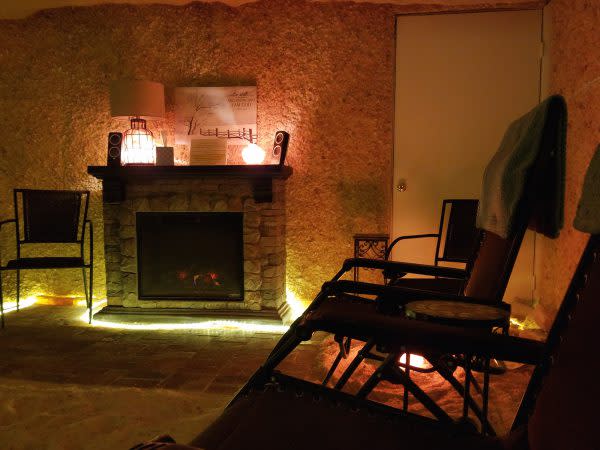 Grab a chair and sink your toes into the salt or recline and relax with the calming music.
I found the hour in the salt cave to be extremely relaxing and that feeling carried with me through the remainder of the day. This is definitely going on my must-do list for the area.
Downtown Shopping
I love the trend that is spreading across Indiana, which is the rise of eclectic boutiques in historic downtown buildings. Warsaw has a number of great shops within walking distance from one another that are well worth checking out either before or after your salt cave experience. I found several ladies clothing stores as well as a retail location selling beef jerky made daily. I purchased several clothing items and a variety of jerky that my kids have already gobbled up and are asking for more. If you want to go full throttle with shopping on your trip, you may want to head over to the Winona Lake area which has a number of lakeside boutiques and restaurants. (See blog: These Two Small Towns are a Perfect Shopping Getaway)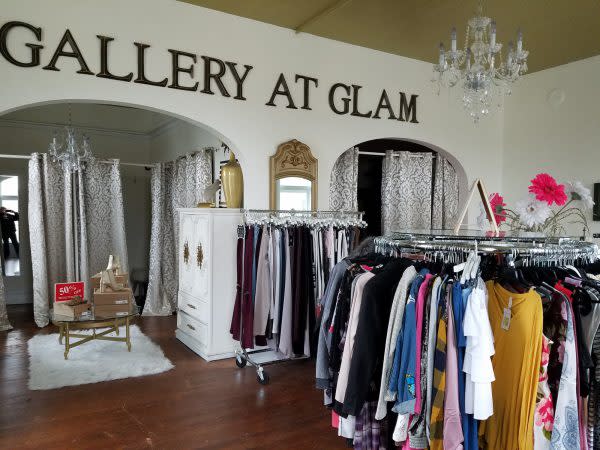 Glam, ladies boutique in Downtown Warsaw (212 S. Buffalo St., Warsaw)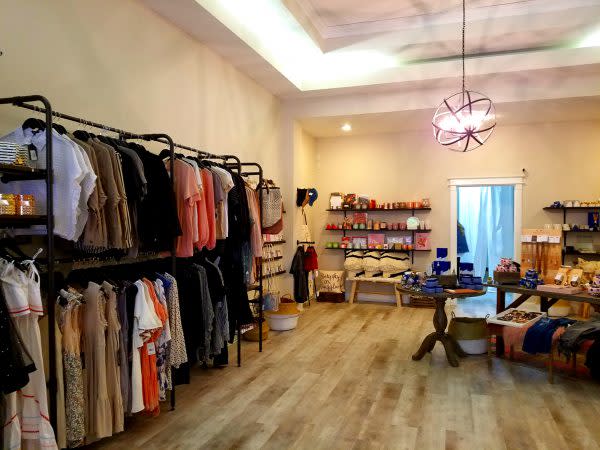 Elysian Co, ladies boutique (110 E. Center St., Warsaw)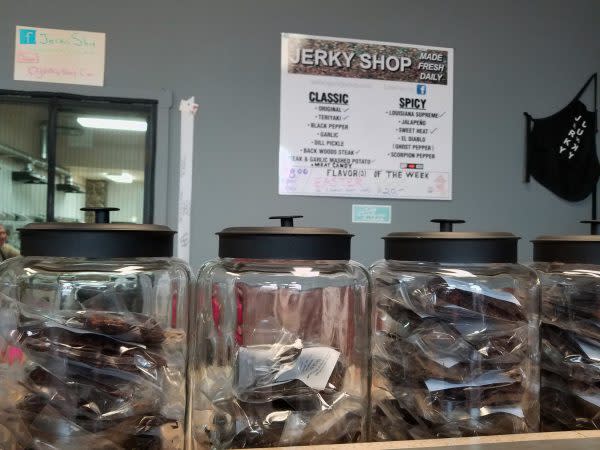 Jerky Shop, jerky made fresh daily (206 S. Buffalo St., Warsaw)
Hip Downtown Eatery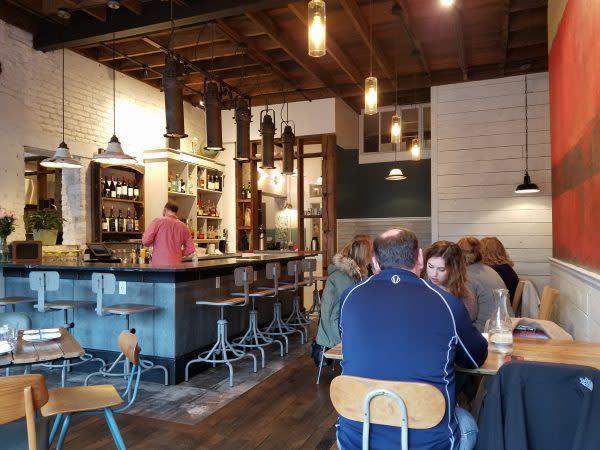 Rua, international street food (108 E Market St, Warsaw)
Word travels fast in northeast Indiana when there's a great place to eat. Well, Rua in Downtown Warsaw definitely lived up to it's hype and I was very impressed. While known for their international street food items, it was the interior that captured my attention first. They've taken all the wonderful features of a historic downtown building and carefully blended them into a chic, inviting space.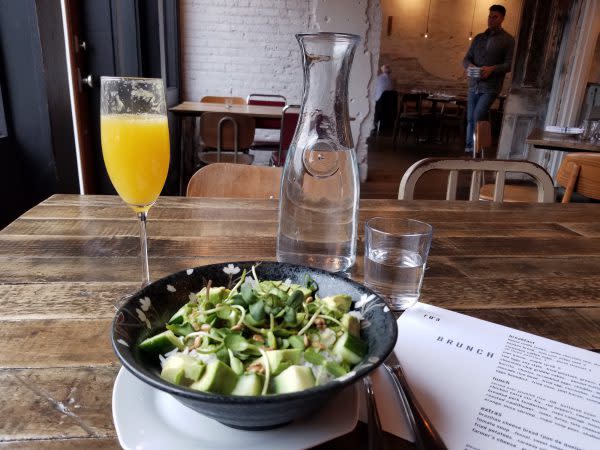 The menu is sophisticated, yet not overly complicated which made my decision making much more challenging. I selected the avocado rice bowl and a mimosa for brunch and my entree was fresh and satisfying. With overall atmosphere and quality of food, this place was a home run for me and I can't wait to make it back for anther meal.
Rua is open for lunch and dinner Tuesday through Friday and serves brunch and dinner on Saturday. Check weekends for a Sunday brunch option.
Wine Time
In keeping with my zen theme, I thought an afternoon of sipping and relaxing at the local winery was in order. Tippy Creek Winery is located near Tippecanoe Lake and a short ten minute drive from Downtown Warsaw. They have a nice selection of wines and do charge a minimal fee for tastings. And of course they have wine slushies - one of my personal favorites.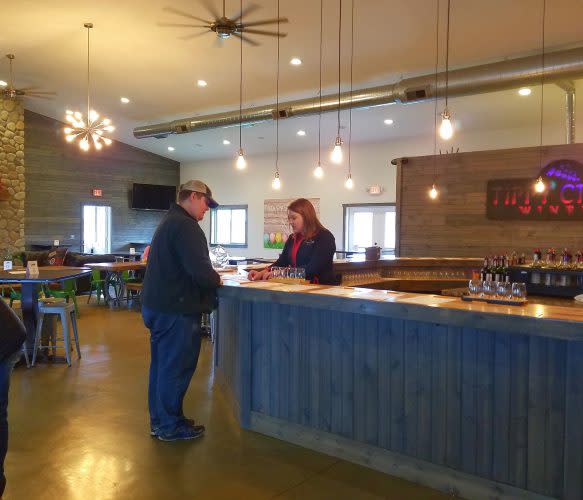 Tippy Creek Winery (5920 N 200 E, Leesburg)
Grab a glass or a bottle and get comfortable in front of the fireplace. The coffee table there is stocked with plenty of games so that you can relax with friends and enjoy the afternoon. There's also a cheery screened in porch if you want to feel the sunshine. Check their schedule for weekend entertainment and special events.
Head Down Under
Talk about unique and different - I found a restaurant in nearby Syracuse, Indiana that takes this description to a whole new level - the lower level. Down Under is a restaurant that was built to be exclusively underground. When you pull up to the address, all you see is this gazebo, which houses the steps to the restaurant below.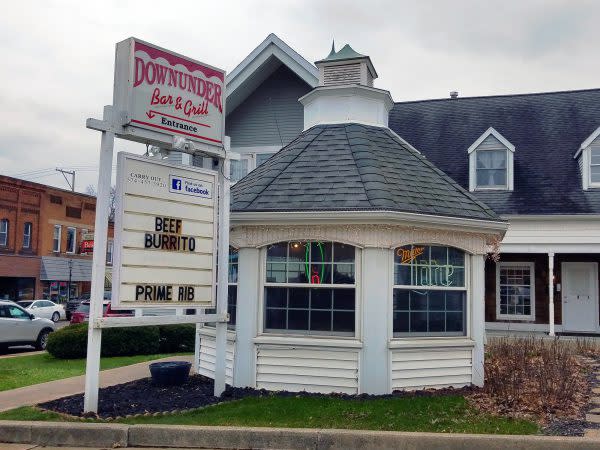 Down Under, restaurant (801 N Huntington St # 12, Syracuse)
Originally just a bar, Down Under expanded into a full service restaurant and serves up area favorites including their prime rib and thin crust pizza.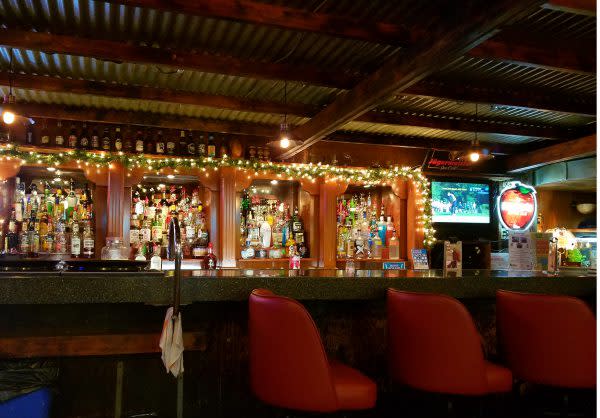 The bar area is a favorite hangout for locals and out-of-towners.
There was a good crowd even during the late afternoon hours which isn't uncommon as folks travel to Down Under from all across the region and from Michigan and Ohio.  It has a nice charm to it and Nancy, the owner, is a great hostess and she loves out of town guests!
This stop was the perfect end to a relaxing day. As I ended my trip and headed home, I can see how you could easily add in more time for shopping or water activities in the Syracuse/Wawasee area and make it a fully loaded weekend. If you want to plan your own girlfriend getaway in the Koscuisko County area, make sure you check with the Kosciusko County Convention and Visitors Bureau for ideas and suggestions.