In the heart of downtown Indy there is a bit of a hidden museum for kids who love music - Rhythm Discovery Center. I say hidden because if you don't know about it, you likely won't run into it. Located just below city level and within indoor walking distance from Circle Centre Mall, its location is perfect for a day downtown.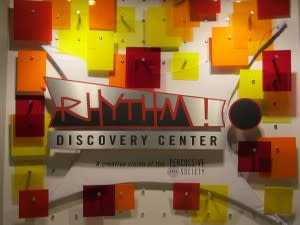 Let me tell you a  little bit about the place ... Rhythm Discovery Center is a percussion museum which offers a unique experience for kids (and adults) to explore rhythm, percussion and its role in shaping music. I had the privilege of being a chaperone for a preschool group and it certainly added to the experience.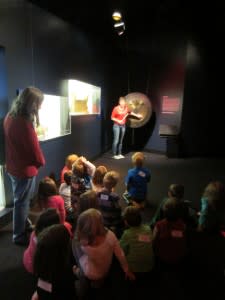 Of course, we received a tour guide to take us around and tell us a little more about each area before letting the kids experience it with their own hands.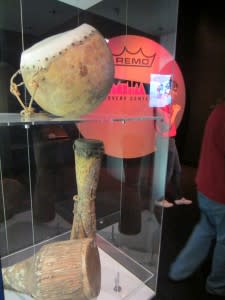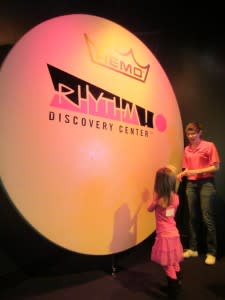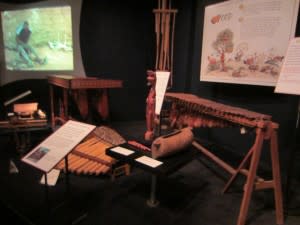 Our tour guide, Erin, explained the difference between wood, metal and skin drums and after walking us through the museum, we got to experience my favorite part ... the drum circle.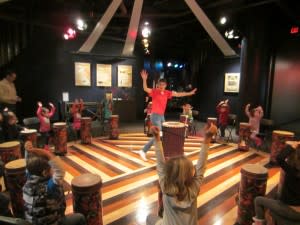 Okay ... I named it that. Not sure what they call it, but it makes sense right?
And probably the kids' favorite part was the free play area at the end which consisted of this area ...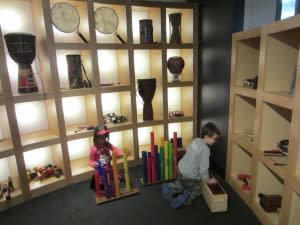 And two more rooms filled with drums, tambourines, xylophones, cymbals, drum sets, you get the idea. If you are sensitive to sound you may just want to take some ear plugs!
A great visit and if I hadn't needed to return to the school I would have hung around to do a little more touring in downtown. I guess next time.
To schedule your visit to Rhythm Discovery Center, be sure and visit their website. For more info on attractions and events in downtown Indy - check out Visit Indy's website.