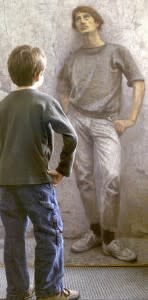 Richmond Art Museum
The Richmond Art Museum, believed to be the only public art museum connected to an active public high school in the nation, has become a destination point for art lovers all over the region.
Established in 1898, the museum has developed into one of East Central Indiana's most renowned cultural landmarks. The museum offers a permanent collection of art that includes, but is not limited to, American Impressionist pieces, a broad array of ceramics and a strong representation of Indiana artists. In addition to the permanent displays, the RAM also offers an enticing group of exhibits throughout the year
The RAM also displays the artwork of many Indiana artists, including T.C. Steele, whose painting, In the Whitewater Valley, Near Metamora, was the first painting acquired by the museum in 1899. Other Indiana artists such as J. Ottis Adams, Richard Gruelle, William Forsythe and Otto Stark have artwork displayed in the museum.
In addition to the aforementioned "Hoosier Group" artists, the RAM also prominently features artwork from artists whom originated in Richmond in the nineteenth century. Named the "Richmond Group", these artists, including John Elwood Bundy and Charles S. Connor, attempted to bring an appreciation of art to the community.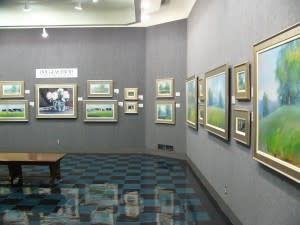 According to Shaun Dingwerth, executive director of the museum, the RAM experiences over 22,000 visitors annually, many of which are drawn in by the over 150 programs offered by the RAM. A few examples of the programs offered are:
Secret Garden and Home Tour

- This program offers tours of Richmond's beautiful gardens and homes and attracted over 1000 people in 2013. This will be held June 21-22.

Potterypalooza

- This event offers attendees with the opportunity to both observe and purchase beautiful works from an eclectic group of ceramic designs. This program will be held on September 13.

Cork and Canvas Art Party

- This class offers the exciting combination of painting instruction and wine sipping. Dates are July 18, August 15, September 26, October 24 and November 28.
While the Richmond Art Museum is one of the community's strongest cultural institutions, it also brings a number of separate benefits to the community. According to Dingwerth, the RAM sold over $165,000 in artwork in 2013, indicating that the museum brings a certain amount of economic development and impact into the community.
In addition to the economic impact, the art museum partners with and sponsors a large group of local organizations, including, Reid Hospital, Indiana University East and Richmond High School. These partnerships help to promote a healthy community, both physically and mentally.
Whether you're an artist or just like to admire the artwork of others, do yourself a service and go visit the Richmond Art Museum today.