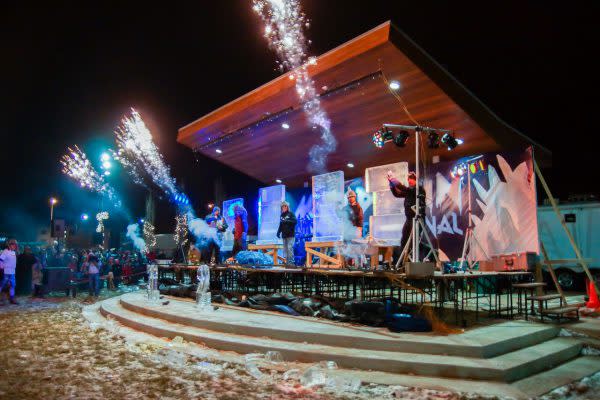 Get excited about the cold at the Richmond Meltdown - a festival especially designed to lure people of all ages out into the winter weather. And at the heart of it all is ice. Cold, hard ice. Twenty-eight tons of ice. Not to mention a team of award-winning, world-class ice sculptors ready to make some magic on the streets of Richmond, Indiana.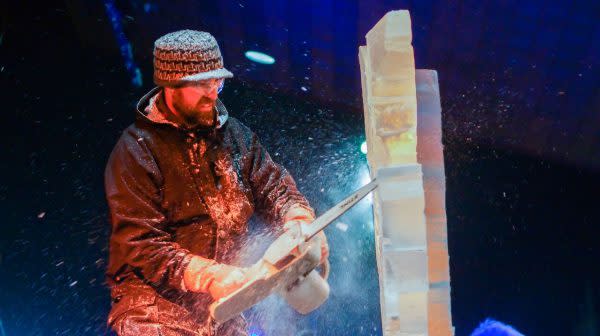 From Jan. 24-28, their creations will dot the downtown area.
There will be ice for kids to climb and play on. Opportunities to watch the sculptors and ask about their work. And – highlighting the festival – two nights of high-octane ice carving competitions at the Elstro plaza.
Join the crowds that turn out to watch the competitors test their ability to turn a spur-of-the-moment theme into a spectacular ice creation in a limited amount of time. Cheer (from a safe distance) as the ice chips fly! Root for your favorites!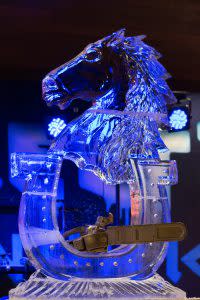 This is the fifth year for the Richmond Meltdown, and the festival just keeps getting bigger and better. It was the brainchild of former Richmond Parks Department Superintendent Bill Thistlethwaite and his son, Andrew, an award-winning ice carver. The two had organized similar gatherings in other Midwestern small towns and found them a great way to create winter excitement.
"We saw what it did in the dead of winter," Bill said. As for the Richmond event, "It's just kind of exploded," said Andrew Thistlethwaite said.
Wednesday through Sunday, the Family Fun Zone will be open from 9 a.m. to 9 p.m. at Jack Elstro Plaza. Past years' Fun Zones have included ice slides, ice table tennis and ice skee ball. And you might see a carver at work in the plaza too.
Friday evening, the Frosty Mug Pub Crawl leads up to the first night of competition at the plaza – the People's Champion Throwdown, where the crowd selects the winner.
Then on Saturday, the Meltdown outgrows the plaza (though there's still plenty going on there), with sculptors busy all up and down Main Street and into the Historic Depot District.
But that's not all. Throughout the day, there will be horse-drawn carriage rides to get from downtown to the depot district, concerts in a variety of venues, warming stations and bonfires. From 11 a.m. to 3 p.m., fairy lovers can follow the Frozen Fairy Trail, starting with crafts at the National Road Welcome Center and heading out to discover the many fairy doors sprinkled through Richmond.
Oh – wait. I FORGOT TO TELL YOU SOMETHING REALLY IMPORTANT. REALLY, REALLY IMPORTANT.
IT'S ALL FREE!
That's right. There's no admission charge for any of the activities.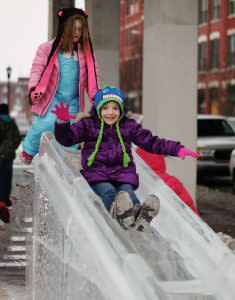 That includes Saturday night's Mega Meltdown Throwdown at the plaza – an unforgettable party with excitement that should keep you going until spring even if the groundhog says it'll be a long winter. It also includes the next day's activities at the Family Fun Zone and a Richmond Symphony Orchestra brass concert at 3 p.m. Sunday at Holy Family Church.
The only thing you might need some money for is to pay for treats at the food trucks that will be parked around Richmond. You also might want to drop something in one of the many donations scattered about to help make it possible to continue offering this amazing festival for free. Or you could find yourself spending a little if you find an irresistible purchase when you duck into one of the unique shops on Main Street or in the Depot District to get warm.
Warning: Ice carving can be addicting. Come this year and you'll want to come next. Come Friday night and you'll want to return Saturday.
Find the full schedule of events at www.richmondmeltdown.com and get updates at the Richmond Meltdown Facebook page.
And learn more about the weekend and everything there is to do in Richmond and Wayne County at www.visitrichmond.org.
Article written by Louise Ronald, who writes for Richmond-Wayne County Convention & Tourism Bureau.