It's beginning to look a lot like Christmas in Ohio County!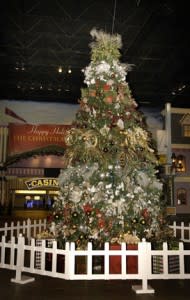 Rising Star Casino Resort in Rising Sun welcomed a visiting Santa and Mrs. Claus recently to help casino officials light up the featured Christmas tree inside the casino's Pavilion. It wasn't merely the decorative glow of a holiday tree that was being celebrated, it was also the unveiling of what is dubbed as the "world's first Christmas Casino." A new venture for the Rising Sun casino, the temporary yuletide presentation is open now through January 3, 2016.
Award-winning Linda Baker of the Baker Design Group Interior Design of the Dallas/Fort Worth area joined forces with world-renowned Lou Nasti of Lou Nasti's Mechanical Displays of Brooklyn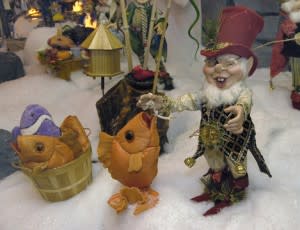 to create magical Christmas displays comprised of mechanical figures, exquisite lighting, and music. Nasti's works have been found all over the world-- from Macy's in New York City to the Central Department Store in Thailand. Baker and Nasti incorporated Christmas fairies, elves, and other creatures from The Mark Roberts Company to animate in displays located throughout Rising Star Casino.
While the location of most the exhibits require guests to be at least 21 years of age to enter, youths can enjoy visiting with Santa in the decorated Pavilion with the 12 Days of Christmas themed tree.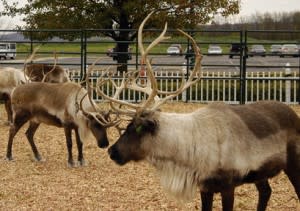 Located outdoors is Santa's Christmas Stables where jolly 'ol St. Nick has seven of his reindeer on display. (Unfortunately, Rudolf and Blitzen had previous engagements at the North Pole.)
The ramp leading guests onto the boat is a Winter Wonderland of decorated trees engulfed in blue lighting. With animated figures and music, it's the prelude to the gaming area draped with festive garland and even more sights of the season. The many live elves you'll encounter throughout are casino employees embracing the holiday atmosphere.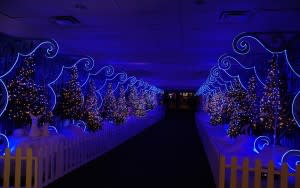 Animated scenes located on three levels include a: Sleeping Polar Bear in the Forest, Gazebo with Musicians and Dancing Elves, Elves Ice Fishing & Campsite, Hot Air Balloon Fairy Tree, and Ice Skating Rink with Elves.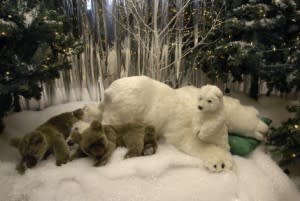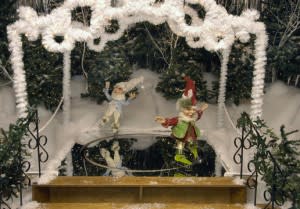 To enhance the celebration, the casino's restaurants have been renamed for the Christmas season. Enjoy dinner at Mrs. Claus' Kitchen Buffet and experience holiday favorites with all of the trimmings. In the spirit of Christmas past, culinary experimenters will want to try desserts such as figgy pudding and mincemeat pie—dishes commonly referred to in holiday songs and stories but rarely found on a menu. The buffet is open seven days a week with prices varying with the time of day.
Yuletide Inn (Wellington's Steakhouse) is serving "roasted goose with marjoram and ginger-honey glaze, coffee-crusted beef tenderloin, wild Pacific salmon roasted on a cedar plank with cherry compote, pork sauce, in addition to the Christmas dinner staple of herbs rubbed roast turkey breast with champagne mushroom sauce and Mrs. Clause's special stuffing."  Reservations are available by calling 877-77-SANTA, Ext. 7. The Inn is open Thursday, Friday, and Saturday evenings throughout the holidays from 5:00-10:00 p.m. Dinner is a set price of $45 for adults and $25 for youths, 11 years of age and younger. Parties and private functions are welcome.
To further prod ones Christmas spirit, upcoming entertainment in Rising Star's Christmas Grand Theater includes the Tony Orlando's Christmas on November 21 and Lee Greenwood and his Tennessee Christmas Celebration on December 12. Ring in the New Year with Marilyn McCoo & Billy Davis, Jr. during the Christmas Casino's December 31 New Years' Eve festivities.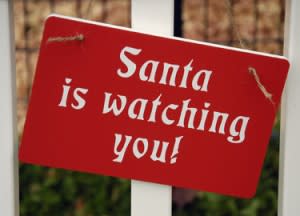 The Rising Star Christmas Casino is located at 777 Rising Star Drive in Rising Sun. For more information, log on to thechristmascasino.com or contact Rising Sun/Ohio County Tourism at 888-776-4786 or log on to enjoyrisingsun.com.
Photos by Kendal R. Miller