I was so happy to finally plan a romantic getaway to Serenity Springs, which is just outside Michigan City, after having it on my radar for years.  It completely lives up to the name - it's absolute serenity from the moment you enter the grounds. After you park and check-in, you're delivered to your cabin via horse carriage. No cars are permitted on the grounds. It's quiet and peaceful and an ideal spot to unplug and get away from everyday life and reconnect as a couple.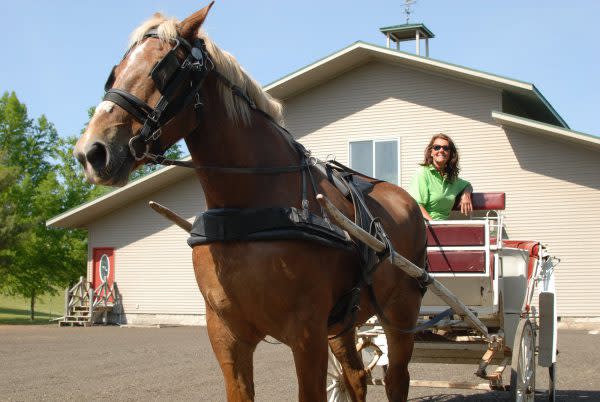 Cars are parked upon check-in and a horse-drawn carriage takes guests to their cabins.
The 85-acre grounds are beautiful and have 31 unique cabins situated either on their lake, pond or creek. There are five different rooflines, so there are different layouts - like the A-frame with an upstairs bedroom and a barn-style with a loft with a little seating area that you get to via ladder, but that offers pretty, elevated views.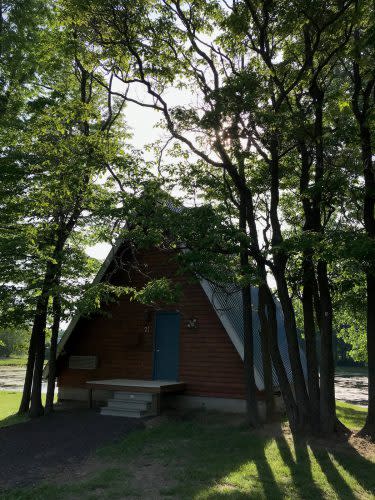 There are several different designs of cabins and each is decorated differently.
The entire grounds are designed to be distraction-free (perfect for a romantic getaway). There is no phone in the cabins. No cars can drive beyond the check-in area. You can borrow bikes to ride or poles to fish and a there's a recreation room for playing board games or ping pong. Each cabin has a private deck with a fire pit and grill and there's a bin of food for the geese, ducks, and swans that reside there.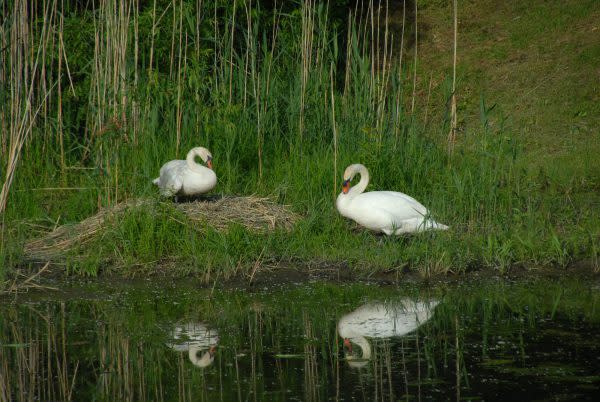 A number of feathered creatures call the grounds home.
To make the stay even more private, anything that is brought to your cabin is left in a butler box and then a light goes on to alert you that something has been left. We received s'mores to make on the fire pit and breakfast via the butler box.
The one thing that didn't arrive via butler box was dinner. We ordered off the menu from a nearby restaurant and employees quickly brought it inside, put a tablecloth and candles out and presented our dinner to us. It was fun and romantic and delicious.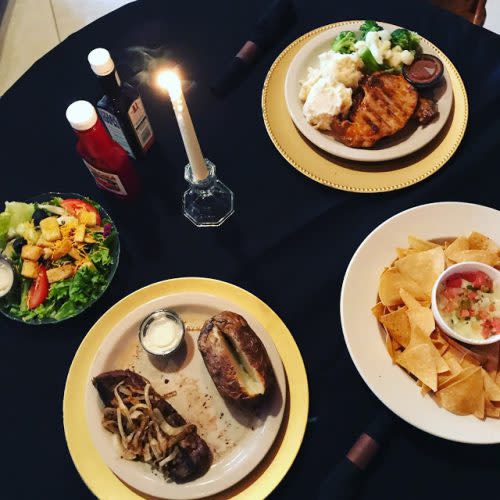 Candlelight dinner can be ordered from the menu at a nearby restaurant and delivered to your room.
After a wonderful night enjoying the peace and quiet, I wished we had planned on staying for a second night. One night just didn't seem long enough.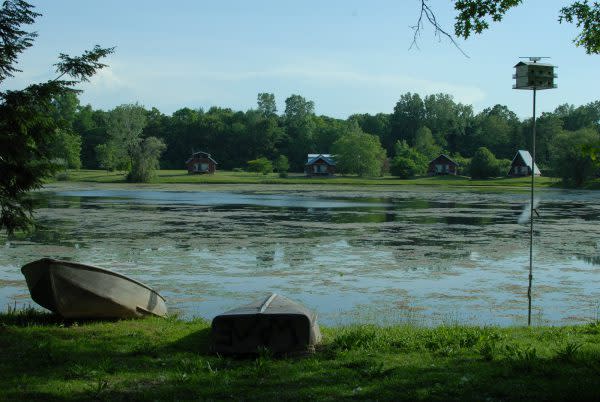 Serenity Springs lives up to it's name as a distraction-free destination where couples can relax and reconnect.
There are extras that can be added on to your stay, like massages and rose petals and cheese platters. For more on the amenities and to make reservations for your romantic getaway, visit serenity-springs.com.