Whether you're embarking on a romantic getaway, celebrating an anniversary, or simply seeking quality time together, Indiana has something special in store for you. From quaint towns and serene parks to hidden gems and delectable dining spots, use this guide to help map your must see stops along I-69, I-70, and I-65.  
If You're Traveling Via I-69 
Here's Where To Eat 
DeBrand Fine Chocolates – Fort Wayne, Northeast of Indianapolis 
At DeBrand Fine Chocolates, you can experience an elegant and relaxing atmosphere while you enjoy fine chocolates made with only the highest quality ingredients. Have a taste of a gourmet hot chocolate or enjoy a decadent sundae topped with your choice of toppings, or one of the many other desserts and drinks available. Whether you desire traditional creams and caramels, irresistibly rich Truffles, or more exotic combinations, DeBrand will have the chocolate that's perfect for you.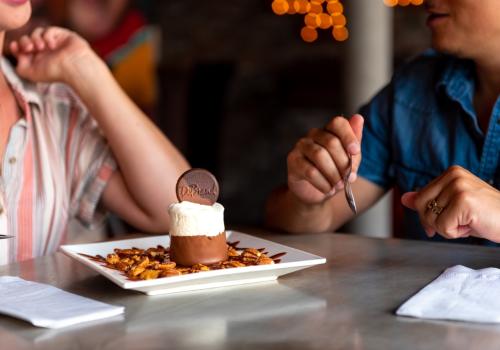 Zydeco's – Mooresville, Southwest of Indianapolis 
New Orleans is much closer than you think! Zydeco's serves up authentic Cajun cuisine that makes you feel like you're on Bourbon Street. This fantastic establishment not only brings the flavors of New Orleans but the sights and sounds as well. A trip to Zydeco's is worth the chance to step through the doors and soak in the ambiance and have some fun!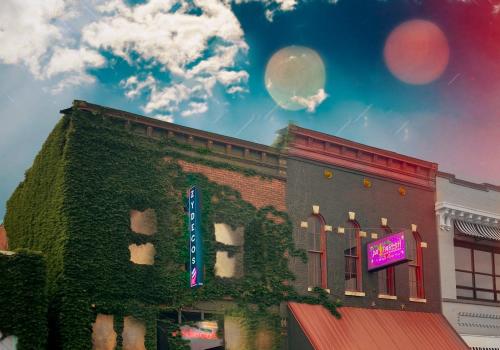 Mother Bear's Pizza West – Bloomington, Southwest of Indianapolis 
Mother Bear's Pizza is best known for their traditional pan pizza, but also offer sesame-seed thin crust and deep-dish options. Not in the mood for pizza? They also offer crisp salads, hot sub sandwiches, wings, and pasta dishes. To complete your meal, try one of the warm, homemade brownies. This cheesy destination also serves beer and wine with many selections from local breweries.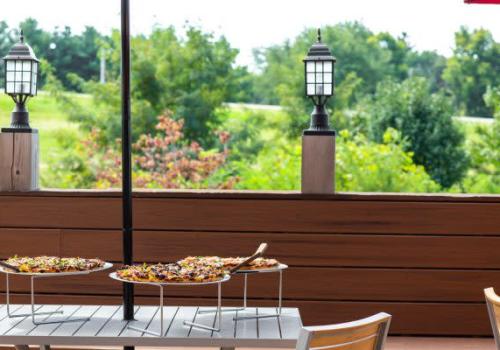 Here's What To Do 
Foellinger-Freimann Botanical Conservatory – Fort Wayne, Northeast of Indianapolis 
Surround yourself with nature at the Foellinger-Freimann Botanical Conservatory. This is definitely one of the most serene places to stop on I-69 in Indiana, making it a perfect place to take a break after a few hours on the road. Visit the Showcase Garden with its lush seasonal displays, wander through the Tropical Garden where orchids and palms thrive in the shadows of a cascading waterfall, or retreat to the quiet beauty of the Desert Garden. Discover three indoor gardens, four outdoor gardens and a spring butterfly exhibit.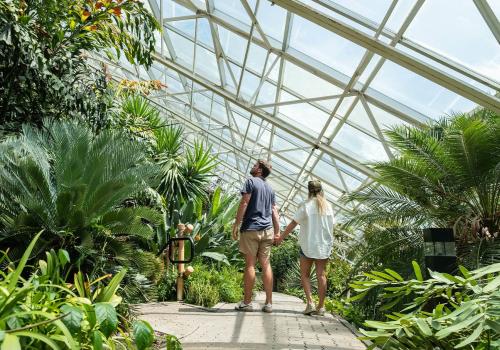 Zip Timber Lake - Huntington, Northeast of Indianapolis 
The owners of Zip Timber Lake conceptualized their course while on vacation in Honduras. With eight zip lines and four bridges, fears are put to the test. The centerpiece of the course is the "Flying Squirrel Zip" that soars 1,000' over a beautifully wooded private lake. Take the High Adventure Tour to do all 8 ziplines, 4 aerial bridges, 2 climbing elements, and the skyhook. This cool waypoint on this list of places to stop on I-69 in Indiana would most certainly provide a nice counterbalance to your drive.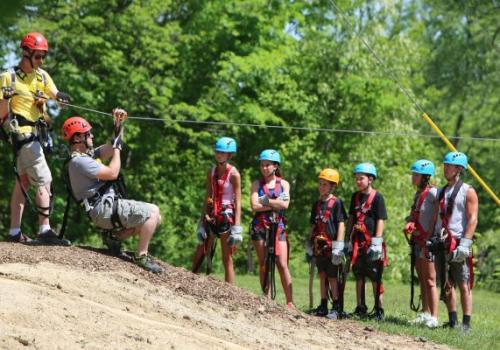 Ritchey Woods Nature Preserve – Fishers, Northeast of Indianapolis
Ritchey Woods Nature Preserve is the perfect place to take a break from driving. The park is approximately 127 acres. There are nine incredible nature trails totaling over 2 miles and are great for getting in some exercise on your drive. This preserve is one of the best spots around for bird watching and wildlife sightings. Ritchey Woods is also a perfect place for a picnic as it offers a shelter and picnic areas.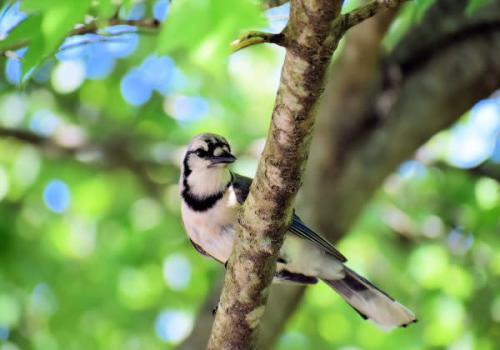 No romantic trip to Indianapolis would be complete without snapping a selfie in front of Robert Indiana's iconic LOVE sculpture at Newfields. Then, immerse yourselves in the dreamy shifting sounds and images of Monet & Friends in THE LUME followed by a walk through the outdoor gardens to see what's in bloom.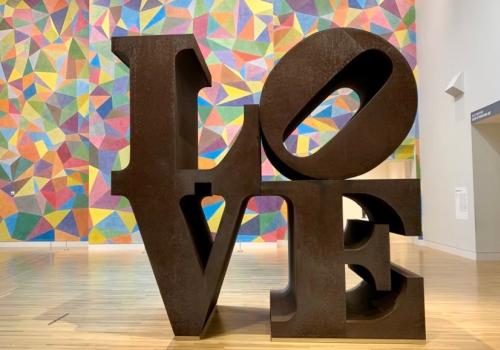 Downtown Bloomington – 4 Minutes from the Interstate 
Downtown Bloomington is full of fun things to do day and night, making it yet another one of the best places to stop on I-69 in Indiana. There are a variety of places for people of all ages and interests. Feeling hungry or thirsty? There are tons of restaurants and breweries to choose from. You can also see live music at one or more of their many venues which offer it just about every night of the week. If you're feeling sleepy after your long day on the road, you can take your pick from a wide variety of hotels to pull off at for the night.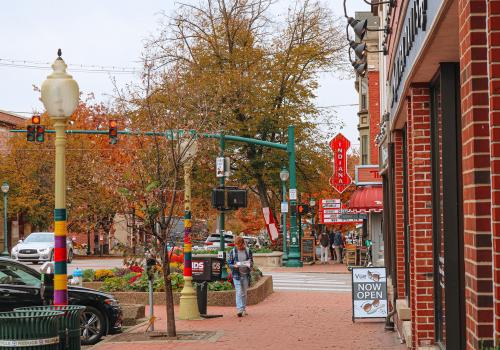 Haynie's Corner Arts District – Evansville, Southwest of Indianapolis 
The neighborhoods of Riverside, Culver, Goosetown, and Blackford's Grove define the Arts District in downtown Evansville. The Haynie's Corner area has a long history, dating back to the first plat in the 1830s. A node of special development, several neighborhoods converged here. Today, Haynie's Corner Arts District is a symbol of community, advocacy, preservation, and regeneration its future sits with art, design, and architecture. There are new restaurants and bars showcasing art and music, a brewery, galleries, and retail and spa.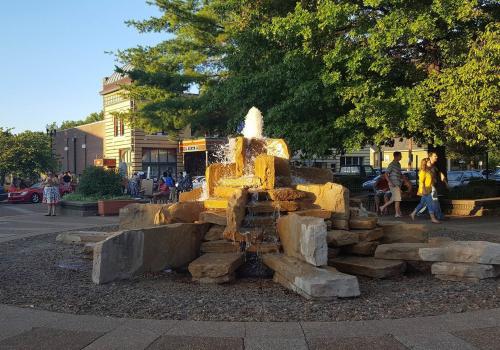 If You're Traveling via I-70 
The Mug in Greenfield - Greenfield, East of Indianapolis 
The Mug strives to provide customers with the freshest, best-tasting farm-to-curb "slow food" they have ever eaten. They source their meat from local farmers who never use antibiotics and raise their cows, pigs, and chickens the "old-fashioned" way - out on green pasture where they can be free to roam and enjoy a happy life in the open. So skip the fast-food drive-thru, experience The Mug for yourself, and taste the farm-to-curb difference!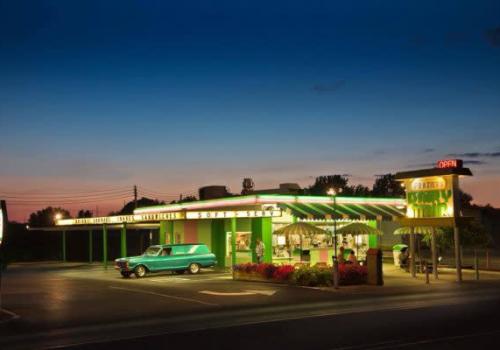 Milktooth - Indianapolis 
An Indianapolis brunch favorite, Milktooth is a fine diner in the historic Fletcher Place neighborhood of the city. Using local produce and agriculture, they serve world-inspired breakfast and lunch fare.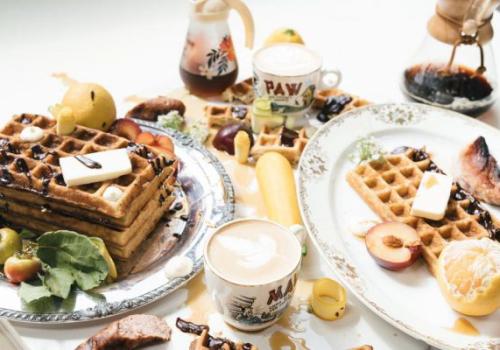 Oasis Diner- Plainfield, West of Indianapolis 
They don't make them like this anymore. Literally. Oasis Diner is one of only 5 historical diners to remain on US 40 from Illinois to Maryland. Plus, we hear their tenderloin is one of the best.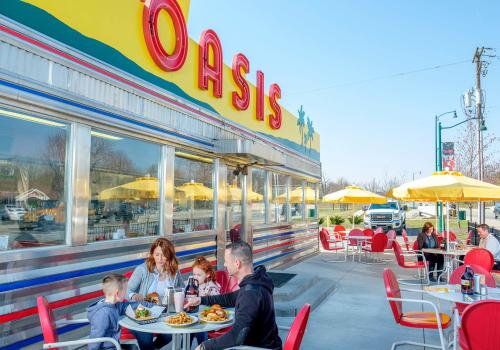 Stables Steakhouse - Terre Haute, West of Indianapolis 
Stables Steakhouse provides fine dining in a renovated former stable just a few minutes off the interstate in Terre Haute. Enjoy the rustic, intimate atmosphere while you dine!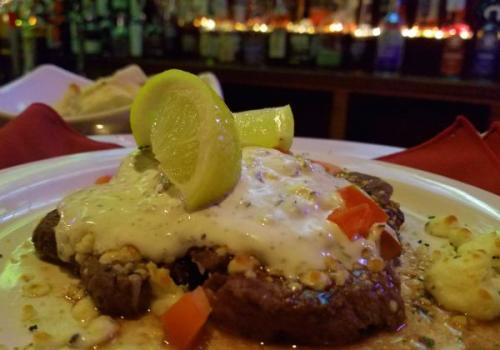 Here's What To Do: 
Hoosier Hill: Indiana's Highest Point - Richmond, East of Indianapolis  
Indiana doesn't have mountains, but we do have our hills, and a visit to this one will land you at Indiana's highest point. Read more.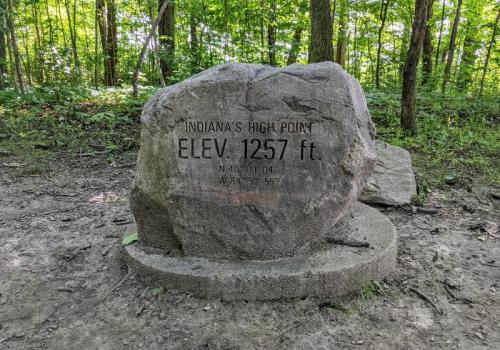 Thistlethwaite Falls in Richmond – Richmond, East of Indianapolis 
Thistlethwaite Falls was rated one of the top waterfalls in Indiana! A short hike, this section of the Whitewater River is a beautiful stop on the road.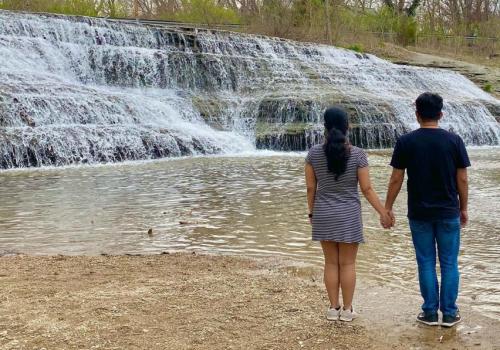 Bottleworks District and Garage Food Hall - Indianapolis 
The Garage Food Hall at Bottleworks District is the perfect place to find a bite to eat for everyone. A 30,000 square foot food and market hall occupies two of the historic bottling plant's original garage buildings. The food hall features 1930s Art Deco terracotta facades, industrial architecture, and large roll-up doors for a seamless indoor-outdoor experience. The Garage plays host to various food and beverage vendors, bringing top culinary talent, artisan craftsmen, residents, and visitors together in the heart of Indianapolis. It's a supportive environment where chefs, producers, and artisans are pushed to be their best. If you're lucky, you may even catch a live music performance!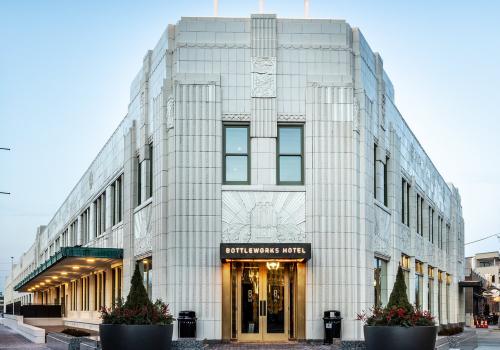 Eiteljorg Museum - Indianapolis 
Right next to the Indiana State Museum, you'll also find the Eiteljorg Museum. The only museum of its kind in the Midwest, its mission is to inspire appreciation and understanding of the art, history, and cultures of the American West and the Indigenous peoples of North America.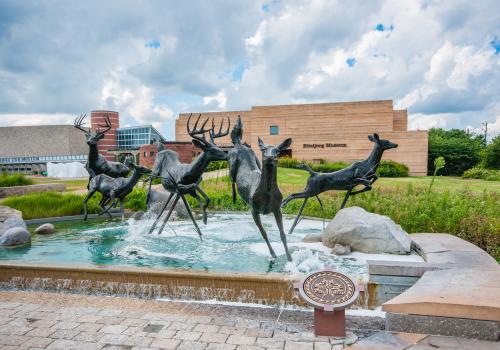 Cataract Falls and General Store – Spencer, Southwest of Indianapolis 
Also, not too far off from I-70 is the largest waterfall in the state, Cataract Falls! Take a short hike to view the beautiful scenery, and be sure to stop at the General Store that's right nearby and has something for everyone. 
The Shrine of Saint Mother Theodore Guerin and the Seashell Chapel at Saint Mary of the Woods College - Terre Haute, Southwest of Indiana 
From France, Saint Mother Theodore Guerin founded the Sisters of Providence and Saint Mary of the Woods College in Indiana in 1840. For her incredible life's work, she was canonized in St. Peter's Square in Rome in 2006 and bestowed the title of Saint.  You can learn about her life and endeavors at the shrine, and the chapel allows for a moment of prayer and reflection. The campus is also home to the "Seashell Chapel," which is worth the stop in its own right.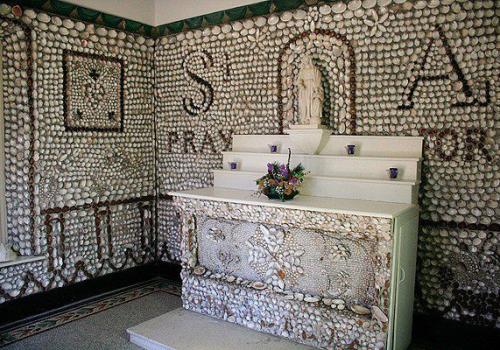 If You're Traveling via I-65 
Here's Where To Eat: 
Don Quijote- Valparasio, Northwest of Indianapolis 
Indiana Dunes Country is home to many fine dining options for a relaxing, time-to-reconnect dinner. Among favorite "date" restaurants is Don Quijote restaurant in Valparaiso, which serves authentic Spanish tapas and entrees.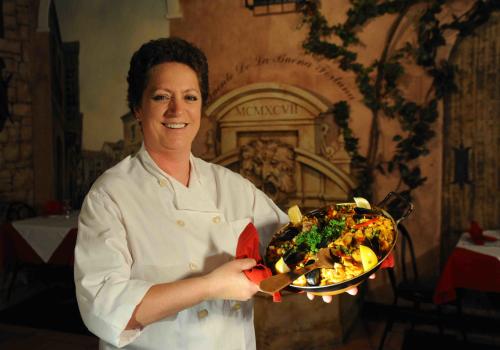 Triple XXX Family Restaurant – Lafayette, North of Indianapolis 
Grab a bite to eat at Triple XXX Family Restaurant! Open since 1929, Triple XXX serves burgers, root beer & other soda-fountain treats, plus breakfast all day.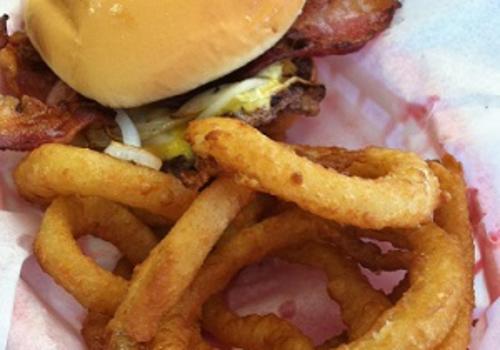 Fair Oaks Farm- Newton County, Northwest of Indianapolis
Fair Oaks is one of the more unique attractions in Indiana, and during its harvest season, it becomes a beautiful area to explore and play. Experience Fair Oak Farms at the height of harvest time.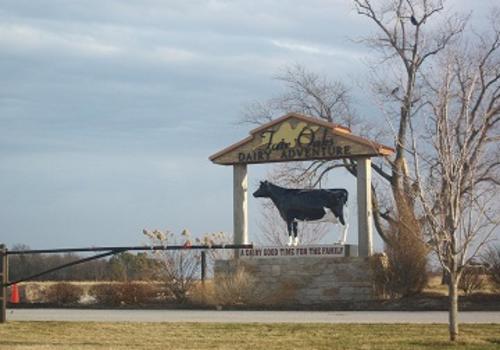 Here's What To Do: 
Indiana Dunes National Park – Porter, North of Indianapolis 
Right off the bat you'll find Indiana's first and only national park! Along the coast of the fifth largest freshwater lake in the world, the Dunes are also Indiana's most ecologically diverse area!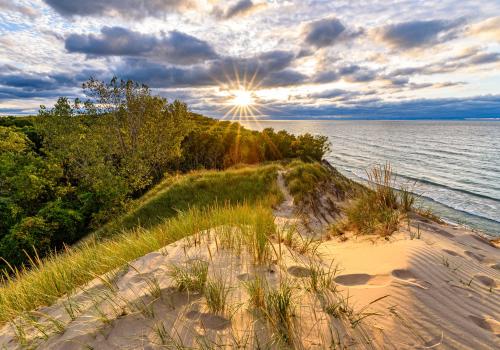 Gabis Arboretum at Purdue Northwest - Valparaiso, North of Indianapolis 
This 330-acre arboretum is a preserve of prairie, forest and wetland terrain and is home to an incredible model railway garden, which will capture the imagination of young and old.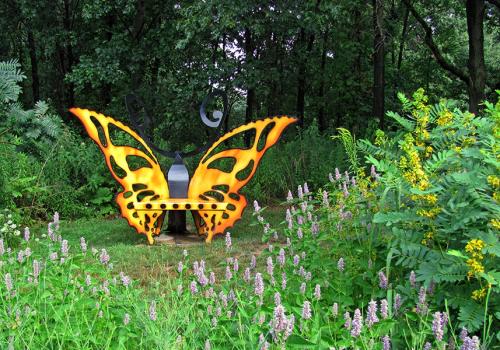 Columbus Architecture Tours – Columbus, South of Indianapolis 
Discover how a small Midwestern city became a "modern architecture mecca"! The Columbus Architecture Tour includes over thirty significant structures and works of art in the city to learn about.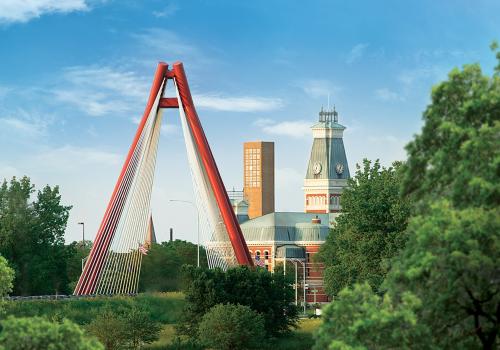 Huber's Orchard, Winery & Distillery – Borden, South of Indianapolis 
As Indiana's largest wine-grape producer, Huber Orchard and Winery produces nearly 400,000 pounds of 18 different varieties of grapes every year! Stop by to taste wines, pick your own fruits & vegetables from the fields of the largest farm in Southern Indiana or enjoy lunch at the Starlight Cafe.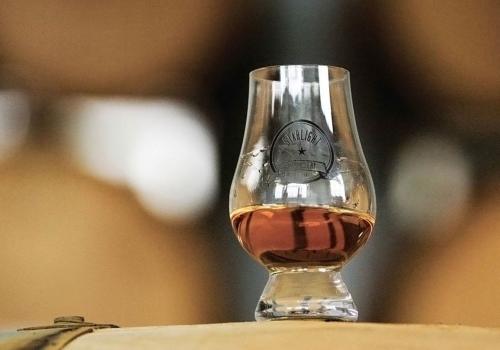 Derby Dinner Playhouse – Clarksville, South of Indianapolis  
Who doesn't love dinner and a show? Derby Dinner Playhouse is a 500-seat dinner theater featuring Broadway musicals and comedies, just minutes off the highway and from downtown Louisville. The homestyle buffet is included in the ticket price!