It's no secret that I'm a regular visitor to The Children's Museum of Indianapolis. The combination of living 15 minutes away, having a child living at home and a membership card in my wallet makes it an easy decision ... every time! Last week I actually  headed there on back to back days (crazy I know). Once with a field trip and once to visit the new exhibit we didn't have time to hit - Sacred Journeys.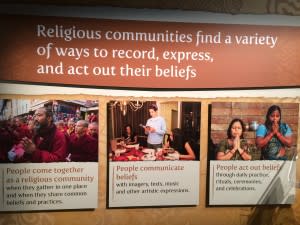 This exhibit will be on display until February and if you get a chance it is worth the time to visit. Some things I learned and saw during my most recent visit ...
Each year, more than 330 million people around the world journey to a sacred place.  These journeys may include the Western Wall in Jerusalem, the Great Mosque in Mecca, the Ganges River in India, Bodh Gaya in India where Buddha is said to have achieved enlightenment and the Basilica of Our Lady of Guadalupe in Mexico City. This exhibit lets you experience a piece of those destinations with photography (from National Geographic no less!) and exhibits that allow you to observe, learn and begin to understand some of these unique places all over the world.
We got to touch a large stone from the Western Wall in Jerusalem ...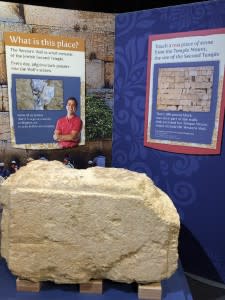 We saw a sand creation based on a Buddhist ritual (yes ... that is sand - pretty amazing!) ...
Pictures of unique places all around the world - like the Basilica of Our Lady of Guadalupe (a church in Mexico) ...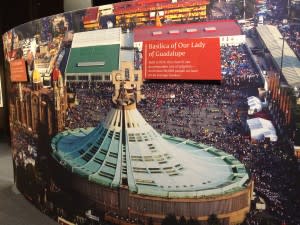 Some stories were completely new to me and very interesting. For example this image taken inside the Great Mosque which is a main stop on the Hajj pilgrimage. The square stands in the center encasing a meteorite ...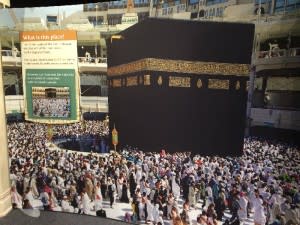 We also saw examples of items to purchase at markets nearby these destinations ...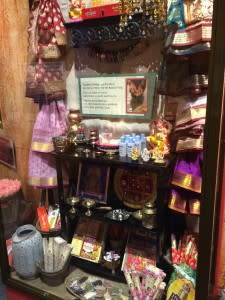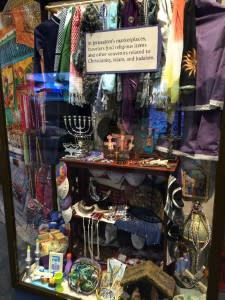 Overall it was a wonderful exhibit that gave me a glimpse into other religions, traditions and cultures.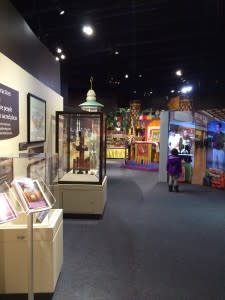 And in case you were wondering, we also made it to other parts of the museum!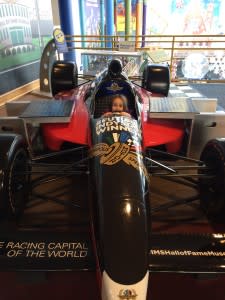 Sacred Journeys runs through February 21 so be sure to make a stop before then. For other events going on at the Children's Museum, be sure to visit their website.
For more information on Indy attractions, be sure to Visit Indy.