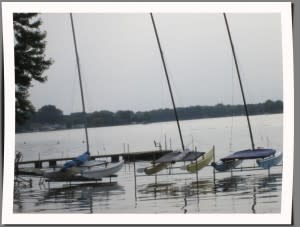 A view of boats on Winona Lake from The Boathouse Restaurant.
A sense of peace filled me as I strolled down Chestnut St. in Winona Lake one early morning. And I do mean Down! The inn is located high on a hill that would intimidate me in winter!
I like to walk early before everyone in a neighborhood is stirring. This was the perfect morning—not too hot or cold, no wind or rain.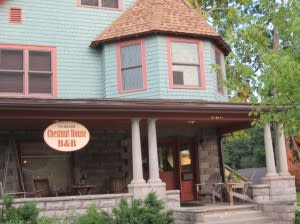 Sit a spell at Chestnut House Bed & Breakfast Inn in Winona Lake.
Of course, I don't know if Winona Lake can look bad in any weather. It looks like a post card everywhere from the curved bridges over the canal to the cozy cottage stores selling natural body wash, candles, weavings and other specialty items. The sunrise over the lake this particular morning was breathtaking.
I snapped several photos, then headed back to the Chestnut House Bed & Breakfast (806 Chestnut Street ) where I had spent the night. The bed had been soft and I smelled a delicious breakfast made by the proprietor, Machelle Landolt. She and her husband, Fred, run the bed and breakfast, one of several in the area.
That morning Michelle cooked two kinds of quiche (one vegetarian), cinnamon rolls, and baked oatmeal. She also provided coffee, juice, tea, milk, yogurt, blueberries, and strawberries. As I ate, I chatted with three other couples staying at the inn for a wedding and reunions in the area. All seemed pleased as I was by their accommodations.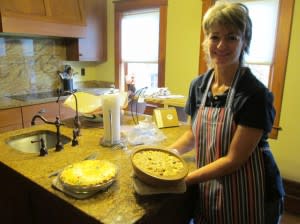 Delicious quiches are part of the breakfast at Chestnut House Bed & Breakfast.
The Chestnut House, which dates back a century and has a stone exterior, has been completely refurbished. I loved the hardwood floors, marble mantle in the downstairs fireplace and big porch, complete with swing. Though I could have lazed the day on the swing, I ventured out again to discover the area's treasures.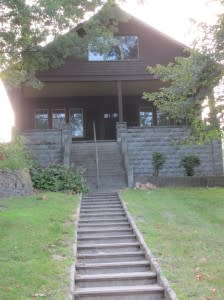 The Billy Sunday House displays items from the life of the famous athlete-turned-evangelist.
Happily, some are within walking distance. The Billy Sunday home was at the bottom of the hill, as was the famous Boathouse Restaurant (700 Park Ave).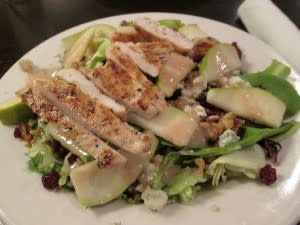 Pear, walnut & grilled chicken salad from The Boathouse tasted yummy!
If there is a lovelier place to eat in Indiana, I have not found it. If you get a table on the patio, you can view boats lazily drifting across the lake. My pear/walnut/chicken salad with bleu cheese was beautiful and tasty ($9.99). Diners of all ages and dress attire (shorts and flip flops are allowed) shopped at the restaurant's gift shop while waiting for their names to be called for dinner. Expect a crowd most days as this is a popular place with locals.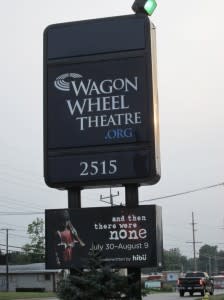 Wagon Wheel Theatre in Warsaw offers high-quality shows.
No time for dessert! I had a ticket for Wagon Wheel Theatre, just outside of Winona Lake in Warsaw. That evening's performance of 'And Then There Were None' was as fine as any I've seen everywhere. I'm a theater buff and believe everything about this play from sets to costumes to acting was perfect. I'm also an Agatha Christie buff so was thrilled to see one of her stories done well.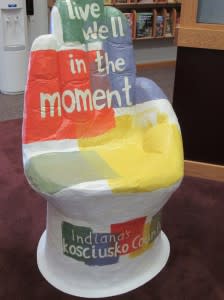 Kosciusko Visitor Center offers unusual seating!
A stop at the Kosciusko County Visitor Center was fun, as was seeing the 16 life-size bronze statues around Warsaw.
They are part of the town's 'Walk-n-Wander Warsaw' event, displaying people doing activities such as jogging, flying a kite, playing a violin and even kissing! (It was a replica of the famous World War II photo at the end of a war when a sailor grabbed a young girl on the street and kissed her). The statues are placed around Warsaw until September 28.
Warsaw and Winona Lake provide the perfect setting for a relaxing get-away or place to shop. Grab a friend and start planning your next overnighter there now!
**
Kayleen Reusser received complimentary goods or services from the organizations that were the subject of this blog post in exchange for blogging services.