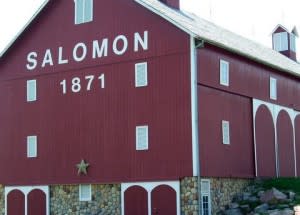 As a country girl at heart, I love barns, especially big red barns. When I saw the big, red barn at Salomon Farm in northern Allen County, I was happy!
That was not all that made me happy on the day I visited during their Fiber Arts Celebration.  It will be held this year on May 15-16, 10am-3pm each day. Salomon Farm is located three miles north of Fort Wayne. It was owned by the Salomon family who donated the farm to the Fort Wayne Parks Department to establish a place where people could be in the country and appreciate nature.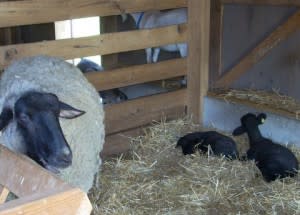 Throughout the year activities and events are held at the location. This event is one of the biggest events of the year and most of it is held in the big red barn. Come in and enjoy the fun and educational lessons happening there.
My friends, Sabrina and Alaina Richert, will offer a felting workshop. That's sewing wool, sometimes from rare breeds of sheep, together into objects. These young girls have their own herd of sheep making them real shepherdesses. Cool!
I've seen their work. These girls are pros and would be helpful and patient for beginner felters. Pre-registration is required. They will also do a sheep shearing demo. I held my breath as they cut with shears around the sheep's ears and face, but he stood still. He's probably been through it before.
Try to watch the sheep herding demo every hour on Saturday from 10am-2pm. It's amazing how the dog and its owner communicate to round up the sheep.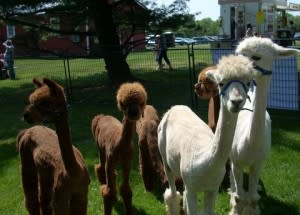 The cute, curious alpacas are also popular. Several vendors from around northern Indiana and Ohio bring them for display. They are so small when shorn with just their heads and tails still covered.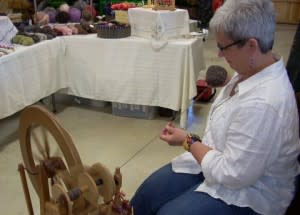 I love the spinning wheel demonstrations. Standing next to the spinners as they're winding the yarn through their deft fingers, I have no idea how this process works.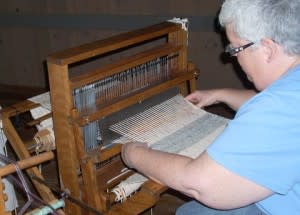 The weavers also have a meticulous task. I watched them pushing and pulling single strands through. How long does it take to create something, I always wonder. Seems like years!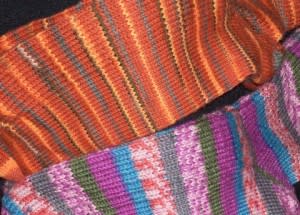 It makes me appreciate the handmade items sold at the festival.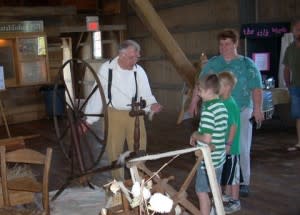 The demonstrators often wear period clothing, which lends an air of authenticity to the festival.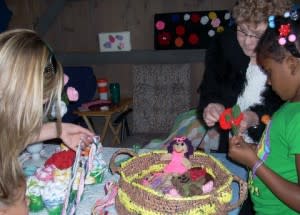 The vendors often had crafts for children to try. This is definitely a hands-on festival! The Maumee Valley blacksmiths will be there to give demos of working on a forge.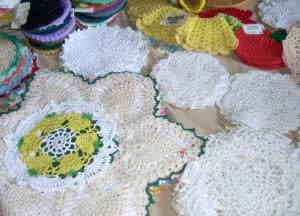 The fine art of making doilies brings back memories of my grandma working her hands around hooks and thread to create beautiful table coverings like these.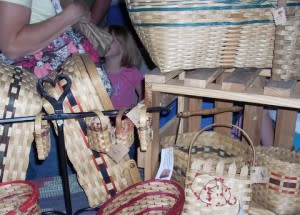 I watched a basket weaver wind strands in, out and around. There truly is a skill to basket weaving. If you're not inclined to learn it, you can purchase one of these beauties.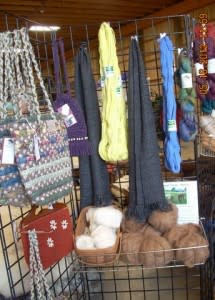 This is a colorful festival, which made it a feast for my eyes. Everything is bright and laid out well. I had a hard time choosing items to purchase because they were all so soft and lovely. It is a great place to purchase unusual gifts for all ages.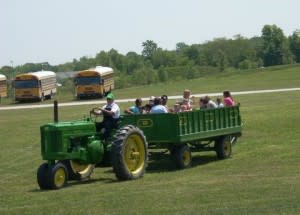 I was not brave enough to hitch a ride on the Salomon Farm's tractor and wagon on my last trip but I may do so this year. I'm planning to be there from 12-2pm on Saturday to hear the Farmland Jazz Band play lively tunes. The soft textiles, music, fresh air and sunshine will combine to make a great day. Why don't you join me for this FREE event?
Salomon Farm Park
817 W. Dupont Rd.
Fort Wayne, IN 46825
260.427.6008