When your Main Street begins at the beautiful Ohio River waterfront that's all the more reason to have Santa Claus arrive by seaplane!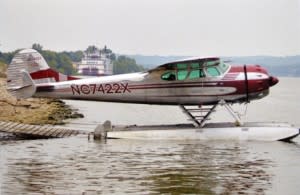 The public is invited to meet on Front Street in Rising Sun on Friday, December 4 around 4:45 p.m. as Mac's Seaplane Service has made special arrangements to fly in jolly 'ol St. Nick to kick-off the holiday season in Rising Sun. (In case of inclement weather, Santa will arrive by another means.)
After landing and greeting guests, St. Nick will walk to the Pendleton Art Center at 201 Main Street where he will be available for free photos from 5:00 p.m.-7:00 p.m. Pictures with Santa will be taken by Theresa Scott and are provided by Rising Sun Main Street. While waiting on prints, guests are invited to participate in the annual tradition of decorating sugar cookies provided by Tandy's IGA. Another opportunity for photos with Santa will take place on December 12 from 11:00 a.m. to 2:00 p.m. at the Pendleton.
On December 4 and 5, the 2015 Christmas Market at Ohio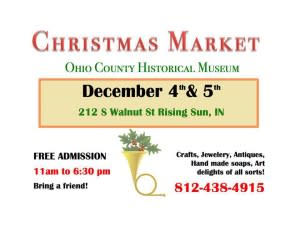 County Historical Museum will feature crafts, antiques and collectibles, art, jewelry, pottery, baked goods, and homemade items perfect for home décor and gifts. The Market is open from 11:00 a.m.-6:30 p.m. and is located at 212 South Walnut Street in Rising Sun. For additional information, telephone (812) 438-4915 or log on to ohiocountymuseum.org.
Rising Sun Main Street will conclude its 2015 Movies on Main series with a showing of the holiday favorite, Elf, on Friday, December 11 at 7 p.m. at the Pendleton Art Center. Enjoy the antics of Buddy the elf, a full-size human who as a toddler accidentally ends up at the North Pole where he is raised by elves. Seeking out his real dad, Buddy moves to New York City to learn his true identity and how to live outside of an elf community. The movie and popcorn are free and takes place at 201 Main Street. For more information log on to risingsunmainstreet.com.
Enjoy Trains on Main with the 3rd annual Christmas Holiday Train Show produced by The Conductors of the Southeastern Indiana Model Train Club. Held at Heritage Hall on November 21, 2015 to January 3, 2016, the event takes place from 11:00 a.m.-4:00 p.m. daily with the exception of being closed on Wednesdays.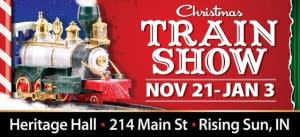 Admission is $1 per person, with families of five or more for $5. There is free admission for service men and women, the police, firefighters, rescue workers, and children under five. The club's mission is to educate the public about model railroading and how trains affected everyone's lives throughout history. Heritage Hall is located at 214 Main Street in Rising Sun. For more information on the Train Club, call (812) 756-0654.
Rising Star Casino Resort is now transformed into the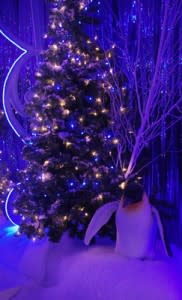 "Christmas Casino"--an enchanting and whimsical wonderland of holiday spirit and cheer guaranteed to dazzle and delight. The celebration of the season features an imaginative 12 Days of Christmas theme with five distinctive animated scenes, 50 Mark Roberts customized animated figures, and hundreds of props. Located outside the casino is Santa's Christmas Stables where there are daily reindeer sightings. And, did I mention free eggnog for everyone?! On display through January 3, 2016, the casino is located on 777 Rising Star Drive in Rising Sun. Log on to thechristmascasino.com for more information.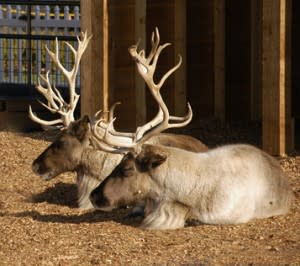 For more information on tourist attractions, lodging, eateries, and community events, contact Rising Sun/Ohio County Tourism at (888) 776-4786 or log on to enjoyrisingsun.com. Rising Sun/Ohio County Tourism is on Facebook, Twitter, and Instagram.
Mac's Seaplane photo by Katie Schults Museum and Train Show images contributed Winter Wonderland/Reindeer photos by Kendal R. Miller