It had been years since my family had visited Science Central in downtown Fort Wayne. The former City Light & Power building could not be more conducive to exploration as its two coal-powered steam generators and three boilers, now colorfully painted bright colors, tower over the city of Fort Wayne, announcing its location to visitors.
I had always thought science a boring subject in school. Too bad Science Central was not around then! One visit and I'm convinced this is one of Fort Wayne's gems!
Of course, Science Central has been open since 1995, so thousands of people of all ages have already known this fact.
We took along a young friend and had a great time looking at everything from the turtles to learning about magnets and the human skeleton. Since she was 5 years old, she qualified for the Kids Central area is designed specifically for children ages 7 and under. This is a special place for smaller children to explore at their own level.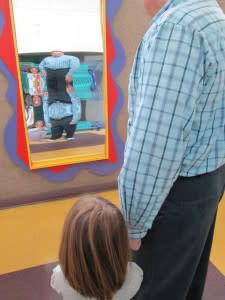 Science Central helps one look at things differently!
Children 12 and under must be accompanied by an adult while in the building.
Insider tip: The High Rail Bike and Giant Slide are popular. Plan to get in line for these events as soon as they open as lines form quickly. They may observe minimum and maximum height and weight requirements.
Our schedule only allowed to spend 1.5 hours there so we didn't see everything (The recommended length of stay for a child of this age is 2.5 hours). That just means there's plenty for us to do on our next visit!
1950 N Clinton Fort Wayne 260.424.2400 http://sciencecentral.org/
Hours: Monday, Tuesday Closed Wed – Friday 10am-4pm Saturday 10am-5pm Sunday 12pm-5pm
Admission:
Kids (3-12) $8 Adults $8 Seniors (65+) $7 Kids (0-2) Free Group rates are available