I'm a big foodie and every time someone highly recommends a place to me, I add it to my foodie bucket list. Next to it I try to add the name of the person who recommended it so I can give them feedback after I've been there. In the case of one local eatery, though, there were too many people who had given it good marks to fit them all on my list. I'd been hearing wonderful things about The Captain's House in Gary's Miller Beach area for years and I figured it was time I make it there to try it out.
I visited at lunchtime with my husband - an ideal companion because we can each order something different and he doesn't mind me digging in to his plate to try it. I get to try two entrees in one outing.
As we perused the menu, I eyed the food that was delivered to a couple ladies at a nearby table. One ordered the Salmon Wellington, one of their specialties. It looked amazing!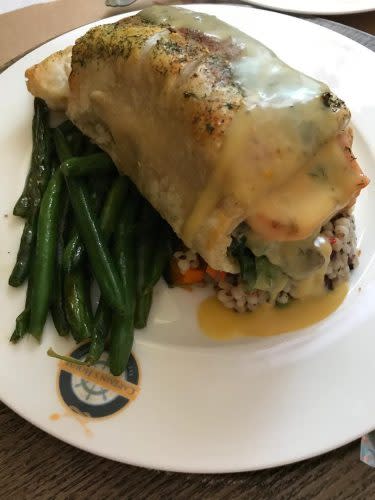 One of the specialities at The Captain's House is the Salmon Wellington.
We started with a delicious upscale salad of mixed greens, beets, pecans, croutons and GOAT CHEESE FRITTERS! You heard me right - breaded and fried goat cheese! It was just one of the most scrumptious things I've ever had the pleasure of eating. I'm a big salad fan and this goes down as one of my favorite ones ever. Did I mention that it had not just goat cheese, but FRIED GOAT CHEESE? It was enough that the two of us split it (they brought it on two separate plates for us) - and we still didn't finish all of it.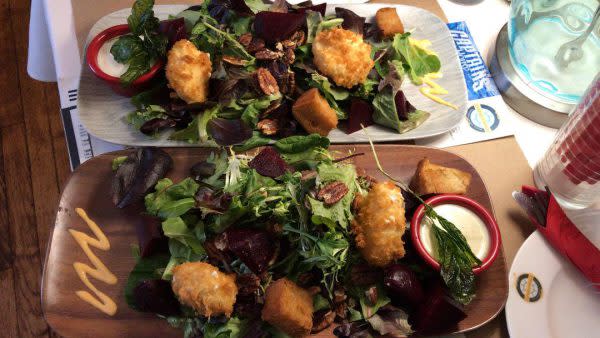 We started our meal with a hearty gourmet salad that included mixed greens, beets and fried goat cheese fritters.
Captain's House is also known for their lobster rolls. They have a long list of ethnic and regional versions with different toppings. I settled on a classic lobster roll and it absolutely got a thumbs up.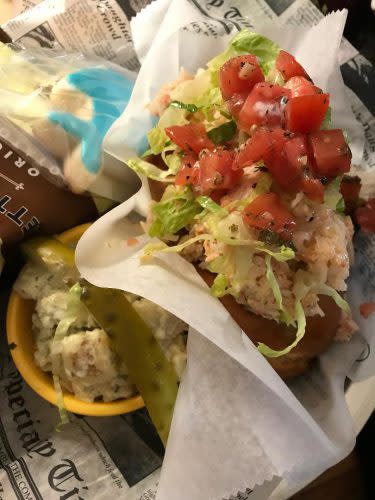 The Captain's House is knows for their long list of lobster roll options. I ordered the classic lobster roll on our visit.
Hubby got the Surf and Turf burger. It was a prime rib burger with portobello mushroom, sautéed onions and lobster salad on a brioche bun. It was a gourmet burger taken to the next level. He opted for the fries as a side, which were lightly seasoned and absolutely delicious.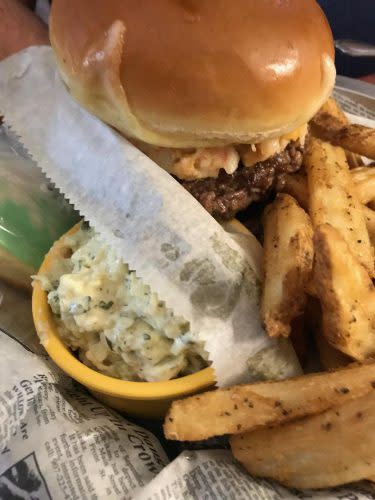 The Surf 'N Turf Burger at The Captain's House.
Our entrees were served with a pickle, deli salad and a butter cookie. They also had gelato, which I had no room for after our generous meals. I did get to sample a little taste and I could eat it every day all summer long.
This place is such a gem and I can completely understand why I've heard so many rave reviews. I've declared it one of my new favorite restaurant in Northwest Indiana. Owner Angela McCrovitz is in the stages of working toward franchising and plans to open more locations in Indiana, Illinois and Michigan.
A little tip for getting there: If you take the South Shore train to the Miller stop, you'll be just steps away from the restaurant as well as 18th Street Brewery.
If you go:
Captain's House
6004 Miller Ave.
Gary, IN
219-239-2639