The telltale signs of autumn are in the air: a crisp breeze, the smell of pumpkin spice and falling leaves in stunning shades of sunset orange and red. Don't wait to jump in a pile of raked leaves – this fall, take leaf peeping to a new level with three unique treetop experiences in Hamilton County. Here's our guide to a "tree"mendous fall adventure: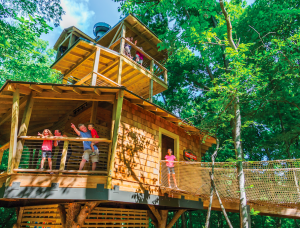 Photo courtesy of Conner Prairie
1. Conner Prairie Treetop Outpost Just beyond 1836 Prairietown, you'll find a four-story Swiss Family Robinson style treehouse nestled in the woods. The experience allows visitors to connect with nature though a recreated archaeology dig site and Nature Walk through the woods and along the White River to a prairie lookout.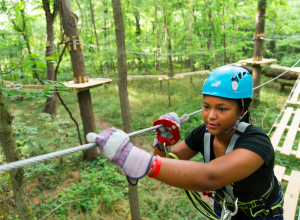 Photo by GreenSky Media
2. Koteewi Aerial Adventure Treetop Trails Clip, climb and zip your way through the tree canopy in Strawtown Koteewi Park in Noblesville. Experienced guides show you the ropes, and you can choose your own adventure on one of five trails at varying heights. Elements include rope bridges, swinging logs, zip lines and more.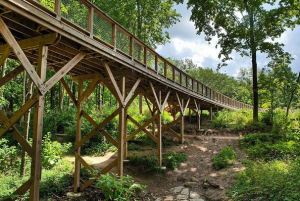 Photo by Instagram user @eamarkov75
3. Flat Fork Creek Park Let your imagination run wild at this Fishers park. Flat Fork Creek is home to three treehouses, one of which is ADA-accessible. Follow the boardwalk to discover Tulip Tower, Red Bud Retreat and more. It's open year-round, so come back in the winter months for some sledding action on the 50-foot man-made hill.
Don't take our word for it – come explore the treetops for yourself. Take advantage of special fall break rates at hotels and sneak in one more family getaway before the winter frost arrives. Tag us in your explorations on social using @VisitHamiltonCo and #VisitHC.