With the largest flea market in the Midwest, quaint shops, antique stores, places for mouth-watering family style meals and all-things Amish, a trip to Shipshewana should most certainly be on every Hoosier's bucket list. This Northeast Indiana destination is filled with plenty of great activities that will easily fill a day or weekend.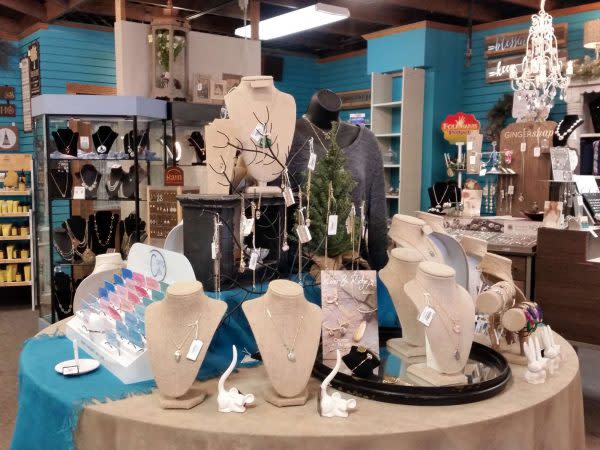 Plenty of shopping. The Riegsecker Craft Barn is filled with decor, holiday items, jewelry and gifts.
Enjoy shopping for antiques. Rebecca Haarer Arts and Antiques has glass ornaments, craft items and antiques.
What's great about the area is that there are so many different things to do that you can visit on multiple occasions and craft a unique adventure each time. We visit at least once a year and our recent visit featured stops for donuts, cheese and pretzels - it was definitely one of our favorites.
Rise and Roll Bakery and Deli, 1065 N 1150 W, Middlebury Website
Just a few miles outside of Shipshewana in Middlebury is this powerhouse Amish bakery/deli, Rise and Roll. We actually stopped at this location toward the end of our day in the area, but if I had to do it over again I would head here first to get the best selection of goodies.
What I loved about Rise and Roll is that they not only have amazing donuts and rolls, but there's a huge selection of canned jellies, fruits, etc. that you can stock up on while in town. They have freshly baked pies, cookies and breads - I have fallen in love with their peanut butter pie and chocolate whoopie pies. Rise and Roll's menu also includes soups, wraps and sandwiches for lunch, but we were on a mission for one thing during our trip..."Amish crack", I mean cinnamon caramel donuts. They are a yeast donut with a crumbly intoxicating topping that makes you crave them for eternity. I suggest you grab a box as you will begin craving them immediately.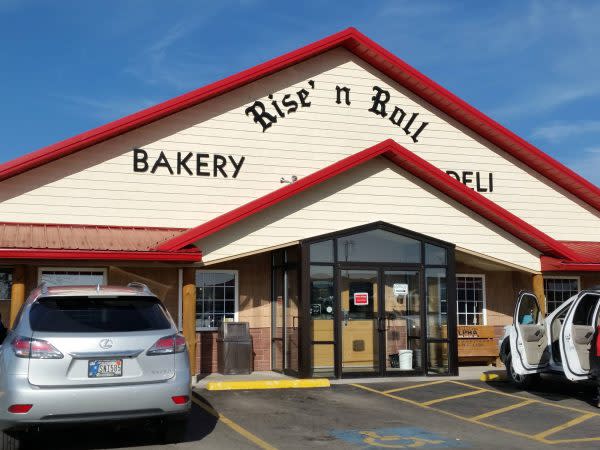 Start your day at Rise and Roll - you won't be disappointed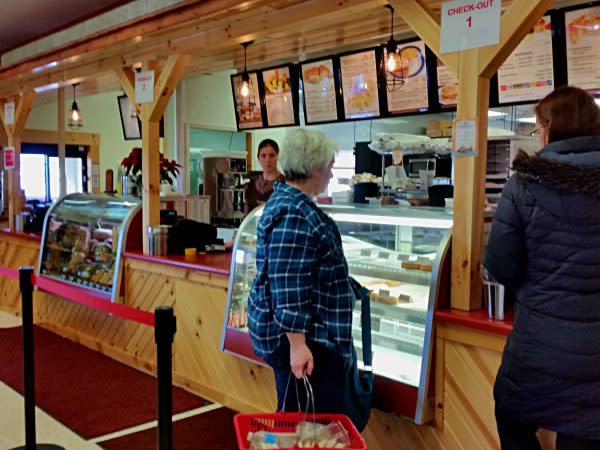 There's a great selection of donuts, baked goods, sandwiches and wraps for dining in or carry out.
Heritage Ridge Creamery, 11275 W 250 N, Shipshewana  Website
From Rise and Roll head just a few miles around the corner to the Heritage Ridge Creamery. One of the best parts of visiting Heritage Ridge is that they have samples of all their cheeses. They have a large variety of all your favorites including their award-winning Colby, Cheddar, Farmers, Marble, Pepper Jack and Butter Cheese all made with milk from Amish farms. One of their signature cheeses is the baby Swiss that has a creamier texture and smaller "eyes" than traditional Swiss cheese and I highly recommend it. We couldn't choose just one so we ended up with a wheel of multiple varieties and their sharp cheddar.
There's a window in the shop that you can view the cheese production in action. Production times are Monday through Friday, 8 a.m. to Noon so make sure you plan your visit accordingly.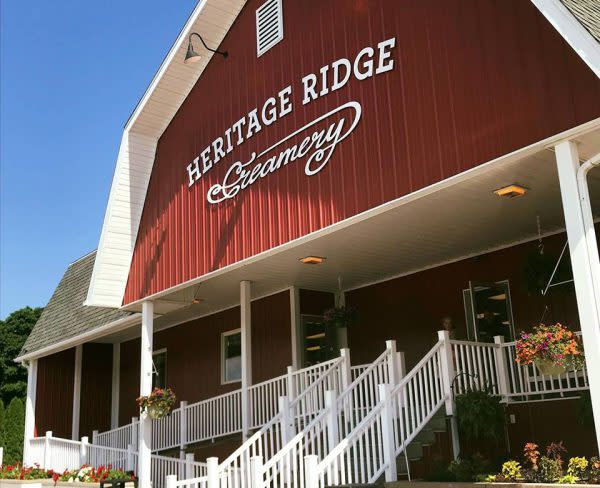 Just minutes from Shipshewana's shops, we had a great time sampling all the cheeses.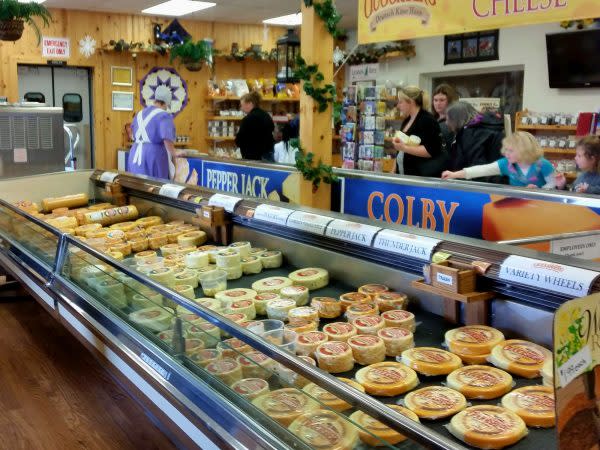 Grab a toothpick and start sampling.
JoJo's Pretzels in the Davis Mercantile,255 Main Street, Shipshewana  Facebook
Once you arrive at the main part of Shipshewana, you will want to head to the Davis Mercantile for several hours of shopping bliss. This gorgeous building is filled with boutiques carrying clothing, toys, home decor, household goods, jewelry and food items. Take the kids up to the third floor where you will find a carousel, candy shop and toy store.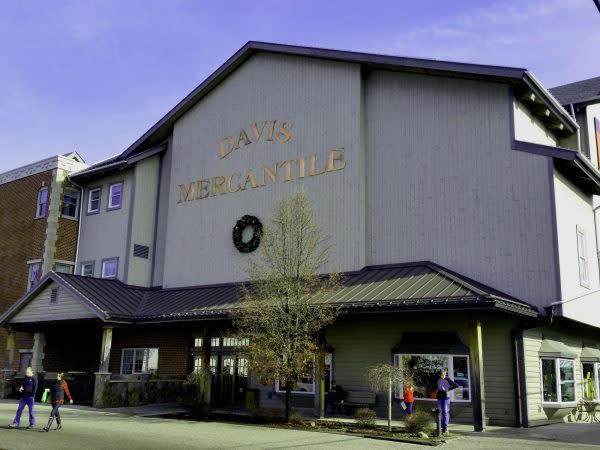 One of our favorite places to visit is the Davis Mercantile. It has 4 floors with 20 shops inside.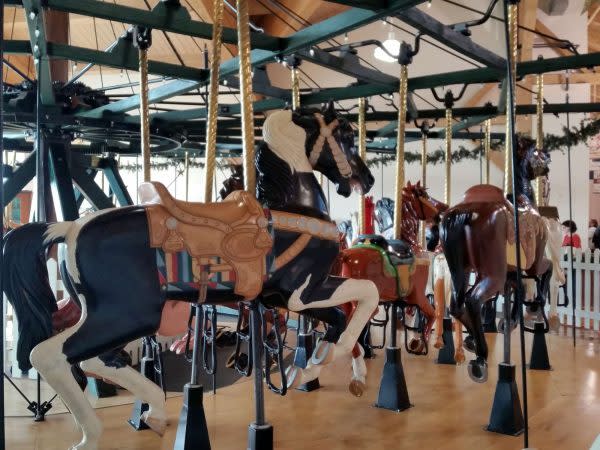 The kids will love the carousel on the third floor.
Once you get hungry for lunch or a snack, head to the first floor for JoJo's Pretzels. These pretzels are a tiny bit sweet with the perfect amount of salt. My kids and I all ended up with regular pretzels with nacho cheese dipping sauce and Coca-Cola in a glass bottle which is an A-1 combination. Stopping for pretzels is a mandatory part of our visit to Shipshewana. Although the lines can be long at times, it's so worth the wait.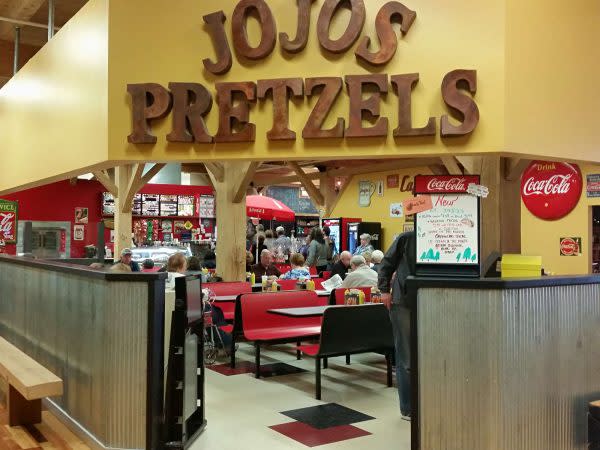 JoJo's Pretzels are located on the first floor in the Davis Mercantile building.
The Shipshewana/Middlebury area is known for it's quality Amish food products and I strongly recommend hitting their many bakeries, markets and food-shops and stocking up for home. For the grand finale to your day, take time to experience the Blue Gate Restaurant or the Das Dutchman Essenhaus for an over-the-top family dining experience. For help planning your visit to Shipshewana, check with the Shipshewana/LaGrange County Visitors Center.