For those outside of central Indiana, the small town of Fairmount is probably best known as the hometown of James Dean. Fairmount hosts a James Dean Festival every September and is definitely worth the trip for fans of the Hollywood legend, along with classic car buffs in the area. Today it is becoming a hot spot for small town dining.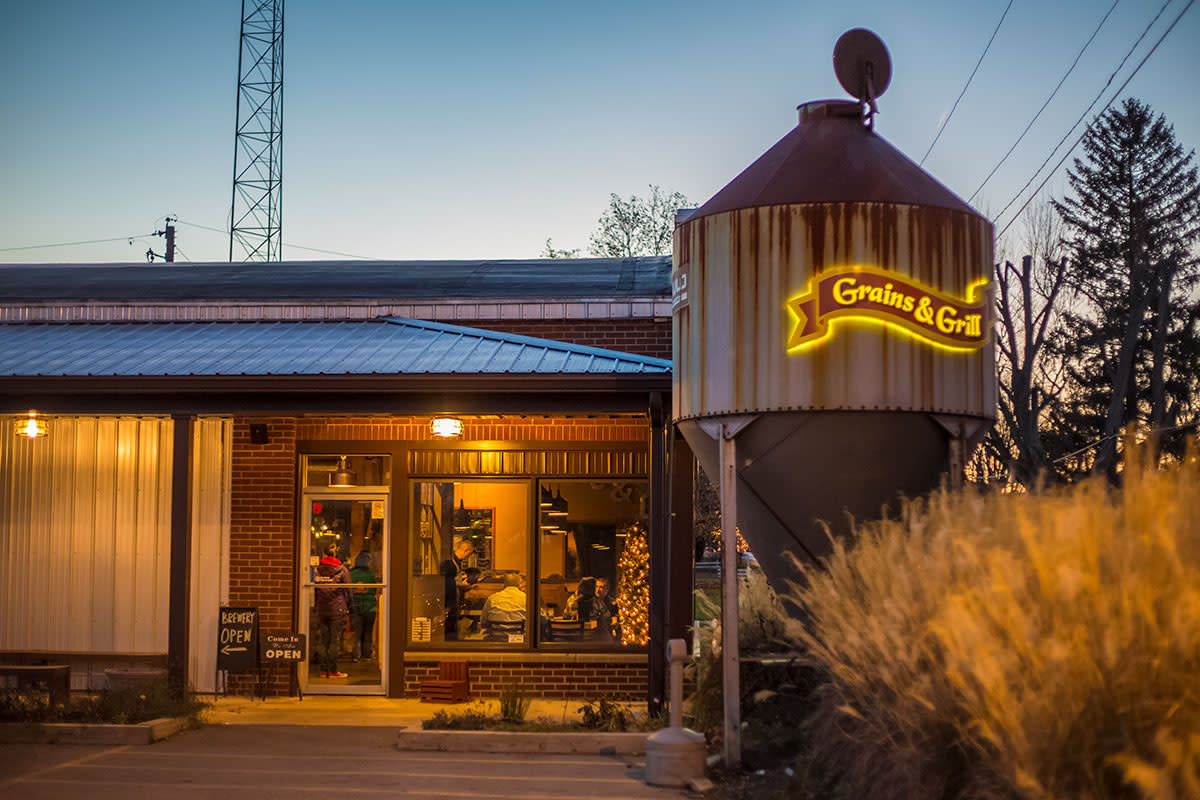 Grains and Grill
Just west of this revitalizing downtown Fairmount corridor lies a relatively new local restaurant - Grains and Grill and a brand new brewery - Bad Dad Brewery. Both places are owned and operated by the Howard family, hardworking and incredibly welcoming restaurant and brewery entrepreneurs.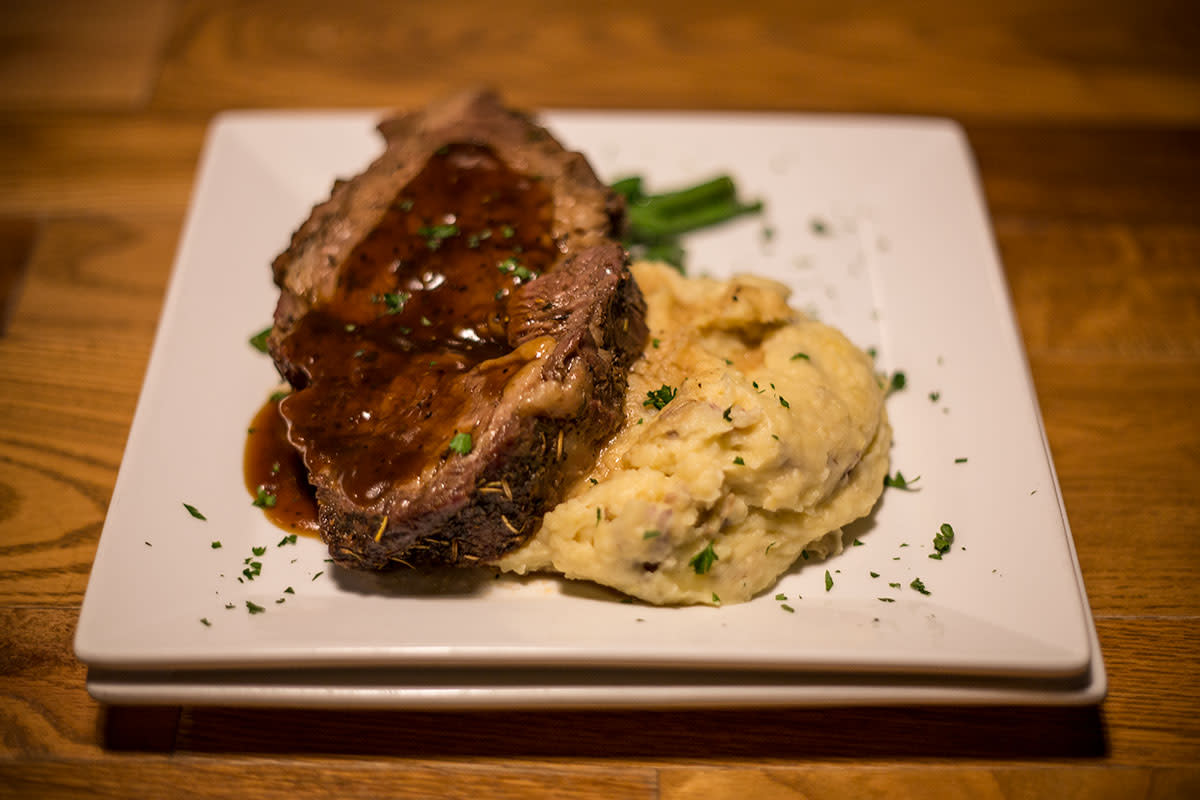 Steak and Garlic Mashed Potatoes
In February of 2015, Joanie and Barry Howard opened Grains and Grill in an old John Deere showroom, a business that served local farmers in Fairmount and Grant County for most of the mid-1900s. The Howards wanted to create a unique restaurant where the food was good and the atmosphere relaxed...a place where families could come and enjoy a great dinner, but also a destination for couples and friends looking to relax after a long week! In the words of Joanie Howard, Grains and Grill is an experience. A destination. A place for people to relax at the end of the day with a good meal. Grains and Grill attracts diners from all over Indiana, including the Indy area, Fort Wayne, and Lafayette.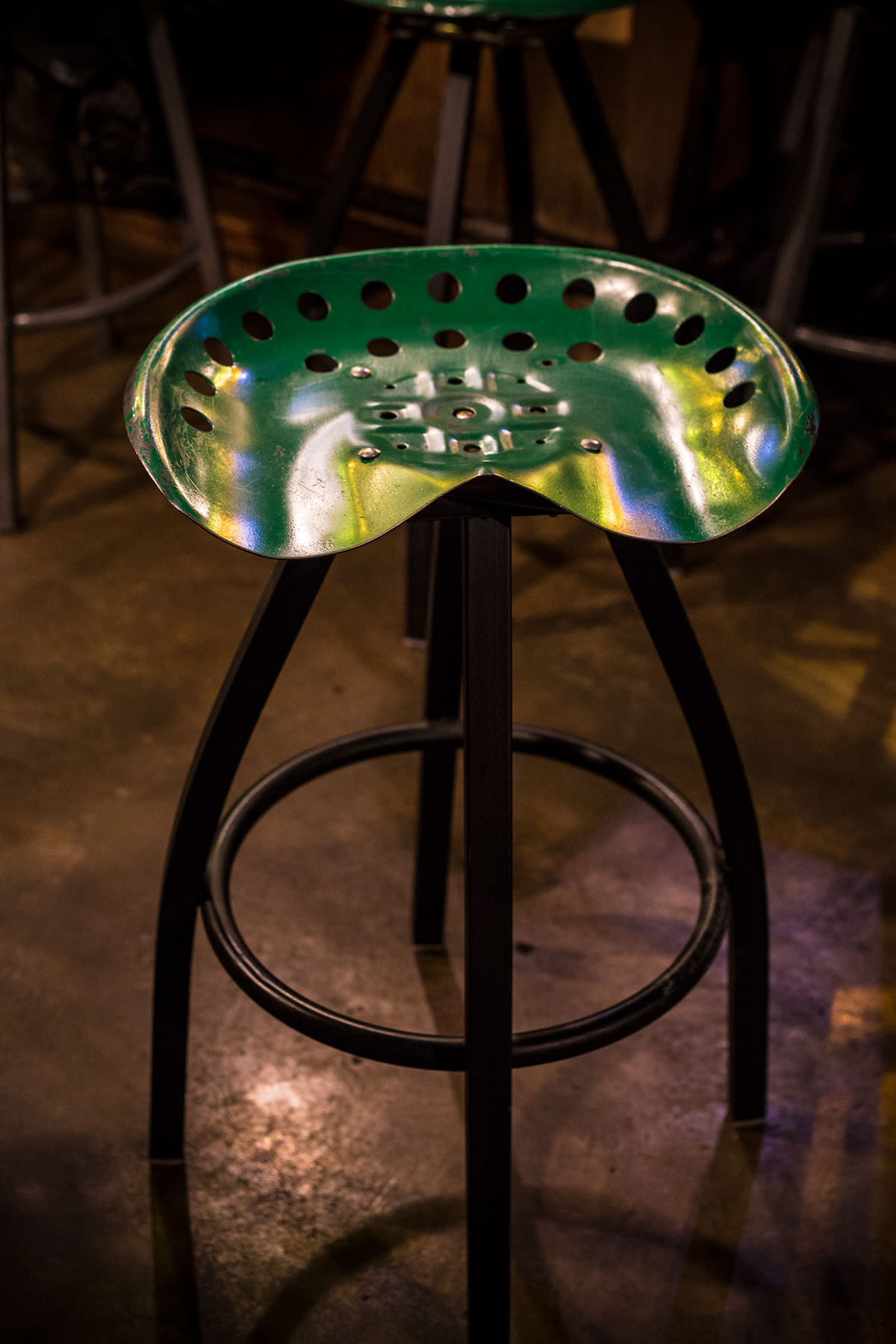 Tractor Seat - Bar Stool
The Howards, Fairmount locals, kept not only the agricultural feel to the place, but celebrate Fairmount history!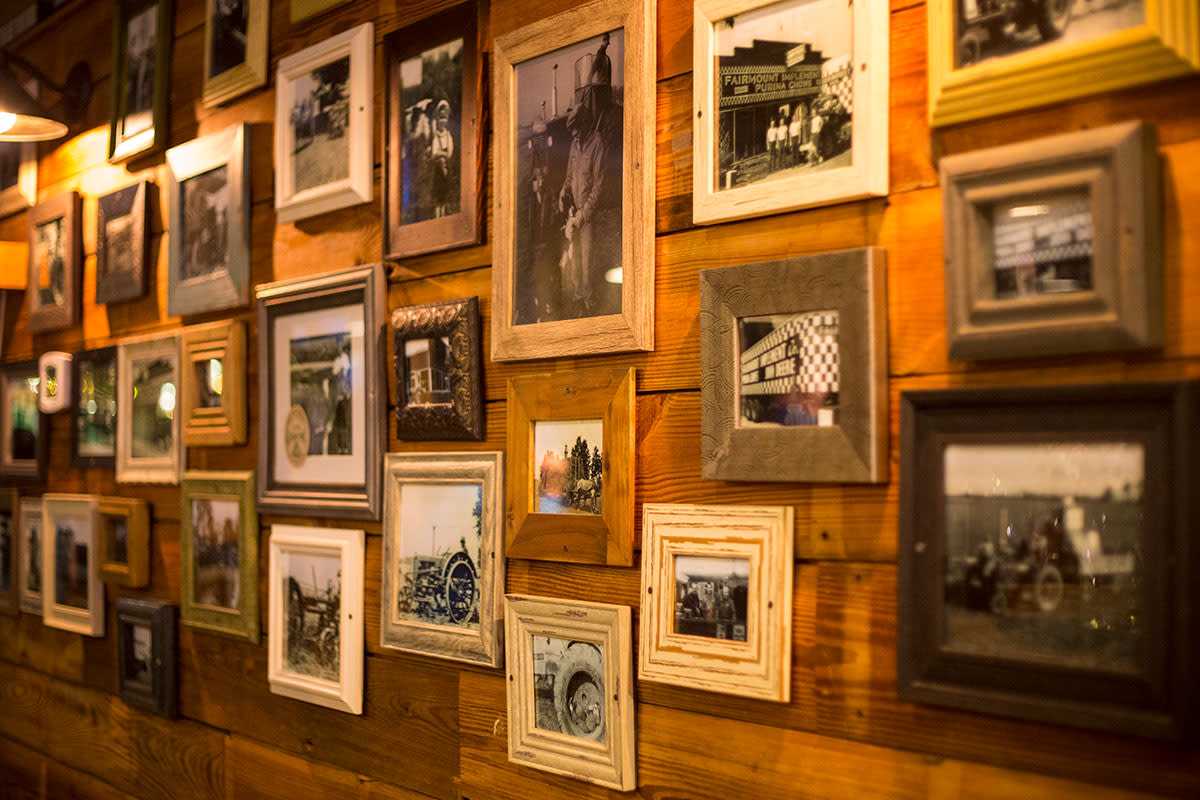 Fairmountians will feel right at home.
The furniture, most of which was designed and built by Barry Howard, is made from reclaimed barn wood, tractor seats, and bricks from demolished historic buildings like the old high school.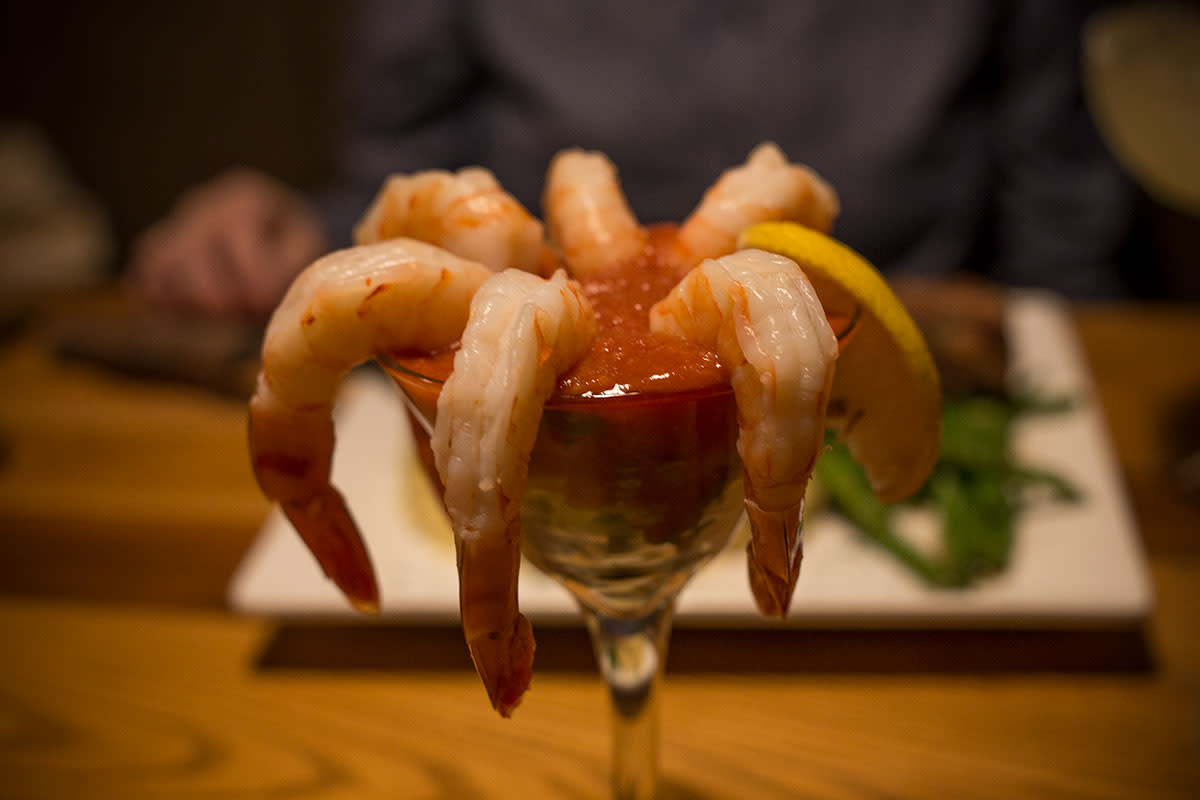 Delicious off-menu shrimp cocktail!
As for the food, diners won't be disappointed with the menu. Grains and Grill offers an excellent variety of "Pub Fare" - including pork wings, a hummus plate, forest mushrooms, and baked goat cheese. An off menu favorite is the shrimp cocktail (ask for it). The pub fare is excellent and is probably best described as "comfort food with a twist."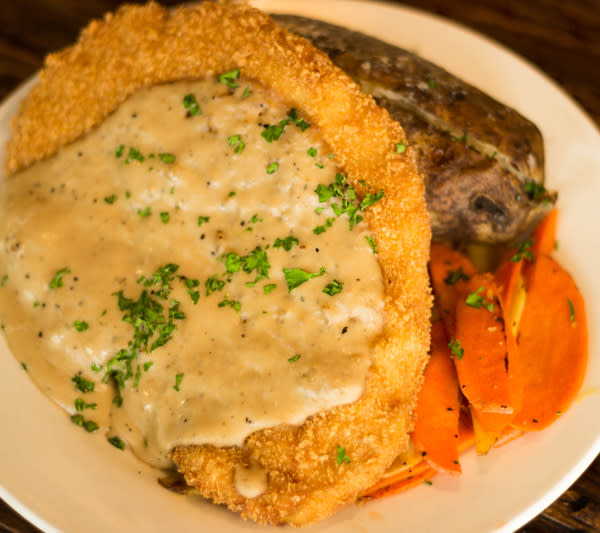 The Hoosier Plate (image courtesy of Grains and Grill).
Grains and Grill offers an excellent selection of burgers and tenderloins, along with salads and large plates for those with more ravenous appetites.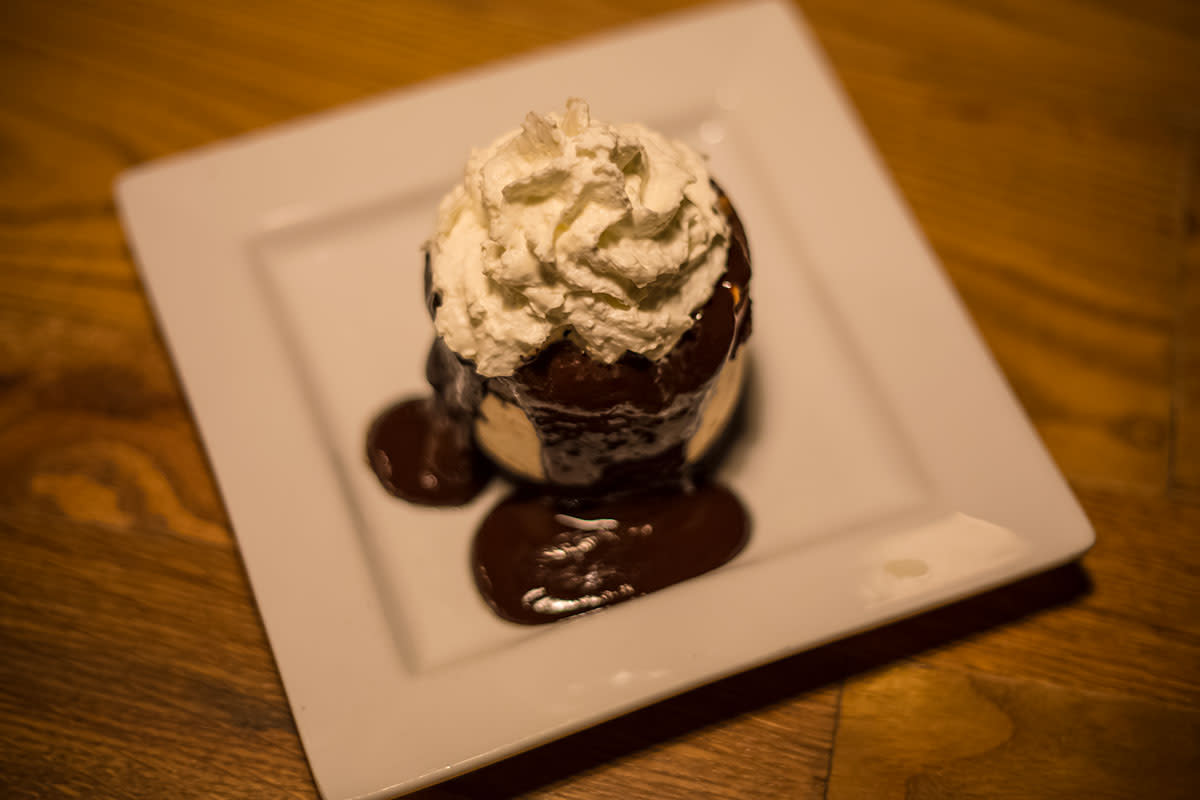 DON'T skip desert.
And to finish off a great dinner, Grains and Grill offers great deserts - I tried the Pumpkin Praline Cheesecake and the Fried Apple Cinnamon Bread Pudding, both of which were fantastic.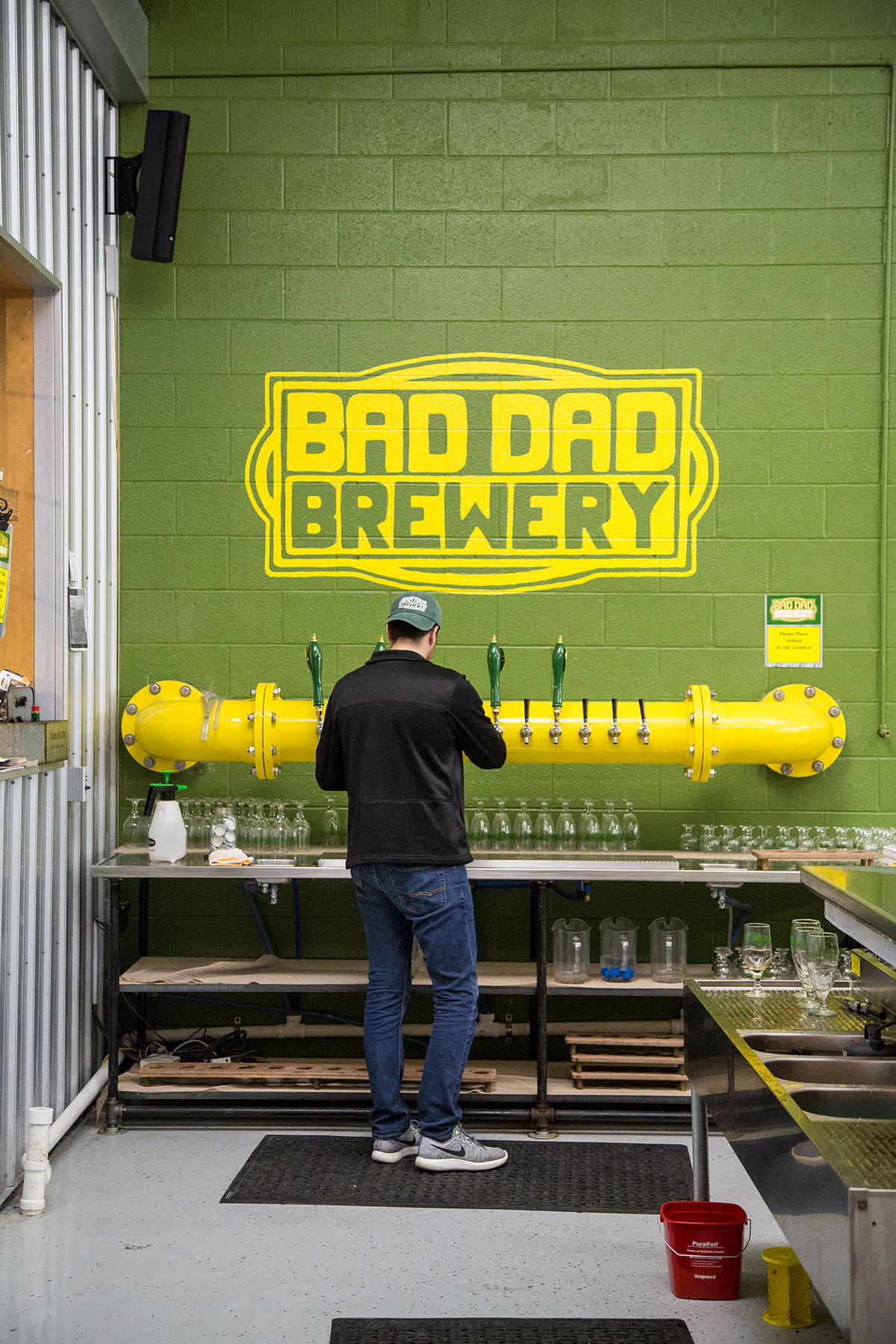 Lots of options in tap at Bad Dad Brewery.
The success of restaurant (it was packed the night I went), prompted the Howards to launch Fairmounts first and currently only brewery, Bad Dad Brewery in early 2017. After spending years exploring the local varieties and unique beer being brewed across the United States, the Howards aimed to bring our own version of some of the best styles to Fairmount, Grant County, and the rest of central Indiana.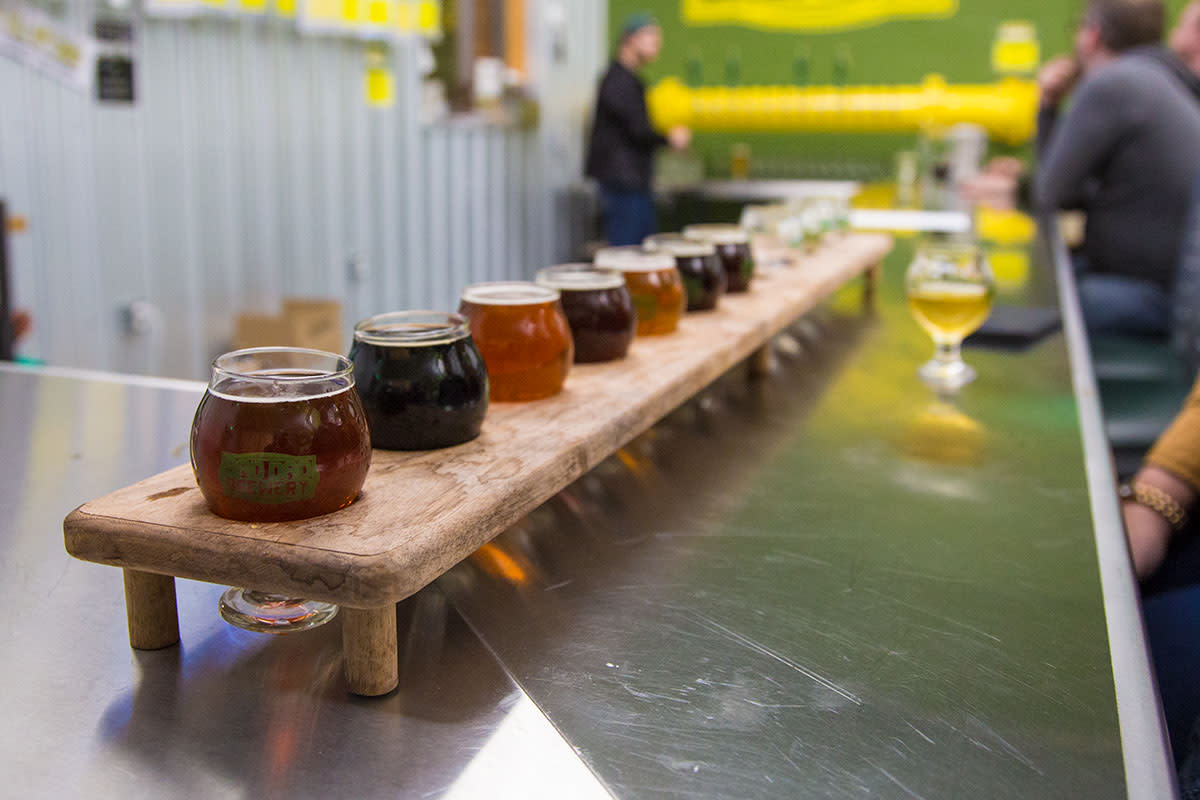 A full flight is the best way to sample all Bad Dad's beers.
Connected to Grains and Grill, Bad Dad has already caught the interest of regional craft beer fans with their Sucker Punch IPA, Peanut Butter Porter (PB Sammich), and their Coffee Stout (Thank Benedict Mocha Stout). Visit Untapped for fan rankings of Bad Dad beer and the brewery's website for a current list of what's on tap.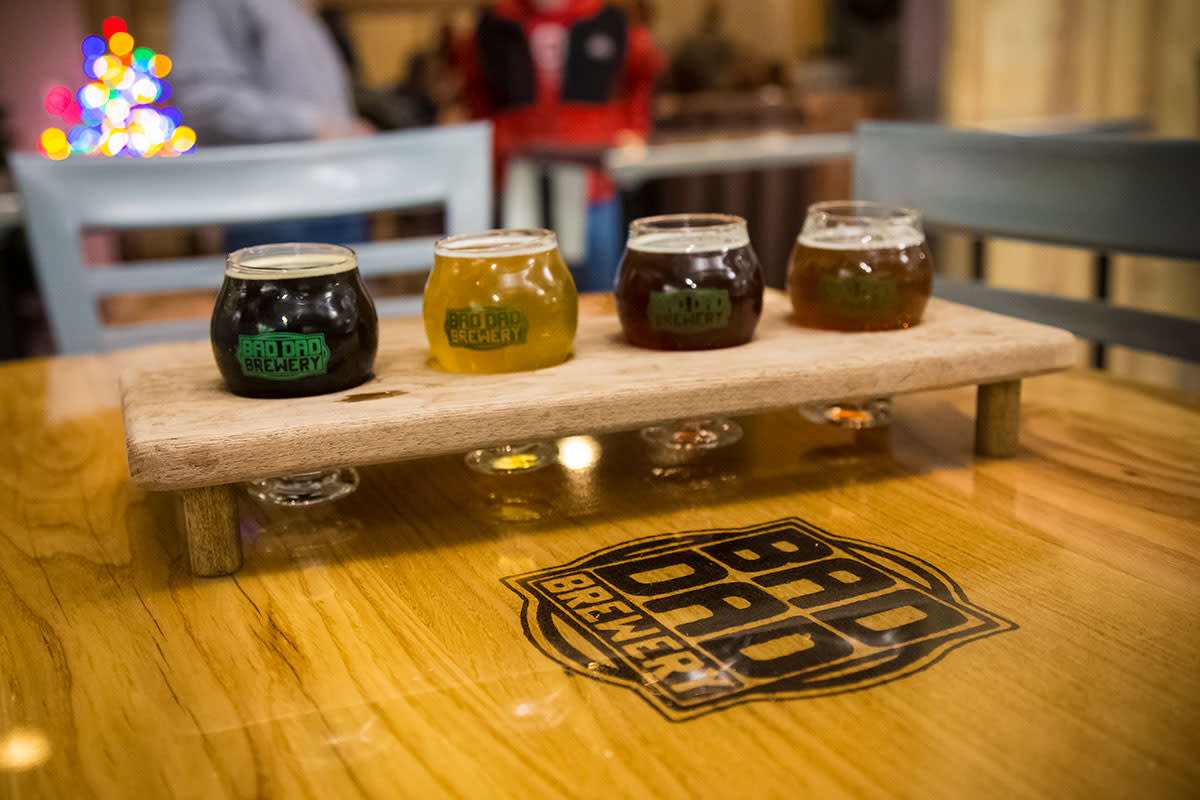 Bad Dad Brewery
Joanie and Barry brought in their son, Patrick, to assist with the brewery. Patrick is planning to triple Bad Dad's capacity in 2018 and add space at the facility for canning. As for the name, Patrick said "Bad Dad" is an inside family joke. Growing up, Patrick's friends were constantly getting to play and have fun, while he had to work for his Dad. He often joked to his friends that he had a "bad dad" who made him miss out on all the fun.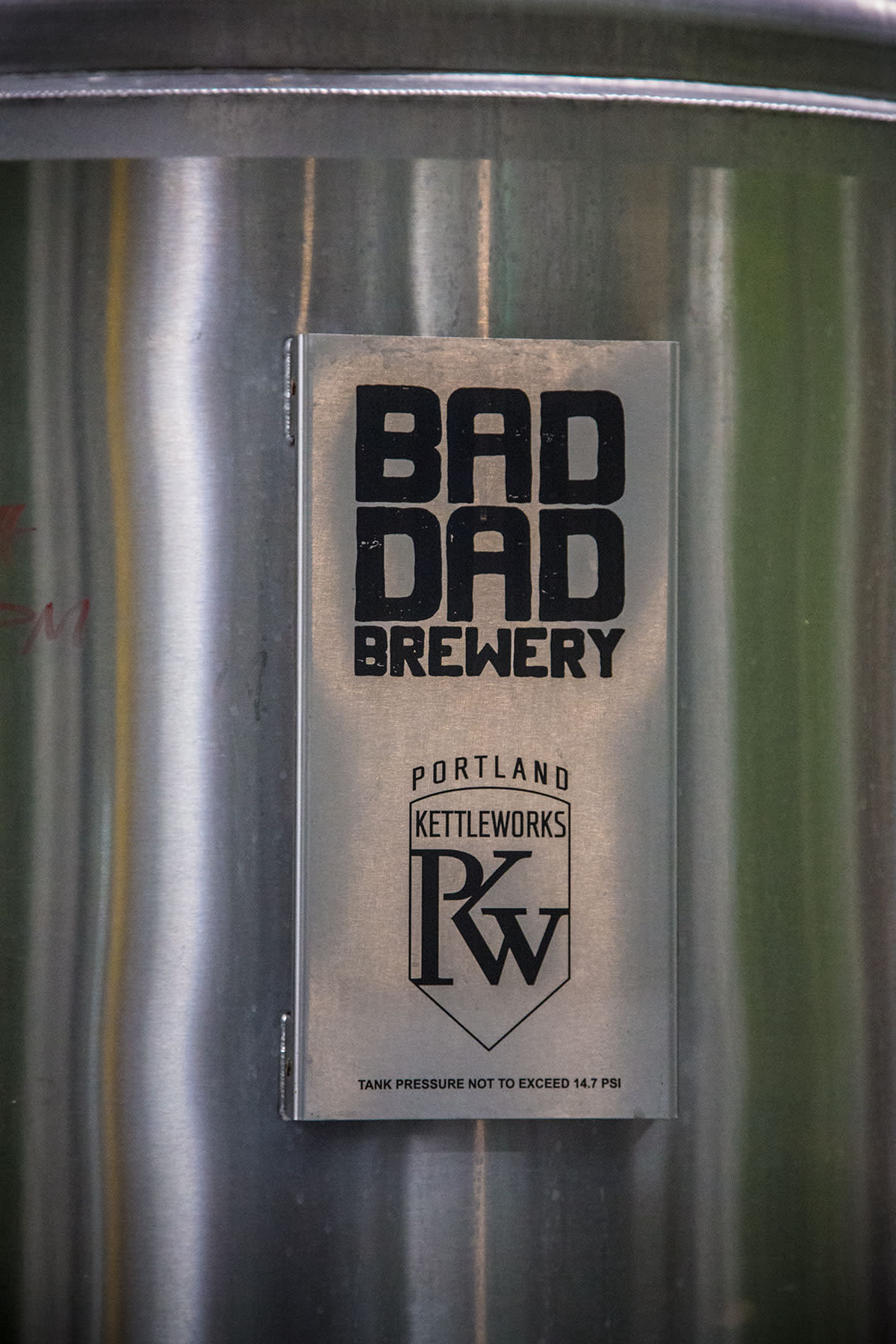 Bad Dad Brewery
Years later, the Howard's philosophy of hard work has paid off in the success of both Grains and Grill and Bad Dad Brewery. A trip to both is definitely worth your time and you won't be disappointed in your dinner, or your beer!
Information about both: Grains and Grill 407 W. Washington Street Fairmount, IN 46928 765-380-0137 Mon - Thurs: 5:30pm-9pm Fri - Sat: 4pm-10pm Sunday: Closed
Bad Dad Brewery 407 W. Washington Street Suite C Fairmount, IN 46928 765-380-0137
Mon/Tues: Closed Wed/Thurs: 4pm-9pm Fri: 4pm-10pm Sat: 3pm-10pm Sun: 12pm-6pm